[ad_1]

Hyundai's Dani Sordo claimed his third World Rally Championship victory and his second in a row on Rally Italy, finishing just 5.1 seconds ahead of team-mate Thierry Neuville.
Cooler conditions greeted the runners on Sunday morning where a loop of just two stages awaited which was to be run twice through the day.
Toyota's six-time world champion Sebastien Ogier had done enough on Saturday's final stages to split the Hyundais of leader Sordo and Neuville, and the Frenchman duly pipped Neuville to win the first stage of the day by two tenths of a second, while Sordo struggled and dropped 12.1s.
Championship leader Elfyn Evans was 4.8s further back but he did enough to safeguard his fourth place overall from attack by M-Sport's Teemu Suninen.
Neuville lit the blue touch paper on the second stage, reclaiming 1.6s from Ogier before the service halt, but when the action restarted Ogier took back that deficit while Sordo struggled again, allowing his overall lead which had been as high as 38s to erode to just 9.2s.
"It's never safe and I don't know, I don't understand the times," the Spaniard said as they headed to the final stage of the day. "They are really, really fast in this stage. I am really surprised."
The second run through the beach-side stage at Sassari was the moment in which defending champion Ott Tanak played his joker to perfection.
After his Hyundai lost two minutes due to unspecified technical difficulties on the first day, Tanak could finish no higher than sixth overall but set an unbeatable Power Stage time to claim five extra points that keep him in the title race with two events remaining.
Neuville went faster on the split times but then began bouncing off the scenery in his rush to get to the finish.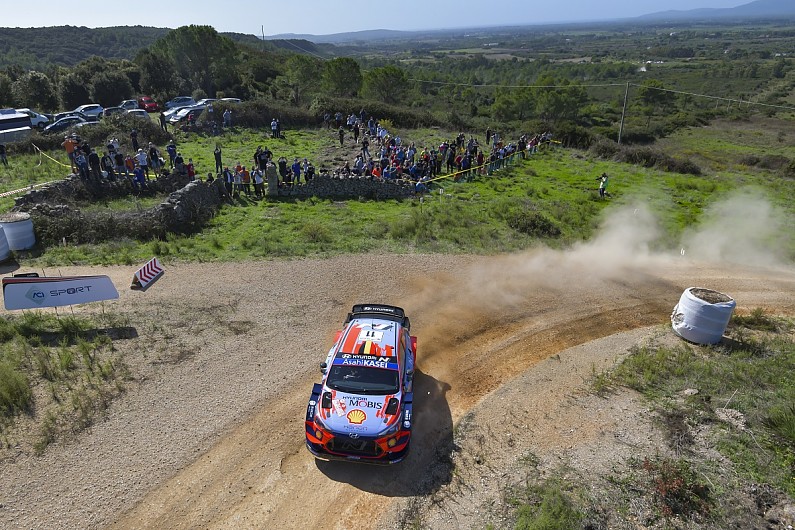 "I got a broken disk or something in the last 1.5 km so I was pumping all the time so I lost a little bit but we did the best we could," the Belgian said.
Ogier's Yaris WRC was 3.4s slower than Tanak and handed second place overall back to Neuville.
"I can hardly do more, honestly, I'm on the limit, I push very hard but on this stage we knew that Hyundai is very, very strong on that one but we try, so no regrets," Ogier said.
"For sure it was intense the whole weekend. We gave everything."
Sordo was the last man into the stage, his i20 WRC carrying the name of his compatriot Laura Salvo, the 21-year-old Spanish co-driver killed on Rally Vidreiro Centro Portugal on Saturday. He was not fast, but did enough to claim his second consecutive victory in Sardinia by a scant margin of 5.1s.
"I'm not really happy with my performance today, but at the end we managed to bring the rally home so I'm really, really happy," he said.
In the WRC points standings, Evans remains 14 points clear of Ogier as the series moves to asphalt rallies in Belgium and Italy for the remainder of the schedule, while Neuville has climbed up to third, 10 points further back, with Tanak hanging on right behind him.
Hyundai's 1-2 finish ensured they hold a seven-point lead in the manufacturers' standings from Toyota, with M-Sport 84 points adrift in third.
In WRC2, Sweden's Pontus Tidemand turned the championship tide in his favour with another cautious drive in his Skoda Fabia.
Mads Ostberg failed to maintain his 100% starts-to-wins ratio after being forced to run for much of the first day with only rear-wheel-drive and suffering further gremlins in his Citroen that pushed him back to fourth at the finish.
WRC3 was claimed by Hyundai's Jari Huttunen, who survived the puncture roulette that afflicted the majority of his competitors.
[ad_2]

Source link