[ad_1]

Double World Rally Champion Marcus Gronholm will make his second rallycross appearance of 2020 next month in an electric Ford Fiesta, contesting World Rallycross's Projekt E support class at Spa.
It will mark Gronholm's first start in a World RX-sanctioned event, although he does have rallycross credentials, having won on his European Rallycross debut in Sweden in 2008, before claiming five victories in Global Rallycross events in America between 2011 and 2012.
The 52-year-old Finn, who won the legends guest category in one of his own GRX squad's Hyundai i20s in the RallyX Nordic event at Holjes earlier this year, will drive a STARD-built Projekt E Fiesta owned and run by Finnish outfit Ferratum Team.
Gronholm sampled the electric Fiesta at the Hyvinkaa circuit in Finland recently.
"I drove a total of three laps, so I'm well trained!" the 2000 and 2002 WRC champion said.
"I haven't been the biggest fan of electric cars really, but when I drove this car, inside came a decent racing feeling, and enthusiasm surfaced.
"The car behaved well and small adjustments can be made."
Following his career-ending accident contesting the X Games in 2012, Gronholm has vowed not to return to competition, but has made sporadic appearances in addition to his extensive test driver work with rally teams and manufacturers – including in a current-spec Toyota Yaris WRC on Rally Sweden last year, where he finished out of the points.
"I have said at home, that I will no longer race," he said.
"I'm not getting into any big fights in Belgium, and this is definitely no comeback.
"I'm getting involved to feel what these electric cars are like because rallycross is going in that direction anyway."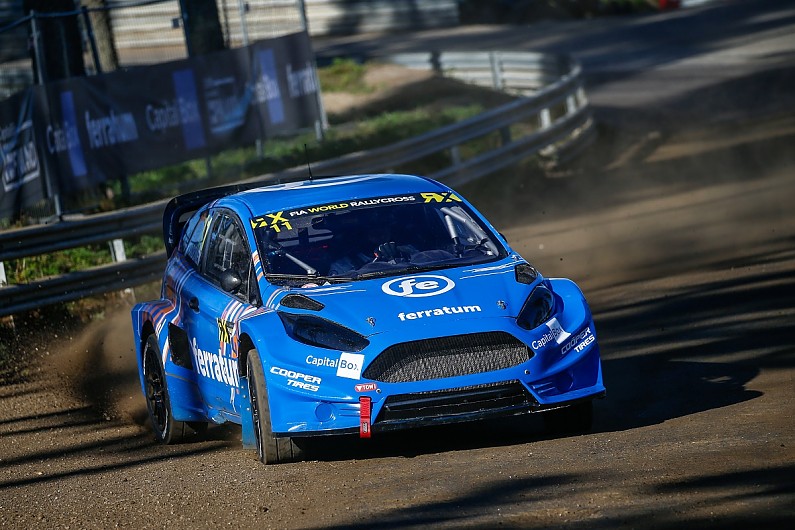 His fellow Finn Jani Paasonen, who rallied for Mitsubishi and Skoda during Gronholm's WRC pomp, has raced in World RX for Ferratum Team this year (above) and now acts as team manager.
"When Marcus puts on a helmet, he will definitely fight for victory, I think 'Bosse' will take care of the job," he said.
"That the two-time world rally champion and a winner in the European Rallycross Championship will drive a Ferratum Team car, it's a really big deal, and it's also a big deal that Ferratum Team is the first World RX team to be involved in the electric side in the World Championship series."
The World RX round in Belgium had been planned to share the final day of running at Spa with the WRC's Ypres Rally, which was cancelled on Friday.
Spa announced last week that it would run behind closed doors for its second World RX round.
[ad_2]

Source link