[ad_1]

Williams head of vehicle performance Dave Robson reckons Formula 1 heads into the 2020 Turkish Grand Prix unsure if it will be a "hare or a tortoise race" on strategy.
Even before Saturday's wet qualifying at Istanbul, the track's new low-grip surface was already creating headaches for all the teams as the cars struggled to sufficiently heat their tyres due to low temperatures and the hard nature of the Pirelli compounds brought to the first Turkish GP for nine years.
The wet weather helped to shake up the grid, with Racing Point's Lance Stroll taking pole ahead of Max Verstappen, but it also removed the rubber laid down during practice, which means all dry-weather strategies come with difficulties.
Any cars that start on the softs will quickly encounter graining, while teams trying to start on the mediums can expect to make slower getaways and have to choose between the softs graining later in the race or struggling to warm up the hards.
Williams will have its cars start 19th and 20th after both Nicholas Latifi and George Russell were eliminated in Q1, with the latter lining up last thanks to his penalties for taking new engine components and passing Daniil Kvyat's spun AlphaTauri late in Q1 while he "did not have his car under full control" and not slowing sufficiently.
The team had already been preparing Russell's car to be "geared" towards better race performance as it chose to take fresh engine parts in Turkey "because we thought it would be much easier to overtake here", per Robson, who explained the uncertainty facing the teams ahead of the race.
"What's also not obvious is quite how many stops there will be in the race," he said when asked about Russell's need to attack from the back by Autosport.
"So [it will be about] whether you have to attack by overtaking people or whether there's the opportunity around pitstops or whether in fact, enough people will just drop out and there'll be enough carnage that we make progress.
"It's a bit hard to know whether it's a sort of hare or a tortoise race tomorrow to be honest."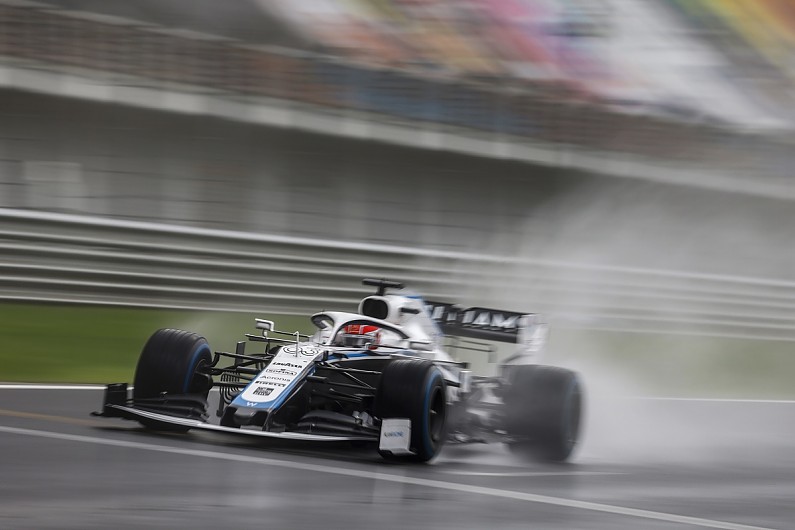 Russell's long run pace on the medium tyres impressed on Friday afternoon, but Robson, who is overseeing this weekend's race from Williams' Grove base as part of plan to keep its personnel fresh as the compact 2020 season wears on, is unsure if that was a sign of significant race pace or just because the long stint length (18 laps) helped Russell to build the critical tyre temperature.
PLUS: Why Mercedes thinks it has started third-best in Turkey
"We spent a little bit of time over the last few races trying to improve our race performance," he said.
"I think in Imola we did that and probably in Portimao as well. We came here trying to achieve the same thing.
"And you're right, I think his FP2 medium run was pretty good.
"I think some of that might be just the sheer number of laps he did, because everyone, or particularly George, just seemed to be getting quicker and quicker.
"Which again, I think just means that a lot of that pace was down to the tyres, we were on the positive spiral there.
"And if we set the car up in such a way that allowed him to get onto that spiral, then great, but I think at the moment to be honest it's a bit hard to know how much of that was just the kind of circumstance and the fact that he did quite a few laps on that one set and how much is in the car."
Autosport has produced a standalone special magazine to celebrate our 70th birthday. All current print subscribers will receive a copy for free. To pre-order your copy of the 196-page Autosport 70th Anniversary issue, please go to: autosport.com/autosport70th
[ad_2]

Source link