https://speed.clothing/wp-content/uploads/2020/12/GPBox-Rectangle-Pictures-2.jpg

Formula 1 wasn't alone in featuring poor driving last weekend, as a host of UK categories have faced the same problem recently. And another failure to ban a driver sends completely the wrong message, says STEPHEN LICKORISH
Driving standards are a hot topic in Formula 1 after the Tuscan Grand Prix. It is pretty rare to have a multi-car pile-up in the championship in recent times, so to have two in one race, along with two red flags and 12 drivers being given a warning for their involvement in one of the shunts, is virtually unprecedented.
But it is not just at the highest level of the sport where standards have been called into question lately; the same has also been true in national motorsport in the past few weeks. Take the 3 September issue of Autosport. In the club news pages, we ran two stories about poor driving and the national opinion piece discussed penalties for former BRDC British F3 points leader Kaylen Frederick and Piers Prior.
Anecdotally, there also seem to have been reports of a significant number of cars rolling during races in recent weeks. All of which points to a growing problem in certain areas.
The most worrying of those news stories from a fortnight ago concerned the Junior Saloon Car Championship. This has enjoyed strong driver interest this year, but it also endured a significant number of red flags at Mallory Park at the end of last month.
Far worse than F1's Tuscan tally, the JSCC featured four red flags across its 'two' races in Leicestershire. Standards were so poor that the drivers were gathered together before the third and final attempt at the second race and warned that the number and nature of the incidents was unacceptable. While the message appeared to hit home, an unfortunate and unavoidable red flag followed on the restart at the end of the day when a driver at the front of the grid stalled and was collected.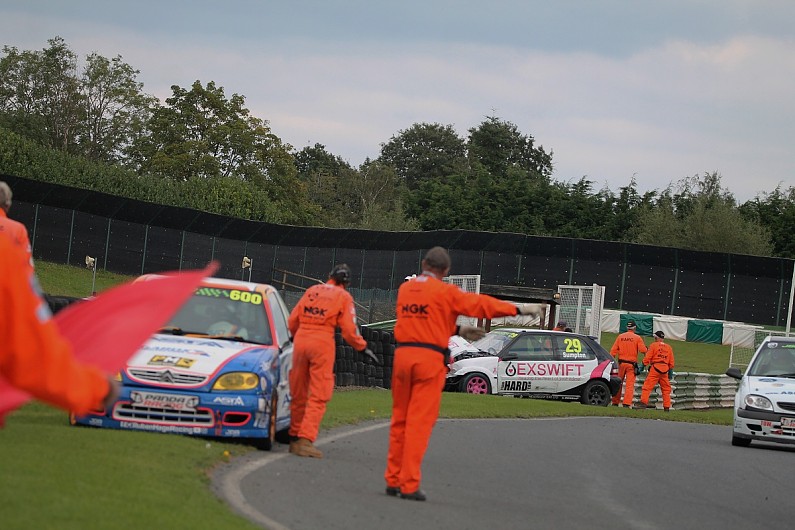 Category bosses are confident there will be no repeat when the series is due to resume at Silverstone next month and say there were a number of reasons for the Mallory nightmare.
Interestingly, these included the lack of in-car coaching the teenagers received compared to normal amid the coronavirus restrictions and having less time on track in the lead-up to the delayed start of the season, along with a number of faster drivers being out of position on the grid. The high-speed and narrow nature of the Mallory circuit cannot have helped the situation either, as the layout does lend itself to incidents.
If he so much as lands a glancing blow on another competitor's car in the five scheduled events left in the season, expect a furious reaction
Higher up the racing ladder, there were also problems in British GT4 at Brands Hatch as Century Motorsport boss Nathan Freke told Autosport that driving standards were "appalling" and "it was almost like brains got disengaged for the last 20 minutes of the race". TF Sport team-mates Jamie Caroline and Patrick Kibble collided, while there were other smaller incidences of contact between drivers.
And it was not just for collisions that Frederick (below) was penalised in F3, as he was also reprimanded for an abusive gesture following his coming-together with Prior.
All three of those examples are concerning to different extents, but the most disturbing story comes this week. It concerns British Formula 4 racer Roman Bilinski, who has racked up 12 penalty points on his licence but has escaped the usual three-month ban.
Getting a sense of deja vu? You could well be, because that exact same driver escaped a ban in exactly the same circumstances last year. Back when he was in Ginetta Junior, Bilinski accrued 12 points after the first five events but did not get banned due to an obscure rule – that still is not included in the governing body's rules Year Book – whereby only the highest set of points awarded on a given weekend count towards a driver's total.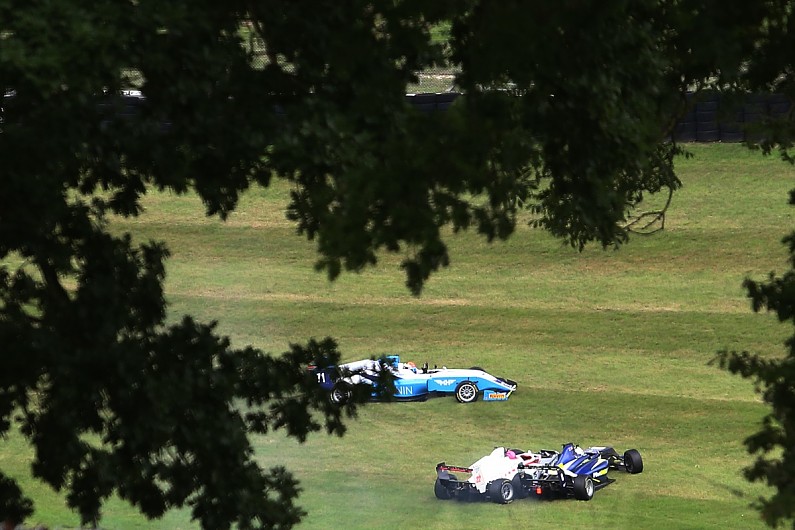 This supposedly reflects rules on public roads where, for example, you may only get one set of points for being caught speeding twice in the same restricted zone on the same day as it is classed as the same incident. But, at Knockhill last month, Bilinski received licence points for two separate incidents with Abbi Pulling in two separate races on two separate days (the second of which Bilinksi was disqualified for after clattering into the rear of leader Pulling, denying her a shot at a maiden win).
Surely, there is no conceivable argument that these are the same incident and should not therefore count as separate misdemeanours and punished accordingly.
Last year I wrote: "What this system essentially means is that, once a driver has caused an incident, they can do what they like for the rest of the day as only one set of licence points will count. And that is a very bad message to be giving out."
That still applies – except it is much worse this time around as Bilinski clearly has not learned his lesson from 12 months ago. If he so much as lands a glancing blow on another competitor's car in the five scheduled events left in the season, expect a furious reaction.
It must be pointed out, just as with Ginetta last year, the lack of a ban has nothing to do with British F4 and is instead a Motorsport UK issue. Considering the spate of incidents, from F1 to Junior Saloons, a clear message should be sent out, warning that standards need to improve. While some of Bilinski's indiscretions have been relatively minor, banning him would have done just that.