[ad_1]

Oliver White finally claimed victory at the Walter Hayes Trophy, where a horror smash soured celebrations. Elsewhere, the Classic Sports Car Club held its final meeting of the season and there was late drama in the EnduroKA 500 at Brands Hatch
The 2020 edition of the Walter Hayes Trophy should be remembered for Oliver White finally overcoming his bad luck and taking a popular victory. It should be remembered for organiser James Beckett triumphing against the coronavirus odds to secure a 104-strong entry (more than double the Festival the previous week and up on last year's 'normality'). And it should be remembered for some sensational racing in the two historic finals.
But, for all those positives, this year's Hayes is more likely to be remembered for a terrifying series of accidents along the pit straight in the Last Chance race that left three drivers in hospital, one with life-changing injuries, and those watching from the pitwall shaken.
Considering the lengthy extraction and clear-up required, and the rapidly fading light, it was no mean feat that the final took place at all. And, when it did, there was no shortage of classic Formula Ford action.
Predicting a winner proved nigh-on impossible. White and National champion Neil Maclennan had shown strong pace all weekend, each victorious in a heat and semi-final. Then there were past winners Jordan Dempsey and Michael Moyers in the thick of the fight, and Chris Middlehurst looked threatening too.
Initially, it was advantage Maclennan. The Kevin Mills Racing Spectrum driver passed polesitter White into Becketts on lap two, survived a safety car restart and then repelled White's attacks until lap nine of the scheduled 15. Then, White's Souley Motorsport Medina dived down the inside at Becketts and left Maclennan out wide, and that loss of momentum led to Maclennan falling to fourth.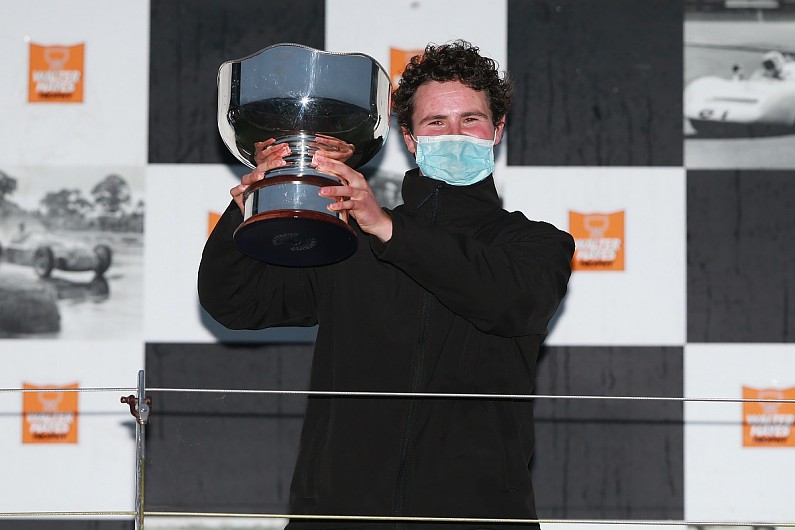 But White's lead was only a brief one. On the next tour, Middlehurst powered around the outside of Brooklands. Except his spell in front proved to be even briefer and, crucially, it did not count. Red flags flew after five cars were left stranded in the Luffield gravel – including Festival runner-up Jonathan Browne – and White (above) was back on pole (on countback) for the final five-lap shootout.
At the restart, Middlehurst was all over White. First, he tried on the inside of Brooklands. Then it was the inside of Copse on lap three. Next it was back to his previously successful path around the outside of Brooklands. And finally the inside of Luffield, but still White clung on. That was until the second race-defining moment. Middlehurst's pressure had led to the rest of the top six springing back into contention, and it all came to a head at Copse as contact sent Josh Fisher into the path of Team Dolan Van Diemen driver Middlehurst, who was spun. Cue anger from Middlehurst.
"I got absolutely speared off, I was completely taken out," he said. "People are desperate in the final but you've got to be there in the last few laps. I think I had it in the bag, the speed was there. It's the way it goes sometimes."
But the incident led to elation for White. He had a relatively straightforward final two laps to finally land a crown that had long evaded him. Twice runner-up, his three previous attempts all ended in misery. He did not even make it into the main event in 2017 after two engine failures in testing, the following year he ended the final in the Luffield gravel having been on the pace all weekend, and in 2019 he was taken out in his heat, leaving him on the back foot. But there were no such problems this time.
"It means a huge amount because I've been trying to win this for about eight years and have had some near-misses but now I've finally won it!" smiled White, who overcame pre-event back pain to compete. "It was starting to piss me off a little bit [all the bad luck] but it's a such a challenging event."
Fisher and Middlehurst dropped back to seventh and 13th respectively, leaving the way clear for Maclennan (below) to take second and make up for the disappointment of crashing out of the Festival final when challenging for the lead. "It looked a bit promising at the start but then we made a few mistakes," he said. "But I'm happy to get second."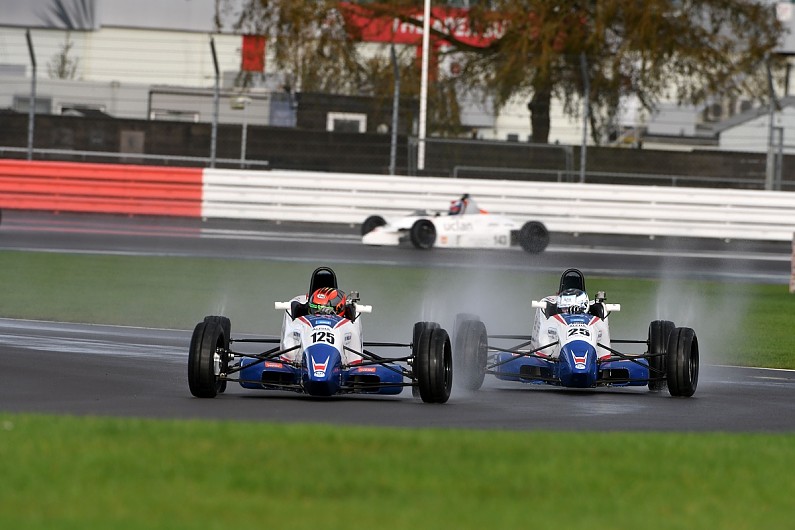 Considering the number of established frontrunners in the lead pack, it was something of a surprise that Team USA Scholar Bryce Aron completed the podium. The American admitted he "had been struggling a little bit" all weekend in the variable conditions – as demonstrated by fourth and fifth in his heat and semi-final – but he stayed out of trouble to bag third.
"There's being good in the wet in America but being good in the wet here is very different!" Ray GR18 driver Aron said of the damp conditions all weekend. "We had the red flag and I wasn't sure if that was a good thing or not because I had gone from ninth to fifth. Cliff [Dempsey, former team boss] told me, 'You've got the pace to get to the front and win'."
While he did not quite manage that, third was still a strong result as he headed home Ross Martin (Van Diemen RF99) and Matt Cowley (Van Diemen JL15). Moyers also put in a strong recovery to take sixth, having spun while challenging White for the lead.
"I had a mega run on Ollie [out of Becketts] but I just made a personal error," said Moyers. "I braked far too late into Brooklands and spun. It was a good recovery, but this girl was good enough to win – it felt like it was on rails."
Team-mate Dempsey also had a spin at Brooklands, but suffered damage and was not able to continue. Another in strife was Festival winner Rory Smith, as he tangled with Rob Hall out of Brooklands when battling just behind the lead pack.
For so many years, it was White who had been in that frustrating position. But not this time, although celebrations were muted after events earlier in the day. The racing from then on became of secondary importance, with Moyers saying: "All I'm thinking of now is the people who were injured." As are we all.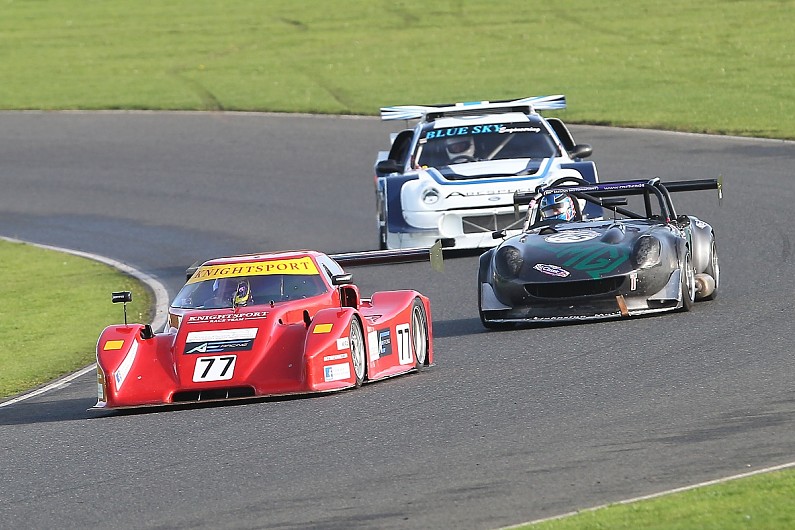 Cadwell Park CSCC: Manderson guides Stratos Knightsport to victory
Andrew Knighton's self-built Lancia Stratos-inspired Special GT car was developed at Mallory Park and had not been seen in competition for several years. But the turbocharged Suzuki Hayabusa-engined machine was piloted to victory in the final race of the Classic Sports Car Club's Special Saloon & Modsports season on Sunday by Matt Manderson, ending Andy Southcott's winning run in his ultra-low tubeframe MG Midget.
With the top five covered by 1.3s in qualifying, the first race started in brilliant sunshine as Manderson, poleman Wayne Crabtree (in David Abrahams's 575bhp twin-turbo Subaru flat-four-engined Ford RS200 clone) and Southcott from fifth all disputed the lead.
Once Southcott wriggled ahead, nobody could catch him as he set a 46.234s (105.11mph) best lap. Manderson, whose best was less than four tenths adrift, and Crabtree, in the low 47s, led the chase, pursued by returnee Tom Carey's Honda CRX-BDG before it retired. Ricky Parker-Morris guided the family's revised Peugeot 309 Cosworth turbo to fourth, ahead of Joss Ronchetti's Talbot Sunbeam Lotus 'Bullet'.
Southcott did not reappear for race two, which Manderson dominated. With Steve Fray's loaned Ginetta G15-Honda parked beside the Stebbe Straight having dramatically lost its nose on lap two, Ronchetti, Carey and Ricky Morris (in the 309) usurped Crabtree. But Morris's 309 soon expired passing the pits, Carey peeled off with an electrical misfire and Ronchetti slowed to a crawl.
Thus Crabtree finished a distant second as Malcolm Harding's Zakspeed Castrol Escort-BDG clone grabbed third on the penultimate lap from Ronchetti.
Tim Davis bookended the day with Magnificent Sevens and Sunset Open race wins. Without poleman Stephen James, whose soggy session ended in the barriers at the Esses, Davis and BOSS team-mate Colin Watson (below), both in Caterham C400s, lapped the Magnificent Sevens field but the two made contact into Gerard's, which sent Watson across the grass.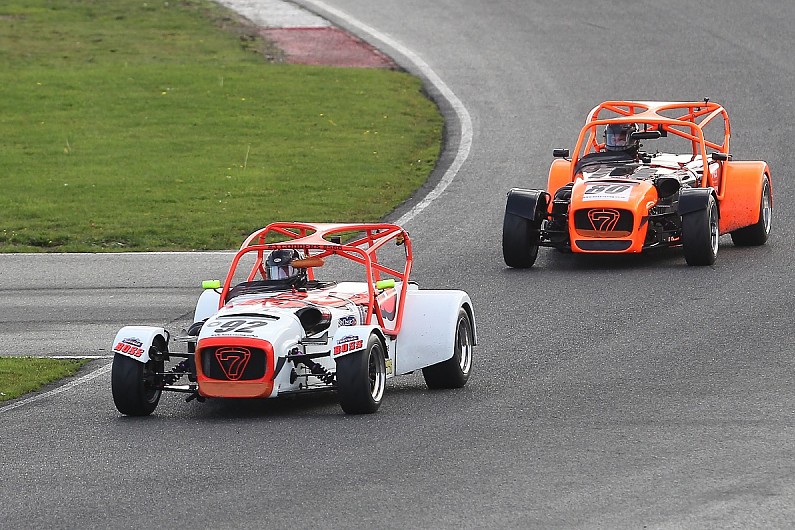 "Colin fired it down the inside and passed me there on the previous lap," said Davis. "Expecting his car's tail to kick out I made room; when I did the same [move] he didn't. He wasn't happy, but I was relieved he wasn't in the wall."
Watson finished a subdued second, while Graham Charman staved off Richard Carter in a class tussle for third as BOSS entries claimed the top four places.
In the absence of an orange orb in the late afternoon sky, the 30-minute finale ended in darkness. Davis outran the well-matched Carter and Sam Smith, still lapping inside 50 seconds with tiny LED headlights more alerting others to his presence than pointing the way. Andrew Rath's modern Lotus Europa ran fourth, the Honda Civic Type R of Chris Emmett/Dan Ludlow and Matthew Sanders's BMW M3 E46 leading the pursuit.
Ollie Reuben repeated the previous weekend's Castle Combe Swinging Sixties win in a 1965 TVR Griffith. He did the hard work and dad Nigel completed the job in style. Dave Roberts (Datsun 240Z) usurped the TVR Tuscan of Jon Wolfe and David Thompson for second.
The 70s to Present Day race was rendered chaotic by a miscued safety car intervention, following which driver discipline was atrocious, and it was red-flagged eventually with Mark Chilton's Nissan Skyline GTR stranded on the exit of the Esses. A 33s pit infringement penalty dropped Paul Boulton (Nissan 370Z) from first to fifth. Tom Mensley was declared the winner in his Renault Clio 172.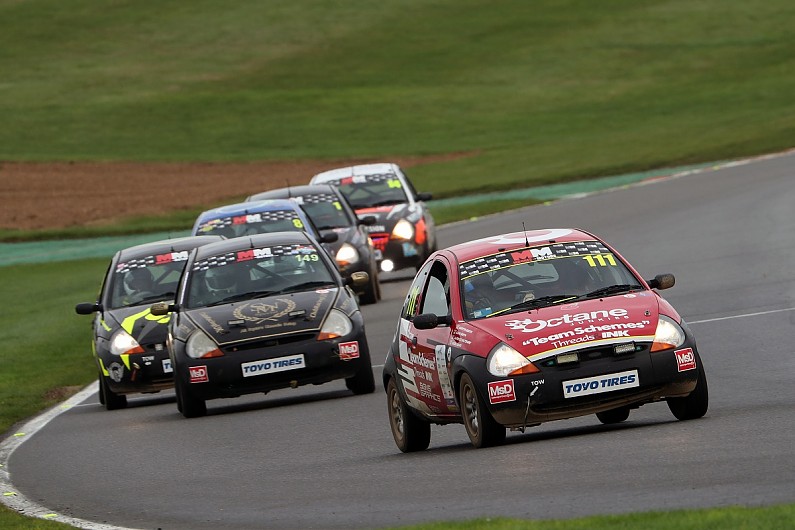 Brands Hatch MSVR: Late drama in EnduroKa as Junkies win
Octane Junkies' trio of brothers Adam and Martyn Smith along with Baz Ward triumphed in the EnduroKa 500 event at Brands Hatch last Sunday, going one place better than 12 months ago. The race was a mixture of heartbreak and heroism, punctuated by 22 safety car interventions during 388 frequently slippery laps over more than eight hours.
With Adam Smith at the wheel, the car beached at Paddock Hill Bend early on, but fought back up the order in the following hours. With 10 minutes to go they lay third with an outside chance of catching the leaders, before the leading Barwell Autosport car driven by Kester Cook stopped on Cooper Straight with a failed engine. A minor excursion had damaged the car's radiator and the problem remained under control until Cook was forced to slow for the race's final caution period.
The Barwell machine dominated long stages of the race, Cook sharing driving duties with Ryan Brimstead, Taylor Norton and James Ross after team patron Vic Hope stood down, explaining that he was too old and too heavy for the task.
The StuBurn Motorsport car of David Stubbs, Andrew and Jake Burns took the lead, but with 90 seconds until the finish served a stop/go penalty for overtaking while behind the safety car.
The Junkies inherited the win, narrowly in front of Pistonheads' Matt Dell, Charles Rainford, Oliver Lewis and Ben Lowden. The runners-up started last after their car was badly damaged while stationary in the Paddock gravel and another car crashed into it within two minutes of the start of a chaotic Saturday qualifying session. It only made the grid after heroic efforts and generous support from rival teams.
StuBurn salvaged third place, just 0.121s behind the Pistonheads and less than 12s off the win, baffled by news of the late penalty and having also been handed a five-second penalty for a track-limits offence.
There were cameo performances by 1992 British Touring Car champion Tim Harvey and historics stalwart Michael Lyons. The former was racing with his son Jamie and Christian Szaruta, and led for a while before contact with a backmarker. Lyons, his car shared with three others, was last of the classified finishers, while Harvey's machine was among only four unclassified in a 47-car field.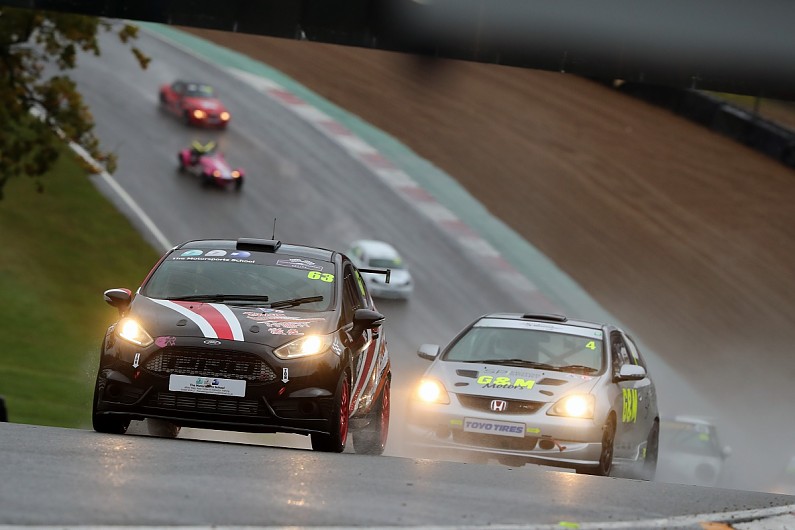 A brave final-corner move amid lapped traffic earned Alex Tait (Ford Fiesta ST, above) a win over Sam Pearce (Honda Civic) in the final round of the Trackday Championship on Saturday.
Apart from the drivers, who were having to cope with dreadful weather conditions, the busiest people were those with calculators trying to work out dropped scores and net championship points. Ray Honeybone (Renault Clio) had a good race to fifth place and was confirmed as champion, just one point separating himself from Luke Reade (BMW 130i) in second.
A three-way contest for the MSV Supercup title was reduced by one when Steve Gales crashed his points-leading SEAT Leon at Paddock. Nicholas Jackson and Ollie Pidgley shared a SEAT Supercopa for their second victory of the year, taking the championship from Darren Goes, also in a SEAT, who was almost a lap behind in third. Gary Hufford's BMW M3 hustled the leading car until traffic trouble and a short excursion dropped him back.
The Toyota Celica of Richard and Roan Lundy won the Trackday Trophy, despite a spin that temporarily promoted the Honda Civic of Paul Harvey and Sam Pearce into the lead.
Reports by Stephen Lickorish, Marcus Pye and Brian Phillips. Pics by Jakob Ebrey Photography, Steve Jones, Mick Walker and Gary Hawkins. Want the full picture on last weekend's national racing, including more reports? Subscribe today and never miss your weekly fix of motorsport with Autosport magazine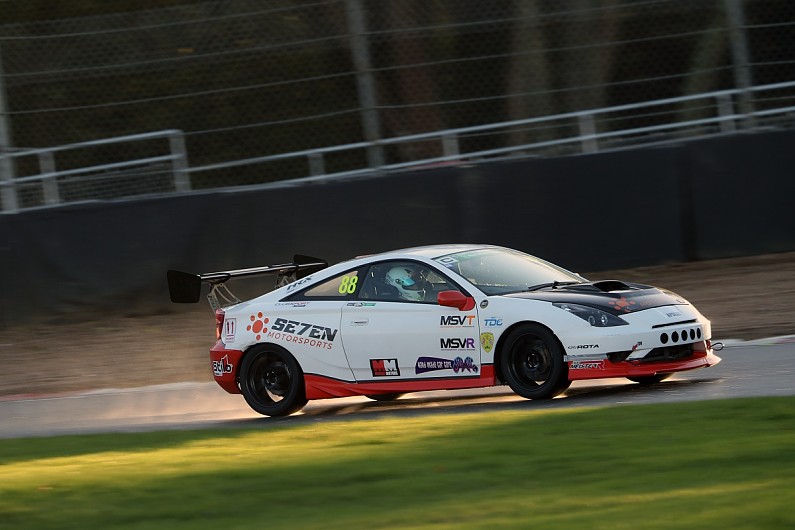 [ad_2]

Source link