https://speed.clothing/wp-content/uploads/2020/12/GPBox-Rectangle-Pictures-2.jpg

Maverick Vinales says it's more important to "understand what to do for next year" with the Yamaha during the Valencia Grand Prix than focus on his MotoGP title chances.
Vinales is still mathematically in the hunt for the 2020 championship, but is 42 points adrift of Suzuki's Joan Mir with just 50 up for grabs over the next week.
The Yamaha rider will start Sunday's race from sixth, while Mir will launch from 12th, but insists he has no strategy in relation to managing his own championship hopes.
Vinales has been critical of the 2020 M1 and admits Yamaha is still "a little bit lost" with the bike, making the final two rounds important opportunities to find a direction to go in with the 2021 machine.
"No, I don't have any strategy," Vinales said when asked how he will attack the race in regards to his championship hopes.
"To me, the most important thing for me is to understand what to do for next year, especially about the situation of the rear grip because sometimes we suffer a lot and especially here in Valencia where the grip is not amazing, we are suffering a lot, especially on banking.
"We improved a lot the braking and the entry to the corner, but we didn't touch the acceleration.
"Tomorrow we will have another opportunity to see if we can improve. If not, we're going to focus on the next race in Portimao.
"But anyway, it's important to give a direction for Yamaha because right now with the new bike we are a little bit lost.
"So, we need to find a good direction and work in the winter to bring something that really works on the bike."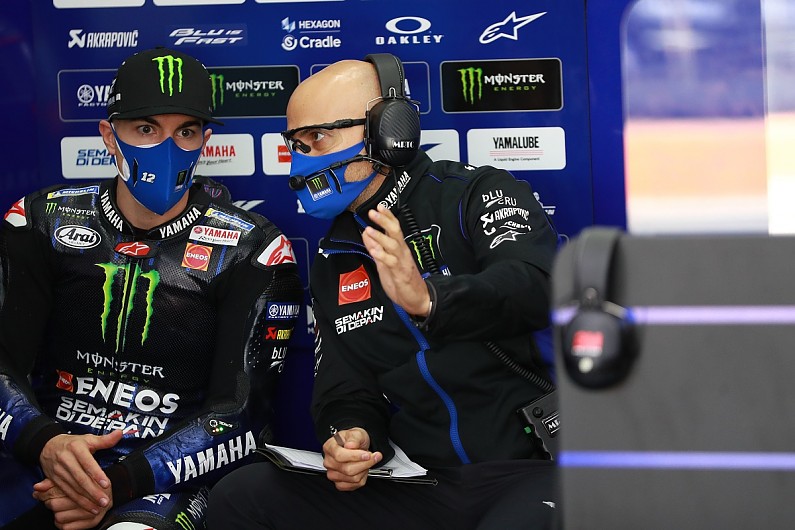 Vinales ended up around half a second down on the 2019 M1 of Petronas SRT's Franco Morbidelli in pole position.
The Spaniard always felt Yamaha should have continued with the 2019 bike from the Sepang test, but says he can't look deeply into Morbdielli's data now as Yamaha simply gets "lost" with the 2020 bike.
"Basically, everything is different: chassis, swingarm, everything is different. So, it's a totally different bike," he said.
"That's why I don't concentrate so much to look at Franco because it's a totally different bike and we get lost when we look at Franco because of the different engine, different power, different engine brake, different torque, different chassis, different swingarm, everything is different.
"So, what we do is focus on our 2020 bike and see if we can improve. If we look back, maybe we would have chosen other things.
"But in winter tests I tested the 2019, the 2020 and the new bike was not better until there was a lot of grip on the track.
"So, there was a few mistakes in direction, but I always try to give good indications.
"But in the end it looks like we made a mistake with the bike for sure, because last year's bike for me was competitive in all the tracks, not only a few tracks.
"So, we will need to pay a lot of attention for the next ones, but I hope this is the last time, we learn a lot and we choose the correct decision for the future."
Autosport has produced a standalone special magazine to celebrate our 70th birthday. All current print subscribers will receive a copy for free. To pre-order your copy of the 196-page Autosport 70th Anniversary issue, please go to: autosport.com/autosport70th