[ad_1]

Maverick Vinales says he's "not thinking about the championship" at the MotoGP Aragon Grand Prix, despite the factory Yamaha rider topping both practice sessions on Friday.
After finishing 10th last time out at a wet French GP, Vinales trails Yamaha counterpart Fabio Quartararo by 19 points and lies fourth in the standings.
Vinales was fastest in both practices at Aragon on Friday, leading the field by 0.249 seconds, with Quartararo and his Petronas SRT team-mate Franco Morbidelli shadowing him on the timesheets.
Though only 38 points adrift in the standings, Morbidelli is currently an outsider in this title battle with five races remaining and tempered his own expectations about fighting for the championship after emerging from the Catalan GP last month with a sizeable speed deficit to the other Yamahas.
Showing strong dry pace on Friday, and having had pace for victory in the dry at Le Mans before crashing out in the wet race conditions, Morbidelli looks set to be a major factor in Sunday's race.
When asked by Autosport if Morbidelli not currently having a stake in the title fight could be problematic, Vinales said he wasn't worried about the Italian's threat and explained he was instead focused on trying to improve the M1's tyre preservation for the final 10 laps of the race.
"I think Franco is doing well and he will make his own race and he will push a lot like I will push a lot," Vinales said.
"I'm not thinking about the championship, I'm just thinking about this race, to take out the maximum.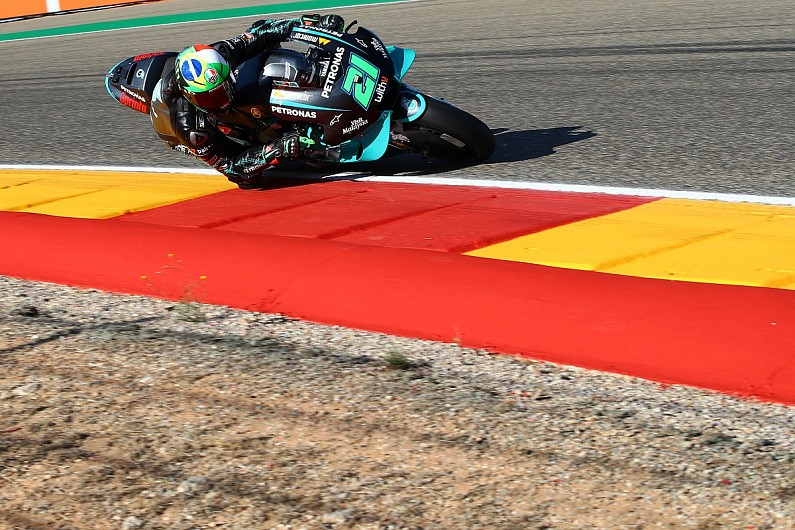 "For sure, we see the lap times and Franco is pretty strong. For sure he will be there.
"We need to control the last 10 laps, because last year I suffered a lot the last 10 laps and we will work on that tomorrow."
Morbidelli says he'd be able to fight for victory if the race was on Saturday, but notes qualifying has to go better than it did at Le Mans after a mystifying issue on his second soft tyre left him in 11th.
"We will have to see how the pace is going to be and how the various levels will develop over the weekend," Morbidelli said.
"But [it] looks like if the race was tomorrow I'd be able to fight for the win.
"Hopefully it's going to be like this also tomorrow.
"Hopefully we're going to have a smooth qualifying, which is what we were missing at Le Mans because also at Le Mans we had pace to win in the dry.
"Hopefully everything is going to work out well tomorrow and we will see what we can aim for tomorrow evening."
[ad_2]

Source link