[ad_1]

Maverick Vinales says he will have to limit his MotoGP running in the European Grand Prix to preserve his engines, having been forced to do so at Aragon last month.
Vinales had unsealed all five engines from his allocation by the second round of the season at Jerez, after one unit was withdrawn over reliability concerns.
Since the San Marino GP at the start of September, Vinales has exclusively used his fourth and fifth engines and admits he is "on a really tight line" with mileage.
He was forced to limit his running at Aragon, and he admits he "paid" for this because it meant he was unable to properly set up his M1 to the changed track conditions for the Teruel GP.
With just three rounds to go and a pitlane start penalty to be applied should he have to unseal a sixth engine, Vinales says his Valencia running will also be limited.
"I'm on a really tight line," Vinales, who is 19 points off the championship lead, said of his engine.
"I'm running out of engines right now. In Aragon I did just a few laps in the practices, so I could not make many laps.
"So, I could not set-up the bike in the second race when the track feeling and the tarmac was very different.
"And we paid for that with a bad race. But anyway, we're going to try to do it again in Valencia with less laps, trying to set up the bike very fast.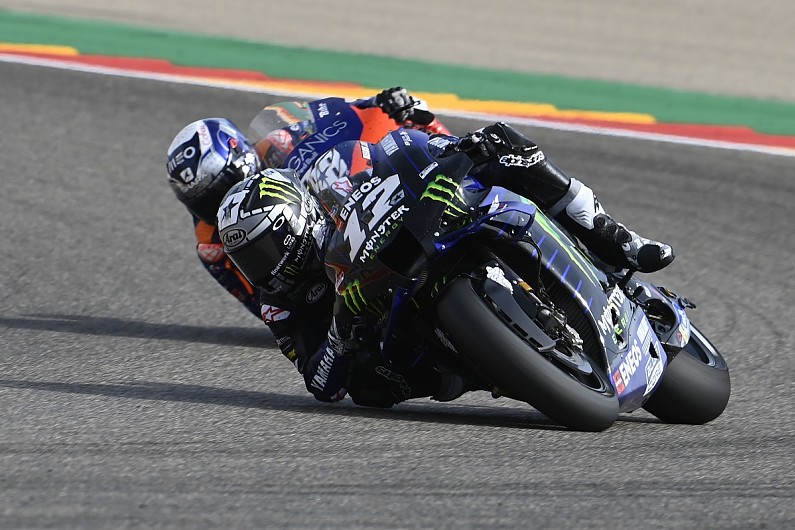 "So, I will spend a lot of time in the garage for sure, like in Aragon."
This comes in the wake of reports that Yamaha is facing an investigation into illegal engines used for the Spanish GP, centred on valve specifications being different to the ones used in the sample engine submitted for homologation pre-season.
When asked about the investigation, no Yamaha rider would comment.
On his first of two Valencia weekends, Vinales says he needs to find more consistency with his bike, but notes Franco Morbidelli's dominant Teruel GP win has given the Spaniard "a lot of energy".
"The potential of the bike is there. Franco did an amazing race in Alcaniz," Vinales said.
"So, this gave us a lot of energy and a lot of positivity to come here in Valencia and put on a good performance.
"For sure, we've won this year and we know how to do it. So, we need to put everything in a row and try to hit a good lap time.
"For us it's very important to improve the consistency, because in Aragon the first four laps were really good, but after that it was a nightmare.
"I could not even push on the bike.
"So we need to understand that, we need to work and for sure I hope the team has something to give us an extra feeling to be competitive here in Valencia."
[ad_2]

Source link