[ad_1]

From team-mates colliding on-track, to drivers rekindling old battles from past seasons, there were plenty of intense rivalries in club motorsport in 2020 – even with the shortened campaigns. Here are 10 of the closest
One of the many elements that makes club racing so fascinating is the broad range of rivalries that develop over the course of a season.
Sometimes drivers have a real dislike for each other, perhaps after colliding on track, other times the battles are friendlier but still hard-fought.
The condensed 2020 season meant there was less time for such fights to build but that did not stop some very close battles from raging when racing finally got under way.
Here are the 10 rivalries that caught the attention of Autosport's team of national racing reporters this year.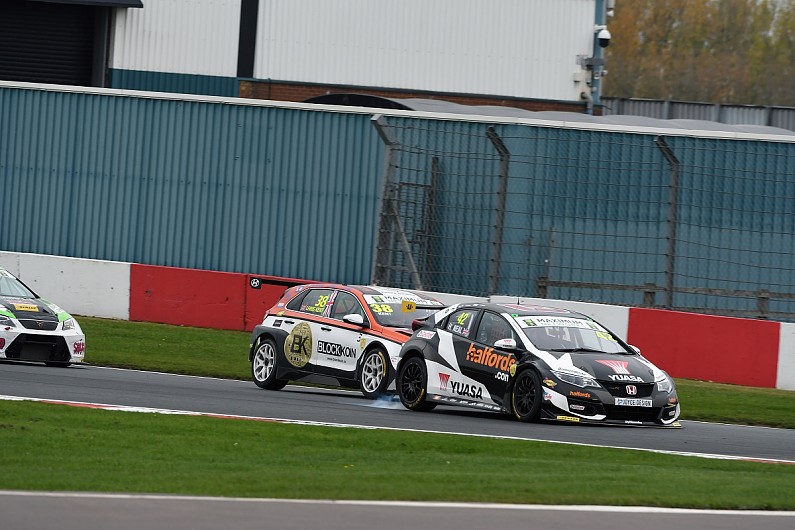 10. Henry Neal v Lewis Kent
A small grid doesn't prevent a thrilling Touring Car Trophy fight as an ex-BTCC Honda takes on a TCR-spec Hyundai
The Touring Car Trophy was short on entries but produced a thrilling title battle as Henry Neal and Lewis Kent traded blows throughout the shortened season. Neal's British Touring Car-spec Honda Civic took the opening race at the first two events, with Kent's TCR Hyundai i30 N hitting back on each occasion. Wins in the first two races at Donington Park's triple-headed decider put Neal ahead, and he clinched the title in the finale by following home Max Hart, who finally ended the leading pair's monopoly of the podium's top two steps.
9. Steven Dailly v Tom Griffiths
Another crown for the Compact Cup master, but he has to work harder than before to land title number four
Steven Dailly prevailed in his quest for a fourth successive BMW Compact Cup title, but only after a season-long battle with Tom Griffiths. Arriving at Brands Hatch in late September, Griffiths led Dailly by one point. Two faultless drives from Dailly in Kent then helped swing the momentum his way. Griffiths fought back with a double success at the Donington Park finale, as engine dramas threatened Dailly's hopes, but Dailly ultimately banked the results he needed to triumph.
8. Mike Williams v Jack Ashton
Old Metro Cup rivals rekindle their on-track battle in the MG Cup and prove to be the class of the field again
After dominating the MG Metro Cup last year, Jack Ashton decided he needed to move on to a category where he would face more opposition. That meant emulating his mate Mike Williams by upgrading his Metro and joining the MG Cup. The pair resumed their friendly rivalry, pushing each other on to dominate at the head of the field. While Ashton usually edged their battles, and took four wins to his rival's two, each suffered reliability gremlins and it was Williams who claimed the class crown.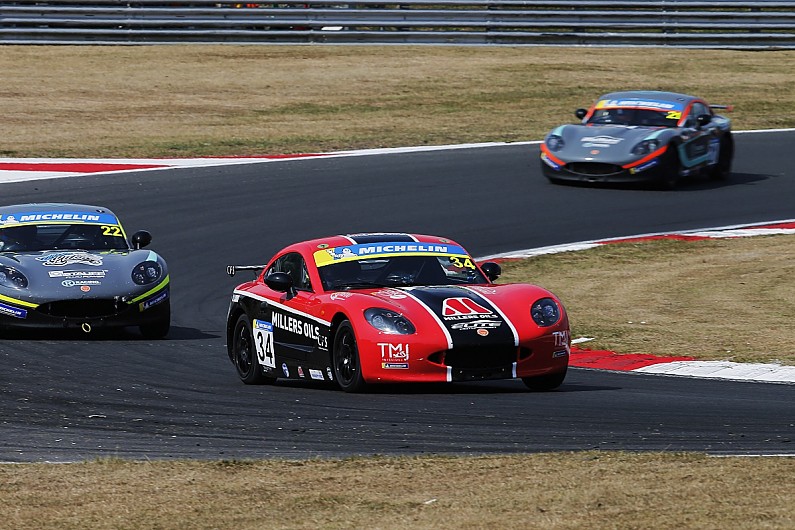 7. Tom Lebbon v Bailey Voisin v Josh Rattican
Close racing makes for a thrilling Ginetta Junior season as three drivers scrap for honours
The racing at the front of the Ginetta Junior pack this season has been excellent. For much of the year, it was very close – and usually clean – between Tom Lebbon (above, leading) and Bailey Voisin as the pair traded the race lead and points lead multiple times. As the season wore on, Josh Rattican grew stronger and joined the mix to set up a thrilling showdown. Sadly, the final Brands Hatch races were forgettable stop/start affairs, and two second places for Lebbon sealed him the title, becoming the category's first rookie champion.
PLUS: Autosport's stars of the 2020 TOCA support series
6. Stefano Leaney v Alex Fores
First F3 Cup qualifying session sets the tone for a tightly fought season, and Donington Park collision brings added spice
Just 0.007 seconds separated Stefano Leaney and Alex Fores in the season-opening qualifying in the F3 Cup, and that tone continued all year. Leaney won five races, with Fores taking four. The only time neither triumphed came when they collided during round five at Donington Park, causing post-race tensions between the rivals. Leaney had the momentum in the first half of the season and, although Fores gained the edge in the second, a couple of spins cost him dear as Leaney took the crown by 13 points.
5. Jamie Caroline v Patrick Kibble
TF Sport British GT4 Aston Martin drivers break the golden rule of never clashing with your team-mate in hotly contested campaign
There are many line-in-the-sand rules in motorsport, but one holds an exalted place above all others: don't hit your team-mate. Unfortunately, TF Sport's British GT4 battlers Jamie Caroline and Patrick Kibble forgot that message at Brands Hatch. Caroline dived up the inside at Paddock Hill Bend, and Kibble shut the door, resulting in Kibble being turfed into the gravel and a penalty for eventual champion Caroline. Mercifully they kept it clean for the rest of the season, but probably won't be sending each other Christmas cards.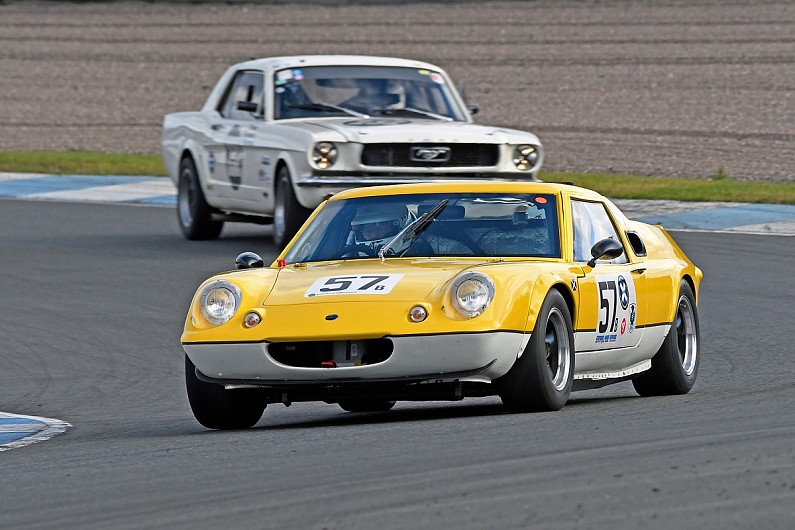 4. Bruce Mitchell v Alastair Baptie
They were in different classes of the Scottish Classic Sports and Saloons and didn't fight on-track, but title couldn't have been closer
The Scottish Classics title fight tends to go down to the wire, given it's a class-based championship, and 2020 was no different. Literally nothing separated Bruce Mitchell's Lotus Europa TC (above) and Alastair Baptie's Fiat X1/9 come the final race of the season. The pair finished tied on 150 points after winning every race in their class, although reigning champion Mitchell came out on top due to recording superior overall race finishes than 2017 and 2018 title winner Baptie.
3. Pierre Livingston v Cam Jackson
Just a point separates the Historic Formula Ford rivals after a fierce battle, as Jackson narrowly misses out on a third consecutive crown
Cam Jackson went into the Historic Formula Ford season chasing a third title, but this was the year when Pierre Livingston came good. The 20-year-old flew in his Speedsport Merlyn, while Jackson worked to make the unfashionable March 709 a winner. They were regularly wheel to wheel and, when Linton Stutely joined in, Livingston had two fierce rivals. There was some grumbling about Livingston's rolling starts, but his pace at Oulton Park in particular was immense and he won the title by a single point.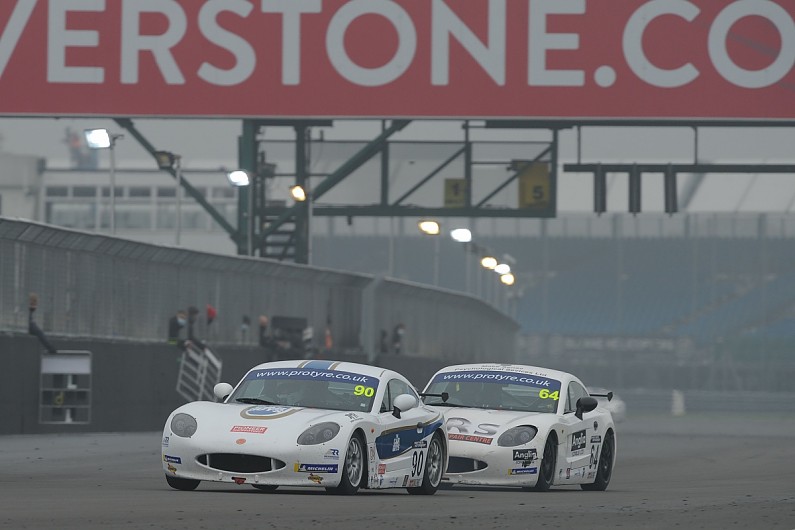 2. Josh Malin v James Taylor
Ginetta GT5 Challenge contenders are inseparable for much of the year, and it comes down to a terrific winner-takes-all finale
Close, competitive racing and Ginettas usually go hand in hand, and that was certainly the case in the GT5 Challenge. The title fight between Josh Malin – returning for his second season – and Ginetta Junior graduate James Taylor raged all year and included a collision at the opening race. Their battle went down to the final lap of the campaign at Silverstone, with whoever finished ahead being crowned champion. Either would have been a worthy winner, but the title just went to Malin after a terrific and fair race-long battle.
1. Luke Browning v Zak O'Sullivan
The events of the British Formula 4 finale are barely believable as the destination of the title swings between the two rivals
Some of the other rivalries on this list ended with fewer points between the drivers than the four that separated the British Formula 4 contenders, but none of them featured quite such a dramatic – and bizarre – conclusion. After whittling Luke Browning's sizeable lead to nothing, Zak O'Sullivan almost grabbed an unlikely win when he recovered best after both struck oil in the finale. But heavy rain ended the race early, half points were awarded, and there was disbelieving delight for Browning and devastation for O'Sullivan.
Entries by Stephen Brunsdon, Paul Lawrence, Mark Libbeter, Stephen Lickorish, Stefan Mackley, James Newbold, Mark Paulson and Steve Whitfield. Pics by Jakob Ebrey Photography, Mick Walker, Steve Jones and Jim Moir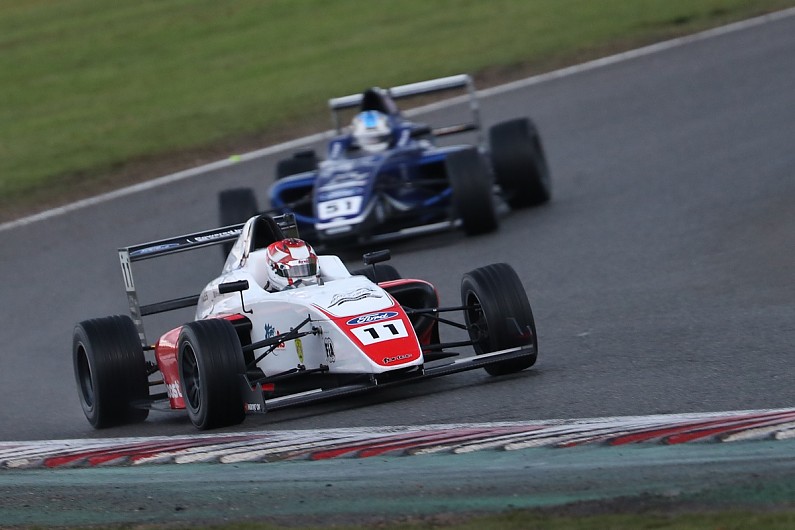 [ad_2]

Source link