[ad_1]

It is too early to predict success for Red Bull juniors Jonny Edgar and Jak Crawford in FIA Formula 3 next season, says Frits van Amersfoort.
Van Amersfoort Racing took Red Bull juniors Jonny Edgar and Jak Crawford to a 1-2 finish in this year's German Formula 4 championship.
British racer Edgar, 16, pipped 15-year-old American Crawford to the title thanks to a charging drive from seventh on the grid to second in the reversed-grid final race at last weekend's Oschersleben season closer.
This allowed him to overturn a points swing in Crawford's favour, after a misjudged defensive move by Edgar in the opening race gave him a puncture, and allowed Crawford to win despite a broken front wing; Crawford then extended his advantage by keeping Edgar at bay in race two.
The duo had already taken part in all four days of post-season FIA F3 testing at Barcelona and Jerez, with Edgar driving for MP Motorsport and Crawford for Hitech GP.
Talking about the Oschersleben weekend, VAR boss van Amersfoort told Autosport: "It was an amazing weekend – more or less a VAR show.
"It was bad for the blood pressure at some moments, but Jonny showed the world that he's a fantastic racer, even if he made some mistakes during the season."
But van Amersfoort counselled caution regarding any step to FIA F3 – VAR's Red Bull-backed 2019 Italian F4 champion Dennis Hauger struggled in the senior category with Hitech this season, but is tipped for a move to Prema Racing for his second year in F3.
"I've seen so many situations, and it's quite complicated," said van Amersfoort.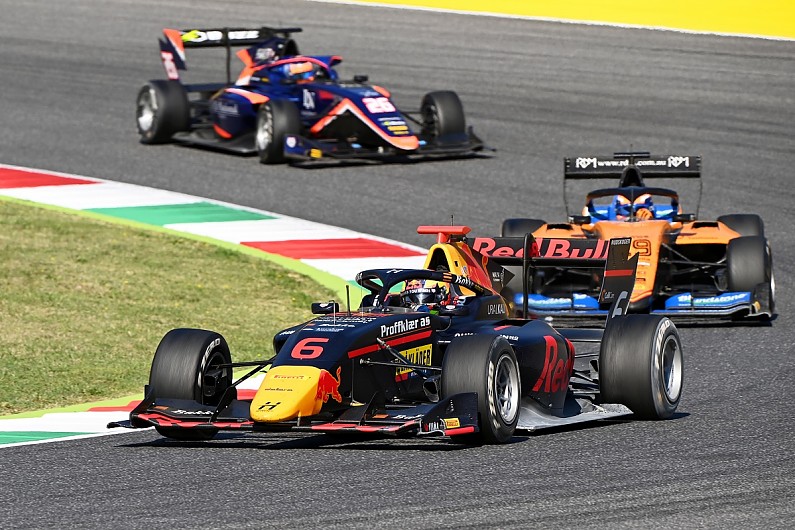 "Last year we were 100 per cent convinced in Dennis, and we are still 100 per cent convinced in him, but in the end Theo Pourchaire [the 2019 German F4 champion who starred in his rookie F3 season] performed a lot better.
"One of the huge problems is that basically in F4 there is no testing ban, so those guys doing double F4 programmes [in Germany and Italy] do 15-16,000 kilometres a year in a race car, and when they step up to international F3 they only do one third of that.
"That might suit some drivers, but it harms some too – you can't learn to use the [Pirelli] tyres in the simulator."
Van Amersfoort, who also runs teams in the Formula Regional European Championship and Euroformula Open, says a move to this intermediate tier can benefit drivers, especially with the merging of Formula Regional with the Formula Renault Eurocup for next season.
The Ferrari and Renault F1 junior programmes already place drivers in this tier as a progression between F4 and FIA F3.
"It certainly now is an alternative for guys to think maybe one more step before they go to F3," said van Amersfoort.
"FIA F3 is not easy, and for some drivers it would be better to do the new [merged] championship or EFO."
But van Amersfoort says that both Edgar and Crawford have the potential to shine further up the ladder.
"Both of them I think have a bright future," he said.
"Jonny sure showed the world he's a good racer, and also fast, and Jak showed he's an upcoming talent.
"Jonny's drive [in the finale] reminded me of the fantastic race Max [Verstappen] did at Imola in 2014 [when he raced in the F3 European Championship for VAR], when he came from 11th on the grid to second – it's great to see your car moving forward."
Lead image: ADAC Motorsport
Autosport has produced a standalone special magazine to celebrate our 70th birthday. All current print subscribers will receive a copy for free. To pre-order your copy of the 196-page Autosport 70th Anniversary issue, please go to: autosport.com/autosport70th
[ad_2]

Source link