https://speed.clothing/wp-content/uploads/2020/12/GPBox-Rectangle-Pictures-2.jpg

Stirling Moss, Nigel Mansell and Ayrton Senna have all won races at the Castle Combe Circuit during its 70-year history, but one driver stands head and shoulders above them when it comes to outright victories at the venue. He spoke to STEFAN MACKLEY
Castle Combe Circuit is celebrating its 70th anniversary in 2020, and the venue's most successful driver isn't far behind that same number in terms of victories – and he's spent far less than 70 years racing.
Even before the truncated current season got underway late due to the coronavirus pandemic, Gary Prebble was far and away the Wiltshire venue's most successful driver.
And in many ways Prebble has been making up for lost time. He's taken seven outright wins at Combe in the space of just three months to move his total tally at the venue to 67, continuing his undisputed dominance at the circuit, and a further four victories further afield have thrust himself to the top of Autosport's National Driver Rankings.
To put Prebble's achievements into context, Bob Light sits second in the Combe all-time-winners list on 36 – only just over half Prebble's total. And what makes Prebble's achievements even more impressive is they have come in a number of series and behind the wheel of a variety of cars, beginning in 1990. He got the itch to race from watching his dad, Special Saloon ace Brian Prebble, in action.
"The first car that I ever drove was dad's spaceframe [1.4-litre] Maguire Hillman Imp," Prebble explains. "I'd never had a trackday in my life, never driven on a race circuit before, and it was a case of sink or swim and he threw me straight out in qualifying."
Class wins soon followed, but any prospect of taking more success with the Imp was ended – almost along with Prebble – in a huge accident in 1993 at Camp Corner.
"If you look at the pictures of the car you're surprised anyone even survived it," he says. "I had a lot of aches and pains for a long time. How, I don't know to this day, but I actually managed to walk out of there with no broken bones, a lot of sore joints and a lot of bruising."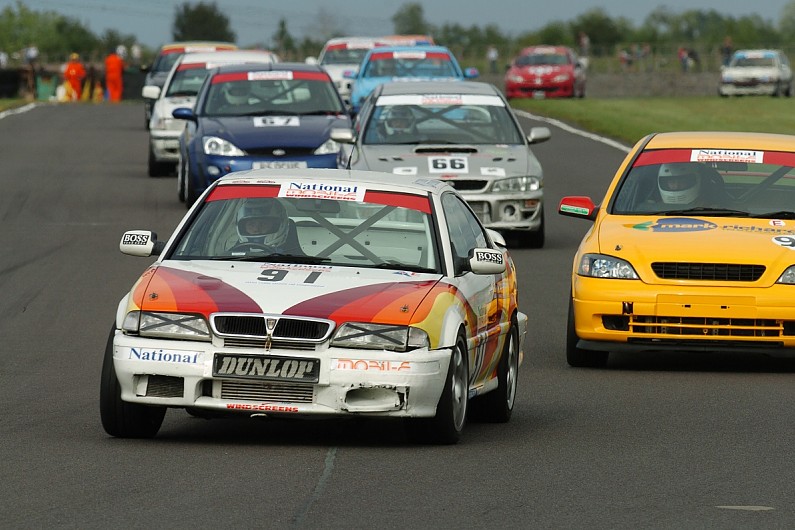 Undeterred by his accident, Prebble soon returned at the wheel of a Rover 220 Coupe (above), which had previously been used by Tony Pond as a test car for the one-make Rover Tomcat series. Six more years of class wins followed but it wasn't until 1 April 2000, almost a decade since he'd first raced at the circuit, that he took his maiden outright triumph.
"I just remember how ecstatic I was and I think I was literally screaming in my helmet for the entire cooling-down lap – I think you always remember your first race win," says Prebble.
"Combe doesn't take any prisoners. There's no big massive crash barriers or gravel traps. If you come off the circuit you're in the wall and I kind of guess that adds to the excitement of driving there" Gary Prebble
The floodgates had finally opened and he went on to claim another 25 wins in the Rover by the end of 2006, by which time he had also won the circuit's Saloon Car Championship outright in 2002, as well as Class A honours in 2001, 2004 and 2006.
By now four-wheel-drive cars had begun to change the complexion of Class A, and it wasn't long before Prebble made the switch to a Mitsubishi Lancer Evo 7 RS formerly owned by Rob Ballard. It may have been a different machine, but the end result often proved to be the same as Prebble notched up 14 wins aboard the Lancer in the Saloons as well as the Sports and GT Championship, claiming the outright title for the latter series in 2012 and 2014.
As the Lancer E7 RS proved too expensive to maintain, Prebble switched to the SEAT Leon Cupra that he still uses today, and which is another former Ballard car.
"We put it on pole and actually won the race from the first time ever sitting in the car," says Prebble. "I think there are some pictures somewhere when I got out of the car and sort of leapfrogged and jumped into Rob and we ended up having a big embracing moment. It was quite something else, I'll always remember that race."
At the wheel of the Leon Cupra he has taken 22 outright wins at the track so far – including five this year – as well as further Class A spoils in 2015, 2017 and 2019. Despite having lived in Southampton his whole life, Prebble considers Combe to be his local circuit, and its family atmosphere and close racing are what attracts him back year after year.
"It's just a fantastic circuit, the people there are so friendly," he says. "It's a great circuit to actually race at. They are a little bit more relaxed there. The circuit's not so corporately run if you like, it's like you're a big family.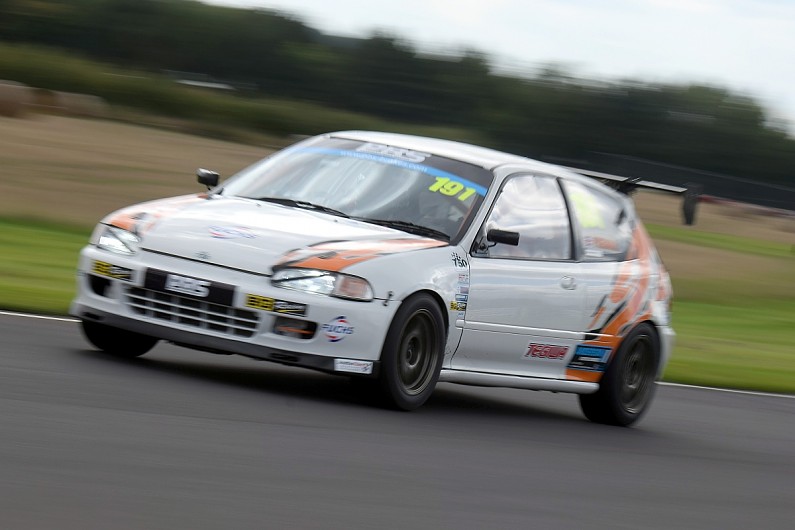 "What I love about Combe is it's just the sheer competitiveness of what you're doing – you've got to drive the wheels off the car to stand any chance of winning the race. Combe doesn't take any prisoners. There's no big massive crash barriers or gravel traps. If you come off the circuit you're in the wall and I kind of guess that adds to the excitement of driving there.
"It's one of those circuits that I think sorts the men out from the boys."
As well as Saloons, Prebble has also been taking part in Combe's newest series, the Hot Hatch Challenge. He took three wins in a Peugeot 205 GTI last season before switching to a Honda Civic (above) this term, adding another two victories at the circuit to his impressive tally.
Prebble's younger brother Adam has also been following his lead and has created a "brotherly rivalry", as Gary admits. The younger sibling claimed two outright wins of his own in Saloons this year at the wheel of a Vauxhall Astra, taking his total score to 16. Add in father Brian's seven victories and the Prebble dynasty has 90 wins at Combe, with every indication of adding more to that next year.
Stirling Moss, Nigel Mansell, Ayrton Senna and David Coulthard all won races at Combe, but it's Gary Prebble who continues to rewrite the circuit's record books. Three decades since he first started racing and 20 years since his first outright victory, he is showing no signs of slowing down.
"I think motor racing is one of those games that you just keep doing for as long as you're physically and financially able to do it," adds Prebble. "My dad gave the game up when it started scaring him and I think that's when he sort of said to me, 'The minute you start not enjoying it, or it's frightening you, is the time to hang up your overalls'. Until such time I'm just carrying on.
"My goals really are just to keep doing what I'm doing. I love the circuit, the people there are so friendly, and I want to try and put a record there that makes it hard for anyone else to beat. The more wins that I can get the bigger the target, and that's what I intend to do."