[ad_1]

Rory Smith beat the elements and all his rivals to claim his first Formula Ford Festival victory last weekend. Elsewhere, Harry King secured the Porsche Carrera Cup title with a round to spare as the TOCA supports were in action at Snetterton
Just like last year, a Formula Ford 1600 National Championship frontrunner who had gone a little under the radar heading into the biggest event of the season hit top form to claim success in the Formula Ford Festival.
For Jonathan Browne in 2019 read Rory Smith in 2020. Browne was the man that Smith had to overcome in the final but, unlike the Irishman last year, it wasn't a case of leading from the front all weekend.
Drawn in arguably the toughest heat, Smith qualified his B-M Racing Medina JL18 only fourth. But, in sweeping rain, he made one place off the line, and then used the Medina's traction to take a much tighter line at Clearways than his rivals. He passed both Bryce Aron (Low Dempsey Racing Ray GR18) and Jordan Dempsey's Kevin Mills Racing Spectrum 011D there on his way to a comfortable win.
"I've done it before and I know that it can be quite effective so I had that in my back pocket ready to go as soon as the rain came down," admitted the 21-year-old. On pole position for his less-wet semi-final, Smith could not resist a charging Neil Maclennan, and had to settle for second, leaving him fourth on the grid for the final.
LDR's Browne, meanwhile, had continued his extraordinary run of form from the 2019 Festival to extend his winning streak to five by claiming heat and semi-final victories. He had to come from behind for the first time in his semi, closing up to and passing Team Dolan man Ross Martin (Van Diemen RF99) as the pair contended with traffic.
Thus it was Browne (below) who started the final from pole, with Maclennan alongside, and Martin and Smith filling row two. Changeable weather was a feature of the weekend and made set-up decisions even more tricky than usual. The track was rarely – if ever – completely dry but nor did it often stay fully wet throughout a race.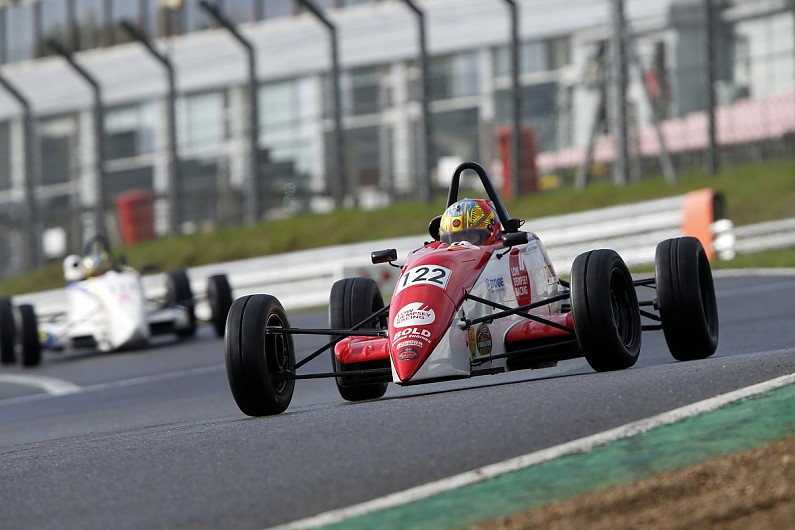 Now with the sun out and a dry line starting to appear where its rays could reach, Browne got the jump and led away from Maclennan and Smith. But Smith dispatched Maclennan with his favoured move at Clearways on lap two and immediately set about challenging for the lead.
Browne was having to defend for his life, repelling Smith's attacks lap after lap, which in turn gave Maclennan a sniff of second each time Smith was rebuffed. Browne was able to cover the inside line at Paddock Hill Bend, Druids, Surtees and, crucially, Clearways.
"Unfortunately, I think Jonathan cottoned on," said Smith. "Everyone else was just doing the wet line [on the outside] but he worked that out and was going tight. So I thought, 'this is the only place I'm getting by him so I'm going to have to make my car really narrow'."
Just after half-distance, that's exactly what Smith did, cutting across the kerb to hug the inside and take the lead as Browne's defensive line left him running wider on the exit. That allowed Maclennan to get a run on Browne too and the Scot completed the move around the outside at Paddock. "Rory was just all over me and I was struggling to keep him behind," admitted Browne.
Smith opened a two-second gap over the next two laps but had his lead wiped out by a safety car. Both he and Maclennan locked their brakes entering Paddock, but Maclennan's wheels touched the painted run-off area and sent him into the barriers.
"I couldn't let him get away," said Maclennan. "Once he got by Jonathan, I knew he was starting to break away so I just had to do a do-or-die move on Jonathan and try to keep onto Rory."
The reigning National champion's weekend had started badly when he qualified only fifth for his heat, with tyre pressures too high for the drying track. That also caused excessive wear and left him gripless for the race in which he trailed home sixth, nearly 30s behind dominant winner Martin. Choosing to use his new tyres in the semi-final aided Maclennan's fightback but his bid for Festival victory would end in the gravel. "At the end of the day, you're there to win it," he said. "I'd probably be just as annoyed coming second as binning it."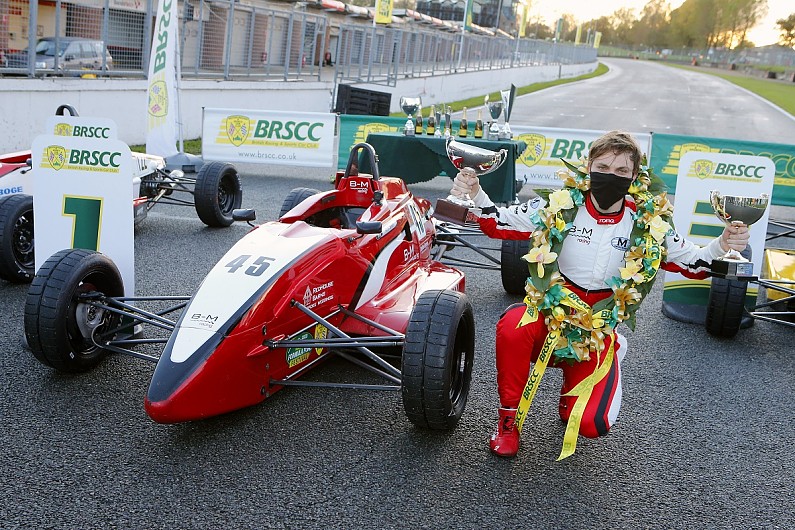 Smith confidently dealt with the extra hurdle thrown at him, judging the restart to perfection and reeling off the remaining three laps to claim the Festival crown. "I knew that if I got a good safety car restart, I had the pace," he said. "Luckily our set-up worked so well that I put my foot down and it just went. The Medina as a car, that's what its strength is. It's just got insane traction and it helps in situations like that."
It was the first Festival win for B-M Racing, but a second for the Medina chassis and team boss Andy Brickles, who engineered Wayne Boyd to his 2015 success.
Behind Browne in second, a strong run from Team USA scholar Aron looked set to be rewarded with third before Martin prised an opening for himself and Team Dolan team-mates Matt Cowley and Chris Middlehurst, whose chances were both hampered by failing to get off the line in their semi-final.
When Martin ran wide at Clearways, Cowley made the podium for the second year running from Middlehurst, Aron and Maxwell Esterson. Dempsey could only manage seventh after struggling all weekend to find the set-up sweet-spot on his Spectrum in the changeable conditions.
Success for Smith more than made up finishing third in the National Championship for the second year running – a campaign that might have played out differently had he not lost a win in the opener at Oulton Park due to a red-flag countback.
"This year we've always been really fast but just not managed to get the results," he said. "So to do well at the big event is amazing. Brands Hatch isn't one of my strongest tracks but the boys got the set-up absolutely spot on."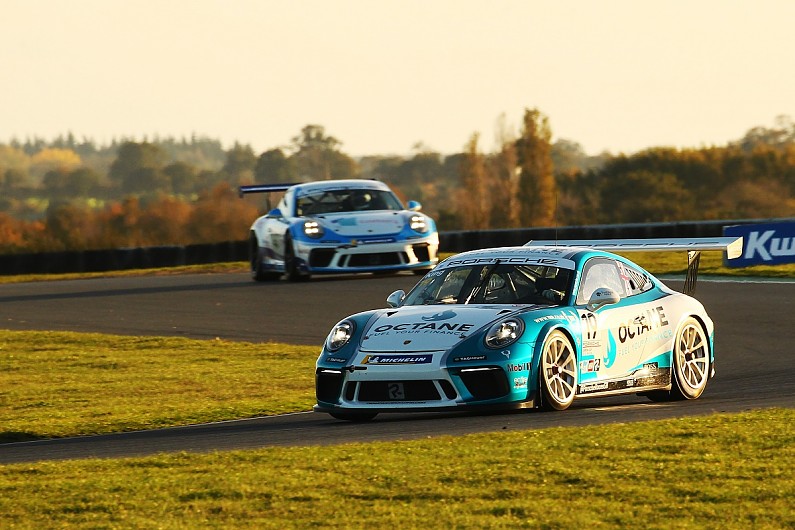 Snetterton TOCA: King crowned champion with round to spare
It was classic Harry King. The reigning Ginetta GT4 Supercup champion did not want to seal a thoroughly-deserved Porsche Carrera Cup GB title with a cautious drive to fourth. Instead he wanted to take his customary place on the top step of the podium. And that is exactly what he did.
To be in a position to take the crown with two races to spare in the second Snetterton contest, King had already triumphed in the opener. He grabbed his seventh pole of the season in qualifying – but it was not straightforward at the start, especially as overnight rain meant the track was still wet.
Matthew Graham got a brilliant getaway to surge into the lead but ran slightly wide at Riches. That allowed King to pounce, taking advantage of a wetter line and his wet-weather rubber to reclaim the lead. And from there he was off. King's Team Parker Racing team-mate Josh Webster also passed Graham around the outside at Hamilton but had no answer to the pace of King.
"I didn't make a great start and was kicking myself for that, but it gave me the advantage into Turn 2," said the victor. He built a commanding 11-second lead, even setting the fastest lap on the final tour when it was clear just how much he was pushing. That gave him an extra point – not that he needed it.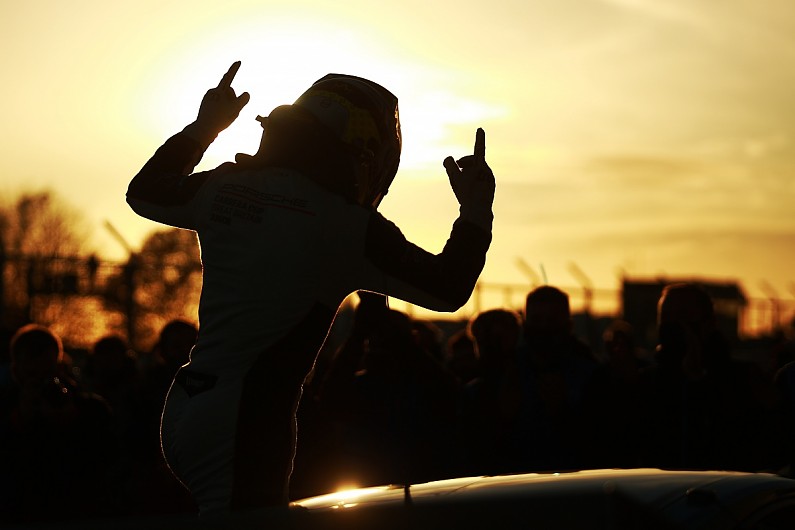 Further back, Graham remained in third while Thruxton winner Will Martin was another driver on the move as he stormed up to fourth. King's perfect weekend continued after the race as he drew out ball four for the reversed grid, the smallest number of places that could be switched.
It was instantly clear just how much King wanted to be provisionally crowned with a win. Moments after Webster passed Graham, he was immediately ahead of the Redline car too with a move at Turn 3. He then made a bold attempt to pass Webster at Williams before sealing the place at the Wilson hairpin on lap two. Two corners later and he was into the lead after a simply brilliant charge down the inside of Martin at Agostini. And he was off again, storming to a 10th win of 2020 – and the crown.
Webster had to make do with second again, while Graham capped off one of his most impressive weekends in the series with another third, beating Lorcan Hanafin by just two tenths of a second. But the Snetterton event was all about one driver – a King who celebrated his coronation in double-quick time.
Title rivals Bailey Voisin and Tom Lebbon have not had much chance to battle on track in the past few Ginetta Junior events. Lebbon's misery at Silverstone, getting caught up in multiple incidents, while Voisin being excluded from qualifying at Croft have limited their recent battles. But the races at Snetterton more than made up for it.
The duo were inseparable for the majority of the three contests – but each time it was Lebbon who eventually emerged on top.
Voisin lost the lead at the start of the opener as Lebbon powered ahead at Riches, although he only stayed there until mid-distance when Voisin fought back at Agostini. They spent most of the next two laps side-by-side but it was Lebbon who was 1.3 seconds ahead at the flag.
Lebbon made hard work of the second contest as a poor getaway dropped him to fifth by the end of the first lap and Voisin had the initial lead. Unsurprisingly, it did not stay that way for long. By Williams on lap three, Lebbon was back ahead and the pair were again glued together for the remainder. "It was tough at the start – I didn't get the best of starts but made my way back up with a few risky moves," he admitted.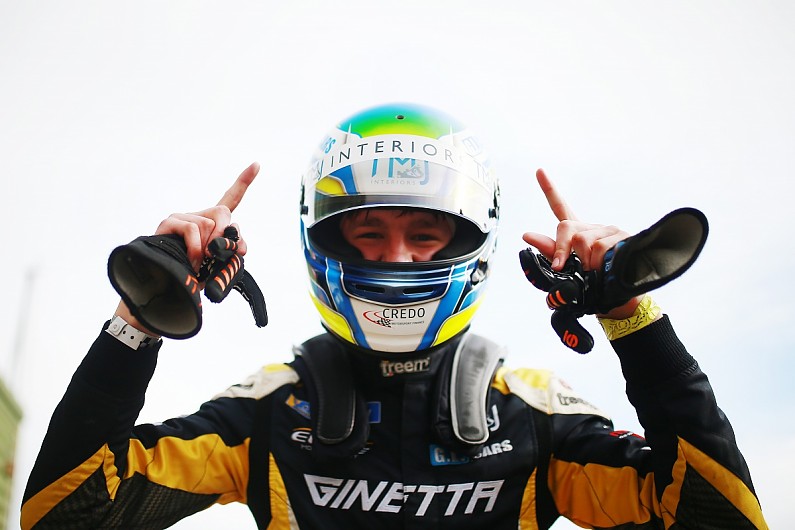 Lebbon (above) stayed in the lead until the penultimate lap when Voisin edged in front at Nelson, only to run slightly wide and allow Lebbon back through. But Voisin again drew ahead out of Murrays before Lebbon sealed the win at the Wilson hairpin on the final tour.
"It was quite a stressful race [having to attack and defend] but it was a good result in the end," said Voisin. "At this point in the season, every point counts so it was good to get fastest lap!
"I think both of us try and be careful because we know a slight bit of contact could ruin the race, so we try and race fair and hard."
And there was more of the same in the finale – although Lebbon emerged with a 7.4s win. Voisin and Tommy Pintos both had spells in front but, as they battled with each other and Josh Rattican and Seb Hopkins, Lebbon worked his way to the front and broke the tow, while Pintos suffered with a loose bonnet catch.
All of that means Lebbon is now just three points behind Voisin in the title race, while Rattican is still in touching distance despite being taken out by Joel Pearson in the opener.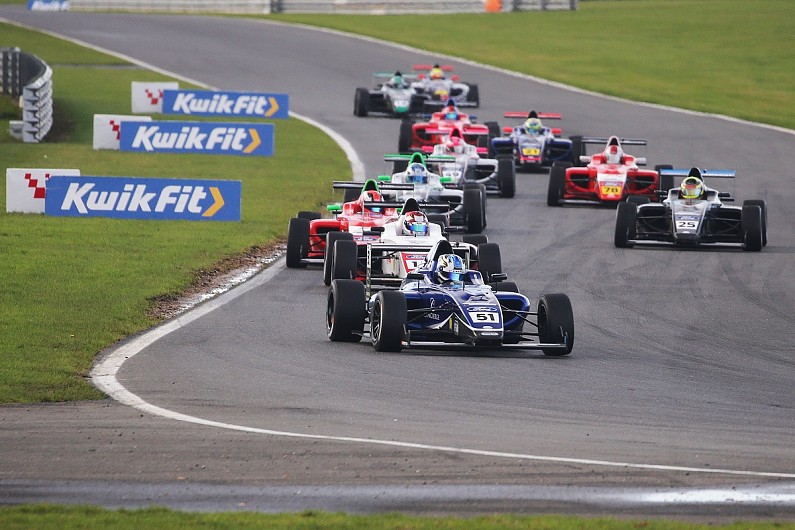 Zak O'Sullivan took the chequered flag first in all three Snetterton races last weekend, got one victory taken away, but still levelled the score with long-time leader Luke Browning.
The controversy came in the opening race, as O'Sullivan took the lead from Browning on the second lap. Fortec Motorsport racer Browning felt Carlin-run O'Sullivan had opened his steering, leading to contact and forcing him wide as they headed onto the back straight. That dumped Browning to fifth, before James Hedley made contact with Alex Connor at the Esses as he wrested second, sending Connor to the back.
With Browning repassing Christian Mansell and taking third on the road, he inherited the win when O'Sullivan and Hedley were both penalised for their moves.
O'Sullivan was classified second, putting him fifth on the reversed grid for race two, but within four laps he was in front after passing early leader Casper Stevenson, who kept him under pressure for the rest of the race. Roman Bilinski was third, as Browning held off Abbi Pulling for fourth.
O'Sullivan resisted Browning in the finale, before Browning ran wide at Riches and settled for second, but the talking point was Connor's disgusting swerve on Stevenson as they battled up to Riches at 120mph. Stevenson's quick reflexes as wheel met wheel got him off the grass at the cost of only one place to Hedley, who then passed Connor for third. Connor was penalised one place, but such a dangerous action warranted further sanction.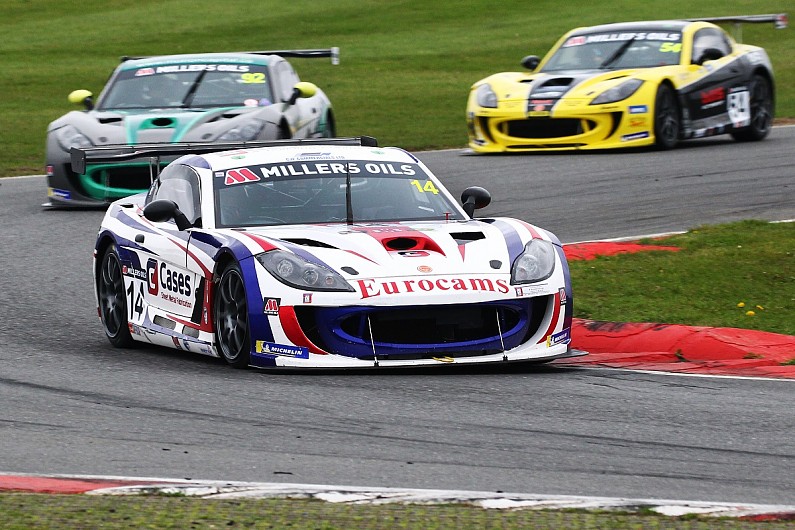 An accidental whack from his Rob Boston Racing team-mate Joe Marshall-Birks in race three denied Will Burns the chance of taking the provisional Ginetta GT4 Supercup crown at Snetterton.
Marshall-Birks had gone off at Oggies and, as he rejoined the track, lost control of his car again, sending him into the path of Burns – who was spun off. He rejoined last and set about working his way through the field to an eventual fifth but it was not enough for him to seal the title in Norfolk.
Burns was in a position to secure the championship a round early after main rival Gus Burton had a disaster in race one. His Century Motorsport team-mate Jamie Falvey had dived down the inside of Adam Smalley on the run to Riches, but there was not enough room for the trio to run three abreast and Falvey sent Smalley into the path of Burton, who was spun out. Burns was therefore able to win from Falvey.
Smalley again impressed in wet conditions in race two, grabbing the lead from Burns through the Bomb Hole as Burton fought back to take third. Tom Hibbert surged into the lead of the finale before losing out to Burton at Murrays late on, as Falvey also snuck ahead.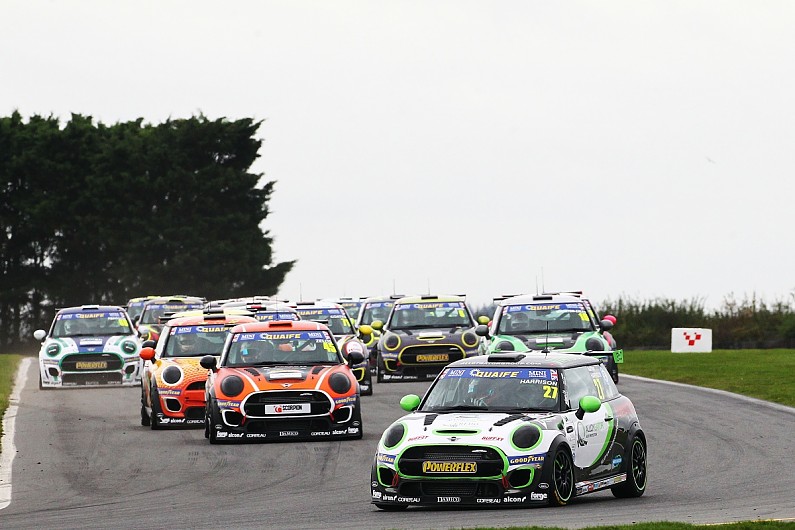 Nathan Harrison claimed the Mini Challenge points lead as he took his third win of the season, while main rival Ant Whorton-Eales had a weekend to forget.
Harrison qualified on pole and led throughout the opener to seize the initiative in the title fight. Dan Zelos did put him under pressure for a spell before Harrison extended his advantage again.
"We had a monster start – probably the best start of my career and that helped," said Harrison, who admitted it "felt like the longest race of my life" as he fought to keep Zelos at bay.
"We got pole, and six points for that, the race win and fastest lap. That was the plan – to try and maximise everything."
That 62-point haul was particularly significant as Whorton-Eales only qualified 10th and progressed to sixth by the flag. But worse was to come for Whorton-Eales in race two as the slightest of touches while battling Max Coates left him out of the race with damaged suspension.
It was not much better for Harrison as a post-race penalty for gaining an unfair advantage left him 14th, but he still banked 28 points after setting fastest lap. Up front, Isaac Smith held off Coates to claim his first win after Jack Davidson had a moment at Riches following the first of two safety car periods.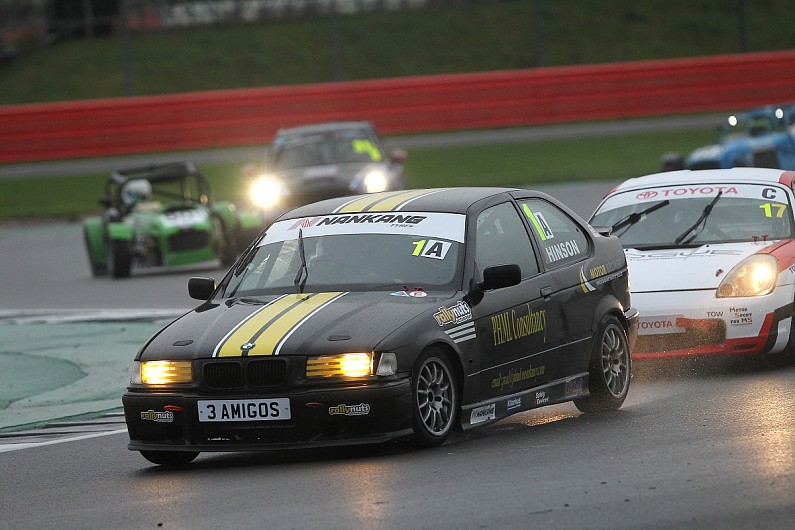 Silverstone 750MC: The 3 Amigos defend Birkett Six-Hour Relay crown
In a feat unprecedented in the 70-year-history of the 750 Motor Club's Birkett Six-Hour Team Relay race, BMW Compact drivers Paul Hinson, David Drinkwater and Adam Read defended their handicap title.
Nineteenth after the first hour around Silverstone's Grand Prix circuit on Saturday – in which Read's engine failed – The 3 Amigos roared back as a rain shower intensified to lead at the two-thirds mark. They hung on to defeat a trio of jostling VW Fun Cup equipes, which completed a lap more, but received two fewer credit laps.
The wetter the weather became, the more the endurance specialists in their tubeframe silhouette Beetles imposed themselves among the 69-car field.
Despite opener James Little's front wheelarch being savaged by a Radical, which crabbed back to the pits with broken suspension, Team 7 WASPP – with Mark Blundell's 1987 Formula 3000 race engineer Martin Angeloni on spanners – earned second overall, edging arch-rivals Premature Acceleration and JPR Fun Cup Boys with debutant Kristian Rose.
Debutants Sarah Hobson and Kelly Brabin teamed up with Lee Mabbett and Dave Traviss in Toyota Celicas under the Se7en Motorsports banner to grab a strong fifth, pipping Area Motorsport's zippy Honda Civic Type Rs and William Beech in a VW Golf ahead of Kevin Dengate's Red Rascals. Fourth piloting BMW M3s in last year's monsoon, they slipped to seventh in Mazda MX-5s this year.
Rally convert Sacha Kakad and his 2017 Dubai 24 Hours class-winning Audi RS3 LMS put Simpson Motorsport on top after an hour but the mixed-squad, including a substitute Citroen C1, were swallowed by the pack and finished 23rd. RAF Team Hurrican claimed armed services glory after David Russell's BMW M3 slid into the gravel at Club, disadvantaging the feisty flyers' sister outfit RAF Team Spitfire.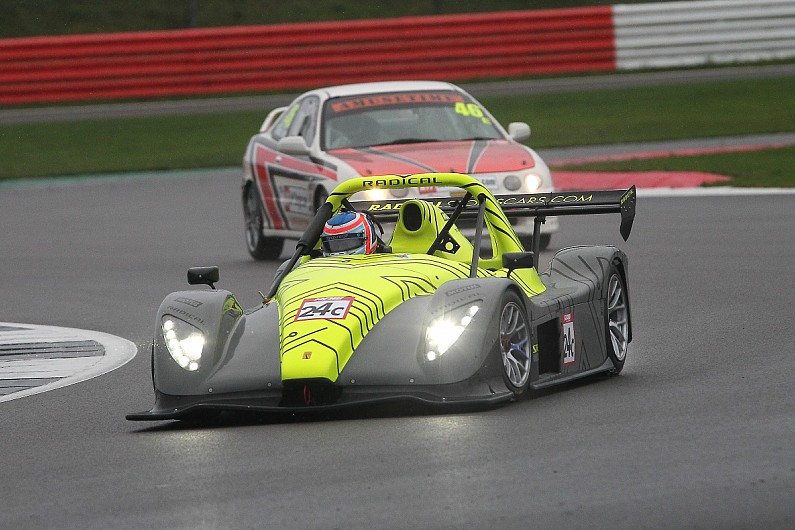 The fight for Scratch honours – greatest distance covered – quickly distilled into a two-horse Radical SR3 race between the quicker of RJ Motorsport's teams – for which EuroBOSS ace Scott Mansell set the race's best lap – and RAW Motorsport (above).
The latter's tactics had to change when start driver Shane Stoney pitted his car with a sticky throttle following a post-practice cable change. As the their routine stops were now out of kilter, the lead changed several times, but RAW's Tom Ashton and John MacLeod kept circulating like clockwork while Stoney's machine was fixed and returned. With RJM's Mansell closing by as much as 12 seconds a lap in the slippery final stages, the steadier MacLeod handed back to Ashton to make sure.
The second RJM team finished third, nine laps adrift, anchored by stalwart Charles Graham who had transferred from Breakell's Heroes when last year's winners committed to Revolution's Portuguese Grand Prix support race. Historic Formula 1 and F5000 racer Neil Glover was an addition to the line-up.
Behind the sports racers, RNR Performance Cars' Ferrari quartet – headed by Nigel Jenkins' stunning yellow 458 Challenge – hounded down Carl Swift's Area Motorsport SEAT Leon Eurocup to snatch fourth on the line.
More remarkable, though, were the three 7 Race Series Caterham 420R regional teams, which finished sixth, seventh and eighth having fought every inch of the way. The Midlands quartet repassed the Northern Monkeys in the gloom to win a mighty private battle by a lap with the Southern crew a second adrift at the flag.
Reports by Mark Paulson, Stephen Lickorish, Marcus Simmons and Marcus Pye. Pics by Gary Hawkins, Jakob Ebrey Photography and Mick Walker. Want the full picture on last weekend's national racing, including more reports? Subscribe today and never miss your weekly fix of motorsport with Autosport magazine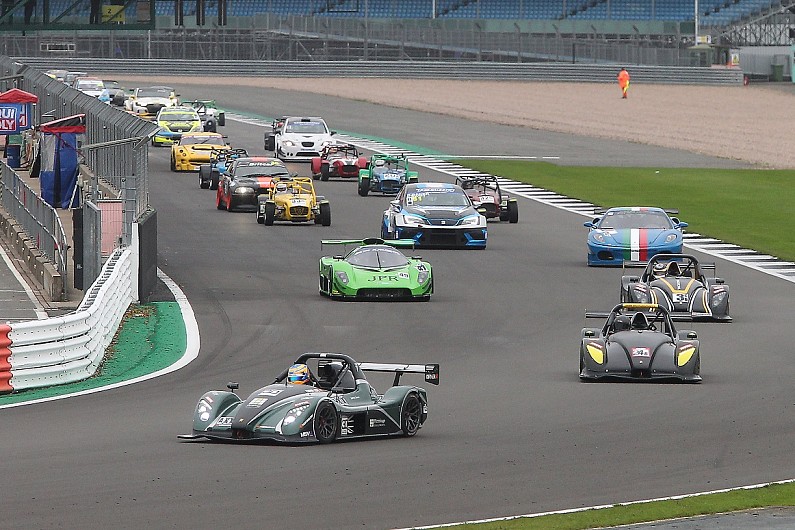 [ad_2]

Source link