https://speed.clothing/wp-content/uploads/2020/12/GPBox-Rectangle-Pictures-2.jpg

McLaren Formula 1 team principal Andreas Seidl says its Emilia Romagna GP was one of "damage limitation" after a poor qualifying session hampered both drivers.
Lando Norris and Carlos Sainz Jr started ninth and 10th respectively at Imola, and at a track where it proved almost impossible to overtake they finished seventh and eighth, with the Spaniard ahead.
The result meant the battle for third in the constructors' world championship closed up, with Renault holding the position on 135 points, ahead of McLaren and Racing Point tied on 134.
McLaren made a bid to move up the order during the late race safety car by pitting Sainz and Norris for used soft tyres, while rivals Daniel Ricciardo, Charles Leclerc and Alex Albon stayed out on hards.
However the call made little difference to the outcome, with neither McLaren driver able to replicate Daniil Kvyat's late charge into fourth place on softs and gaining positions only from Albon's spin.
"I think we can be happy to go away with 10 points," said Seidl.
"And having been able to even score more points than Racing Point, and losing only a limited amount of points to Renault.
"It was damage limitation on a weekend where we couldn't compete with them in terms of performance."
Seidl noted that the result might have been better had Sainz jumped Kvyat, who eventually finished fourth for AlphaTauri, at the first stops.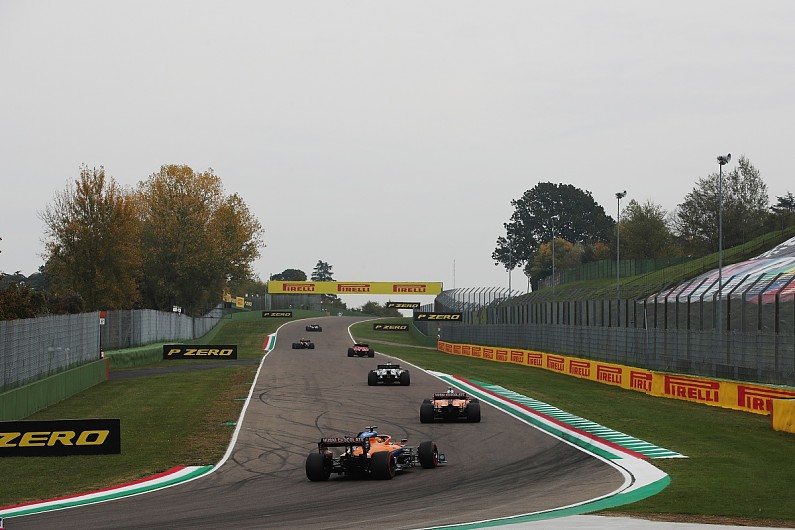 "That's why we tried to do the pit stop at this time, because we had seen before on track it was not possible to overtake," he said.
"The only chance was then at the pitstop, and he was very, very close.
"For sure then the race could have ended maybe a bit different because in the end, we were stuck behind Dany straight from the beginning.
"As Carlos says, he thinks he had definitely more pace in the car, but simply couldn't use it.
"[It's] difficult to know where we would have ended up then. We simply have to be higher up in qualifying and then your race Sunday is also easier, that's what we have to focus on."
Seidl added that the team continues to make progress with the new aero package, reporting that both drivers were "happy" after the race.
"We simply couldn't extract the performance we expected yesterday in qualifying from the car, it was difficult for the drivers to get the laps in," he said.
"And that in the end resulted in P9 and P10, which then was causing the compromises for the race today, simply being stuck and not being able to use the pace the car might have had in the racing in free air for example.
"We've seen with Carlos that on a track like this, if you're stuck behind a car, and I think we had maybe slightly more pace, we simply couldn't do anything.
"That's why I think in the end, we still need to be happy with the outcome that we could score 10 points.
"I think the team and both drivers in terms of race execution did a great job, very good pit stops and the right calls on the strategy side. So obviously, we benefited from the incidents, which kept us in the fight for this P3 [in the constructors]."