https://speed.clothing/wp-content/uploads/2020/12/GPBox-Rectangle-Pictures-2.jpg

Juan Pablo Montoya led the Sebring 12 Hours shortly after half distance for Acura Team Penske as the chief protagonists for the IMSA WeatherTech SportsCar Championship both hit trouble.
The pole-sitting #7 Acura of championship leader Ricky Taylor led the early stages, but lost 11 laps due to the failure of a turbo intercooler had failed, which necessitated a long spell belong the wall.
It had regained three of those laps at half distance, but its chief rival, the Wayne Taylor Racing Cadillac was unable to capitalise due to contact between Scott Dixon and Oliver Jarvis's Mazda which left it five laps down after repairs were affected to its damaged right-rear corner.
WTR's Renger van der Zande had been set to inherit the lead after Taylor's problems, but lost time to a drive-through penalty for an incorrect start procedure which put Montoya's team-mate Dane Cameron into the lead ahead of Sebastian Bourdais (JDC Miller Cadillac) and title outsider Pipo Derani (Action Express Cadillac).
Derani and Ryan Hunter-Reay's Mazda stayed out under the first caution before pitting under green to cycle Cameron back to the lead, but a fortunately-timed stop for WTR's Ryan Briscoe just before the second caution then meant the Australian took the restart in front.
When he handed back to Dixon at his next stop under green, Montoya's team-mate Simon Pagenaud took over the lead, while Dixon rejoined in third. He was soon under pressure from Jarvis and when the two cars touched, Dixon sustained major damage. However, Jarvis was not required to serve no penalty.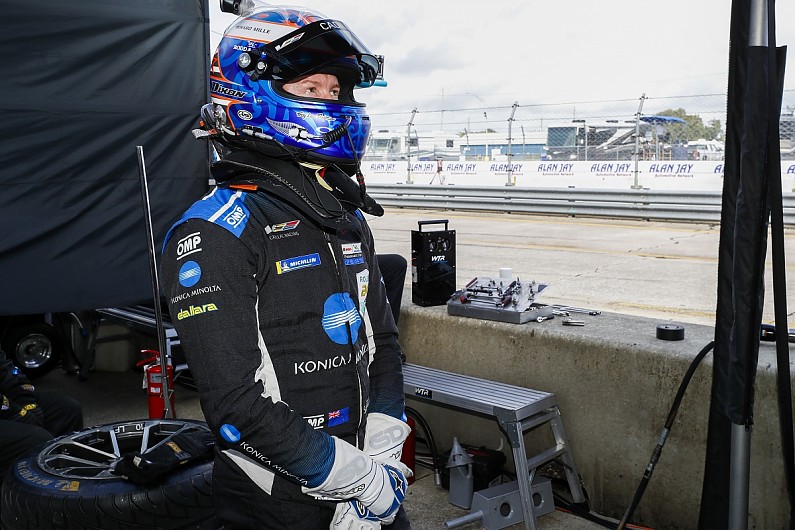 Derani then had a turn in the led after the resultant debris-caused caution from Cameron and Loic Duval (in for Bourdais), before another caution yellow period caused by John Potter's GTD Lamborghini allowed WTR to get another of its laps back and Montoya to take over the lead Acura.
When Patrick Kelly's LMP2 class-leading PR1 Mathiasen Motorsports ORECA collided with Nicky Catsburg in the #3 Corvette, it brought out another caution.
Matheus Leist stayed out in the second JDC Miller Caddilac, but pitted as the field went back to green, to put Montoya back ahead.
In GTLM, Frederic Makowiecki led at half distance in the #911 Porsche 911 RSR-19 in the Weissach marque's farewell IMSA appearance.
At the race start, Nick Tandy ran fourth in #911 as Connor De Phillippi's BMW M8 took the lead from the pole-sitting #3 Corvette C8.R of Antonio Garcia, the lead pair pulling away from the second BMW of Jesse Krohn.
In response to the debris, ahead of the yellow flag, all cars were pulled in and De Phillippi resumed ahead of Garcia, while Earl Bamber took over from Tandy and emerged from the pits ahead of Krohn.
Garcia relayed Jordan Taylor at the next round of stops, and Taylor promptly emerged ahead of the #25 BMW with Colton Herta now at the wheel.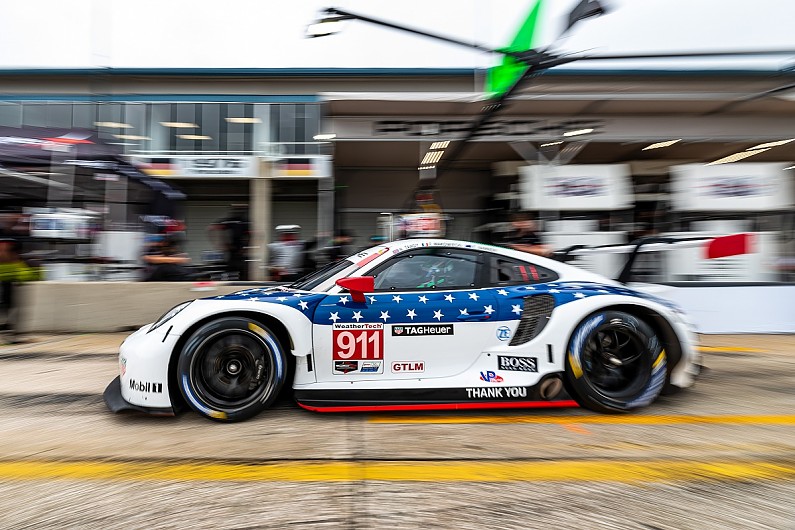 Herta fell to fifth following the third round of stops under caution, but immediately re-passed Oliver Gavin in the #4 Corvette to take fourth, while Bamber took the lead from Taylor and the Krohn BMW now with Augusto Farfus behind the wheel.
A small error from Taylor then allowed Farfus through to second, the leading trio remaining in that order until the #911 and #24 BMW pitted under caution and dropped behind Catsburg in the #3 Corvette, Bruno Spengler – in for Herta – and Neel Jani in the #912 Porsche.
But Catsburg sustained damage in the contact with Kelly at Turn 17 and only just avoided contact with the sister #4 Corvette driven by Marcel Fassler, who was running five laps down after losing time to an oil leak.
In GT Daytona, Jan Heylen dominated the early running in his Wright Motorsports Porsche but a mistake from co-driver Ryan Hardwick cost the pole-sitting car several places. The chief beneficiary was the Grasser Lamborghini of Steijn Schothorst, which overtook Rob Ferriol's Hardpoint Audi and pulled away.
However the Lamborghini's race was severely hampered when with Richard Heistand back behind the wheel, it died as it left the pitbox and had to be taken behind the wall.
This promoted the two AIM Vasser Sullivan Lexus RC Fs into first and second with Townsend Bell and Kyle Kirkwood driving, but both then crashed when they came across the oil dropped by the #4 Corvette. Ferriol and Hardwick also spun but continued, allowing Darren Turner through to the lead in the Heart of Racing Aston Martin Vantage.
When Roman De Angelis took over the Aston, he was passed by Alessandro Balzan (Scuderia Corsa Ferrari) and Marc Miller's Riley Motorsports Mercedes, but another caution prompted a major reshuffle with Corey Lewis taking the lead in Paul Millers Lamborghini from Heylen and Jeff Westphal for Scuderia Corsa.
The caution also allowed the points-leading Meyer Shank Racing Acura driven by Shinya Michimi to move up to fourth after co-driver Mario Farnbacher had been turned around by Nick Yelloly's Turner Motorsport BMW M6 at Turn 1.
Results after 5 hours
| Pos | Class | Driver | Team | Car | Gap | Laps |
| --- | --- | --- | --- | --- | --- | --- |
| 1 | DPi | F.Nasr, P.Derani, G.Chaves | Whelen Engineering Racing | Cadillac | 5h02m29.246s | 142 |
| 2 | DPi | O.Jarvis, T.Nunez, O.Pla | Mazda Team Joest | Mazda | 7.400s | 142 |
| 3 | DPi | J.Bomarito, H.Tincknell, R.H.-Reay | Mazda Team Joest | Mazda | 13.171s | 142 |
| 4 | DPi | J.P.Montoya, D.Cameron, S.Pagenaud | Acura Team Penske | Acura | 21.218s | 142 |
| 5 | DPi | S.Bourdais, T.Vautier, L.Duval | JDC-Mustang Sampling Racing | Cadillac | 27.990s | 142 |
| 6 | DPi | M.Leist, S.Simpson, S.Andrews | JDC-Miller Motorsports | Cadillac | 36.026s | 142 |
| 7 | LMP2 | P.Kelly, S.Trummer, S.Huffaker | PR1/Mathiasen Motorsports | ORECA/Gibson | 3m39.653s | 140 |
| 8 | DPi | R.van der Zande, R.Briscoe, S.Dixon | Konica Minolta Cadillac DPi-V.R | Cadillac | -8'07.284 | 139 |
| 9 | LMP2 | D.Yount, P.Byrne, G.Cosmo | Performance Tech Motorsports | ORECA/Gibson | 37.029s | 138 |
| 10 | GTLM | A.Garcia, J.Taylor, N.Catsburg | Corvette Racing | Chevrolet | 3m35.216s | 136 |
| 11 | GTLM | B.Spengler, C.De Phillippi, C.Herta | BMW Team RLL | BMW | 3m37.660s | 136 |
| 12 | GTLM | E.Bamber, L.Vanthoor, N.Jani | Porsche GT Team | Porsche | 3m38.740s | 136 |
| 13 | GTLM | N.Tandy, F.Makowiecki, E.Bamber | Porsche GT Team | Porsche | 3m39.682s | 136 |
| 14 | GTLM | J.Krohn, J.M.Edwards, A.Farfus | BMW Team RLL | BMW | 3m41.917s | 136 |
| 15 | LMP2 | J.Farano, M.Jensen, D.H.Hansson | Tower Motorsport by Starworks | ORECA/Gibson | 15.407s | 134 |
| 16 | DPi | H.Castroneves, R.Taylor, A.Rossi | Acura Team Penske | Acura | 3m40.377s | 134 |
| 17 | GTD | T.Hindman, M.Goikhberg, J.Hand | Heinricher Racing with Meyer Shank Racing | Acura | 3m43.635s | 132 |
| 18 | GTD | C.MacNeil, A.Balzan, J.Westphal | Scuderia Corsa | Ferrari | 3m44.835s | 132 |
| 19 | GTD | G.Robinson, L.Aschenbach, M.Miller | Riley Motorsports | Mercedes | 3m45.375s | 132 |
| 20 | GTD | I.James, R.De Angelis, D.Turner | Heart of Racing Team | Aston Martin | 3m47.411s | 132 |
| 21 | GTD | R.Foley, D.Machavern, N.Yelloly | Turner Motorsport | BMW | 3m50.011s | 132 |
| 22 | GTD | M.Farnbacher, M.McMurry, S.Michimi | Meyer Shank Racing with Curb-Agajanian | Acura | 3m53.930s | 132 |
| 23 | GTD | A.Lally, J.Potter, S.Pumpelly | GRT Magnus Racing Team | Lamborghini | 8.697s | 131 |
| 24 | GTD | B.Sellers, M.Snow, C.Lewis | Paul Miller Racing | Lamborghini | 16.110s | 131 |
| 25 | GTD | R.Ferriol, A.Davis, P.Kaffer | Team Hardpoint | Audi | 27.446s | 131 |
| 26 | GTD | R.Hardwick, P.Long, J.Heylen | Wright Motorsports | Porsche | 28.094s | 131 |
| 27 | GTLM | O.Gavin, T.Milner, M.Fassler | Corvette Racing | Chevrolet | 3m36.662s | 130 |
| 28 | GTD | R.Heistand, S.Schothorst, F.Perera | GRT Grasser Racing Team | Lamborghini | 1m11.378s | 125 |
| 29 | LMP2 | J.Smiechowski, N.Rao, M.Bell | Inter Europol Competition | ORECA/Gibson | 3m43.269s | 120 |
| 30 | GTD | F.Montecalvo, T.Bell, M.De Quesada | AIM Vasser Sullivan | Lexus | 3m42.470s | 103 |
| 31 | GTD | J.Hawksworth, A.Telitz, K.Kirkwood | AIM Vasser Sullivan | Lexus | -2:22'36.526 | 70 |
Autosport has produced a standalone special magazine to celebrate our 70th birthday. All current print subscribers will receive a copy for free. To pre-order your copy of the 196-page Autosport 70th Anniversary issue, please go to: autosport.com/autosport70th