https://speed.clothing/wp-content/uploads/2020/12/GPBox-Rectangle-Pictures-2.jpg

Acura Team Penske driver Ricky Taylor took pole position for tomorrow's Sebring 12 Hours that will conclude the IMSA Sportscar Championship, seeing off main championship rival Renger van der Zande.
The pair enter the season finale just two points apart after Taylor's team-mate Dane Cameron gave up victory on the penultimate lap at Laguna Seca last time out, allowing Taylor and Helio Castroneves through to win.
Driving the #7 Acura ARX-05 he'll share with Castroneves and Alexander Rossi, Taylor lapped the 3.74-mile course in 1m46.874s to beat outgoing Wayne Taylor Racing Cadillac DPi-V.R driver van der Zande – whose seat is set to be taken by Taylor next year – by 0.251s.
Van der Zande, who shares with Ryan Briscoe and Scott Dixon, was 0.015s quicker than Cameron and will start from second ahead of the #6 ARX-05 that will be co-driven by Juan-Pablo Montoya and Simon Pagenaud.
Sebastien Bourdais will start fourth in the JDC Miller Motorsports #5 Cadillac ahead of Mazda's Harry Tincknell and championship outsider Pipo Derani only sixth for Action Express Racing.
The defending Sebring 12 Hour winner is nine points off the championship lead, with regular co-driver Felipe Nasr unable to win the title having missed the second Daytona race due to a positive coronavirus test.
Oliver Jarvis will line up seventh in the second Mazda ahead of JDC Miller's Matheus Leist.
Meanwhile Patrick Kelly scored his sixth consecutive LMP2 class pole in the PR1 Mathiasen Motorsports ORECA 07, 1.77s faster than Naveen Rao's identical Inter Europol Competition machine.
John Farano (Starworks ORECA) and Don Yount (Performance Tech Motorsports ORECA) will line up third and fourth.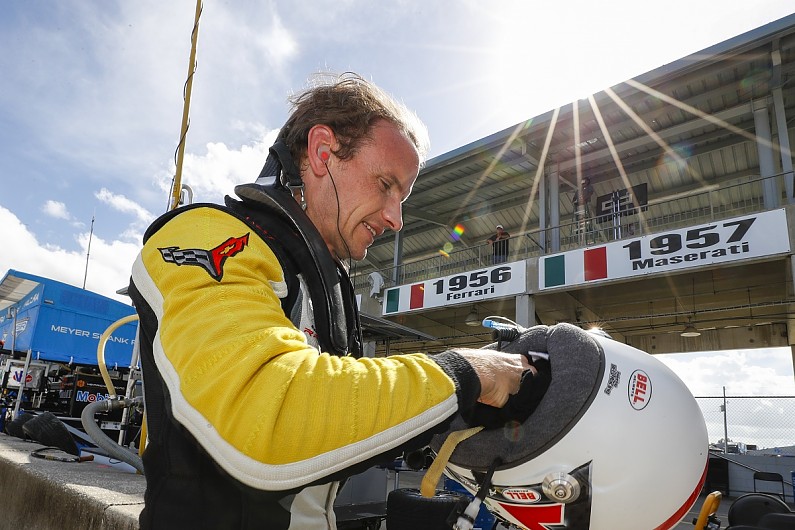 In GTLM, Antonio Garcia took pole by a convincing margin in the #3 Corvette C8.R he'll share with Jordan Taylor and Nicky Catsburg.
The Spaniard's lap 1m55.456s was 0.660s faster than Connor De Phillippi's #25 BMW M8, with fellow BMW driver Jesse Krohn beating the second Corvette of Tommy Milner to fourth.
The practice sessions had been dominated by the Porsche 911 RSRs on the Weissach marque's final appearance as a factory team in IMSA, only for Nick Tandy and series returnee Neel Jani to qualify fifth and sixth.
In GT Daytona, former Champ Car racer Jan Heylen's early benchmark of 2m00.844s in the Wright Motorsports Porsche 911 GT3R was never beaten.
His closest challenger, Andrew Davis in the Hardpoint Racing Audi R8, was over half a second slower, with Aaron Telitz third in the #14 AIM Vasser Sullivan Lexus RC F.
The championship-leading #86 Meyer Shank Racing Acura NSX of Mario Farnbacher and Matt McMurry will start eighth after a disappointing qualifying for Shinya Michimi.
Results
| Pos | Class | Driver | Team | Car | Gap |
| --- | --- | --- | --- | --- | --- |
| 1 | DPi | H.Castroneves, R.Taylor, A.Rossi | Acura Team Penske | Acura | 1m46.874s |
| 2 | DPi | R.van der Zande, R.Briscoe, S.Dixon | Konica Minolta Cadillac DPi-V.R | Cadillac | 0.251s |
| 3 | DPi | J.P.Montoya, D.Cameron, S.Pagenaud | Acura Team Penske | Acura | 0.266s |
| 4 | DPi | S.Bourdais, T.Vautier, L.Duval | JDC-Mustang Sampling Racing | Cadillac | 0.335s |
| 5 | DPi | J.Bomarito, H.Tincknell, R.H.-Reay | Mazda Team Joest | Mazda | 0.371s |
| 6 | DPi | F.Nasr, P.Derani, G.Chaves | Whelen Engineering Racing | Cadillac | 0.453s |
| 7 | DPi | O.Jarvis, T.Nunez, O.Pla | Mazda Team Joest | Mazda | 0.600s |
| 8 | DPi | M.Leist, S.Simpson, S.Andrews | JDC-Miller Motorsports | Cadillac | 0.822s |
| 9 | LMP2 | P.Kelly, S.Trummer, S.Huffaker | PR1/Mathiasen Motorsports | ORECA/Gibson | 4.499s |
| 10 | LMP2 | J.Smiechowski, N.Rao, M.Bell | Inter Europol Competition | ORECA/Gibson | 6.273s |
| 11 | LMP2 | D.Yount, P.Byrne, G.Cosmo | Performance Tech Motorsports | ORECA/Gibson | 7.171s |
| 12 | LMP2 | J.Farano, M.Jensen, D.H.Hansson | Tower Motorsport by Starworks | ORECA/Gibson | 7.320s |
| 13 | GTLM | A.Garcia, J.Taylor, N.Catsburg | Corvette Racing | Chevrolet | 8.582s |
| 14 | GTLM | B.Spengler, C.De Phillippi, C.Herta | BMW Team RLL | BMW | 9.242s |
| 15 | GTLM | J.Krohn, J.M.Edwards, A.Farfus | BMW Team RLL | BMW | 9.442s |
| 16 | GTLM | O.Gavin, T.Milner, M.Fassler | Corvette Racing | Chevrolet | 9.572s |
| 17 | GTLM | N.Tandy, F.Makowiecki, E.Bamber | Porsche GT Team | Porsche | 9.966s |
| 18 | GTLM | E.Bamber, L.Vanthoor, N.Jani | Porsche GT Team | Porsche | 10.900s |
| 19 | GTD | R.Hardwick, P.Long, J.Heylen | Wright Motorsports | Porsche | 13.970s |
| 20 | GTD | R.Ferriol, A.Davis, P.Kaffer | Team Hardpoint | Audi | 14.672s |
| 21 | GTD | J.Hawksworth, A.Telitz, K.Kirkwood | AIM Vasser Sullivan | Lexus | 14.731s |
| 22 | GTD | R.Heistand, S.Schothorst, F.Perera | GRT Grasser Racing Team | Lamborghini | 14.778s |
| 23 | GTD | C.MacNeil, A.Balzan, J.Westphal | Scuderia Corsa | Ferrari | 14.928s |
| 24 | GTD | F.Montecalvo, T.Bell, M.De Quesada | AIM Vasser Sullivan | Lexus | 14.965s |
| 25 | GTD | R.Foley, D.Machavern, N.Yelloly | Turner Motorsport | BMW | 15.336s |
| 26 | GTD | M.Farnbacher, M.McMurry, S.Michimi | Meyer Shank Racing with Curb-Agajanian | Acura | 15.412s |
| 27 | GTD | B.Sellers, M.Snow, C.Lewis | Paul Miller Racing | Lamborghini | 15.561s |
| 28 | GTD | G.Robinson, L.Aschenbach, M.Miller | Riley Motorsports | Mercedes | 15.815s |
| 29 | GTD | I.James, R.De Angelis, D.Turner | Heart of Racing Team | Aston Martin | 15.831s |
| 30 | GTD | T.Hindman, M.Goikhberg, J.Hand | Heinricher Racing with Meyer Shank Racing | Acura | 16.279s |
| 31 | GTD | A.Lally, J.Potter, S.Pumpelly | GRT Magnus Racing Team | Lamborghini | 17.489s |
Autosport has produced a standalone special magazine to celebrate our 70th birthday. All current print subscribers will receive a copy for free. To pre-order your copy of the 196-page Autosport 70th Anniversary issue, please go to: autosport.com/autosport70th