[ad_1]

Carlos Sainz Jr says learning from younger team-mate Lando Norris has made him a better Formula 1 driver.
The Spaniard has driven alongside Norris at McLaren since the start of last year, but is leaving at the end of this season to move to Ferrari.
Although Sainz is the much more experienced driver, having raced in F1 since 2015 with Toro Rosso and Renault prior to his current role, he says there are important things that his team-mate has brought to the table.
In particular, Sainz says that he spots things on Norris's data that he is able to copy and use himself to improve his performance.
"He's a very good driver," said Sainz about Norris. "Every time I have a chance to look at his data, there's always things to learn and things to try myself and to improve as a driver.
"He always has something in some corner that I'm not doing, and I have to try and do it. And that makes me a better driver. I think I've been lucky you know, to have him as a team-mate, because it's made me progress also."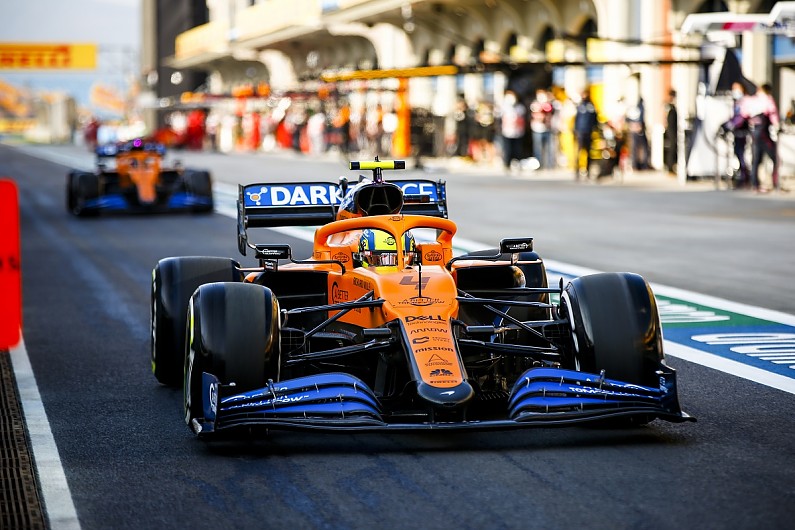 Sainz believes that the fact both he and Norris are pushing each other hard has contributed to the rate of progress that McLaren has been able to make, as it challenges for third place in the constructors' championship.
At the moment, Sainz and Norris are separated by just one point in the drivers' standings with three rounds to go.
Sainz added: "The team comes first and I can assure you now that whenever we are on track, we will be thinking more about the P3 of the team than our P7 [in the drivers' standings]. That P3 is worth quite a bit more than our P7 for each other."
Norris also says that he been helped in getting up to speed in F1 by Sainz, who has provided some valuable lessons to the British driver.
"We both respect each other a lot," explained Norris. "From my side I've learned a lot from Carlos in my first two years of Formula 1: what not to do sometimes.
"But a lot more of the time I've learned what helps me and what allows me to do a better job. And, yeah, it's been good fun, fun times that we've had, and I've learned a lot.
"I respect everything that he's been able to help me with and we've been able to do together, so we'll be fighting each other hard to do a good job and try and help the team get P3 in the championship."
Autosport has produced a standalone special magazine to celebrate our 70th birthday. All current print subscribers will receive a copy for free. To order your copy of the 196-page Autosport 70th Anniversary issue, please go to: autosport.com/autosport70th
[ad_2]

Source link