[ad_1]

George Russell's impressive qualifying performance for Mercedes at the Sakhir Grand Prix shows what Formula 1 is missing without a level playing field between its teams, says Carlos Sainz Jr.
Russell was just 0.026s shy of his first pole position after being called up to replace COVID-positive Lewis Hamilton in Bahrain, the 22-year-old looking to score the first points of an F1 career that has to date been spent in uncompetitive Williams machinery.
And while many of his rivals have said they're not surprised to see the long-time Mercedes junior immediately on the pace in the Mercedes, McLaren driver Sainz believes that the situation proves that the spread of performance between cars is too big to allow driving talent to properly shine.
"It just demonstrates what Formula 1 is missing out from, by having cars that are two seconds apart when pretty much the whole grid could be within three tenths of a second because of the talent there is on the grid," explained Sainz, who will join Ferrari next year.
"It's a shame that a guy that is fighting for P15 every weekend, suddenly when you put him in a race winning car, he's 20 thousandths off pole.
"If anything for me, this demonstrates what F1 is missing out from, creating a much more incredible show if you could level the playing field a bit more and allow the driver to make more of a difference.
"At the moment, when you are one second off the pace or two seconds off the pace, you cannot really see the last two tenths from a driver that makes a difference."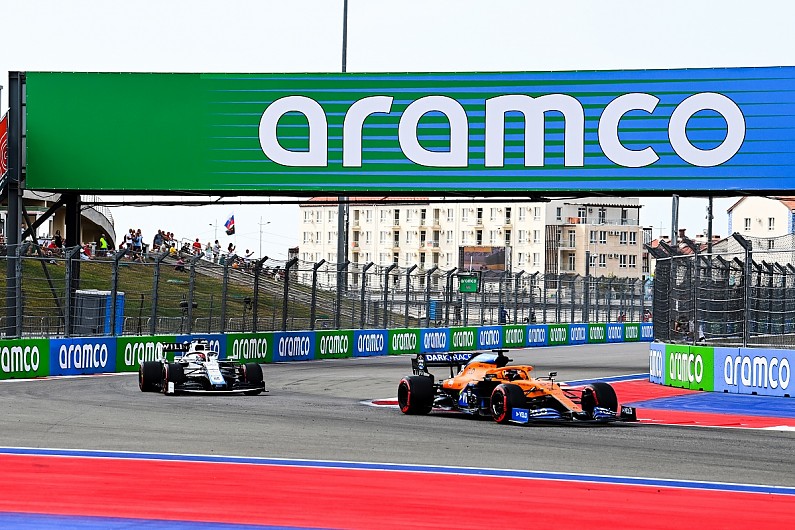 Sainz's team-mate Lando Norris, a rival of Russell's during the latter's F2 title campaign in 2018, agreed with Sainz that the depth of talent on the F1 grid means "a lot of drivers could do something kind of similar" if slotted into a Mercedes on the Bahrain 'outer loop' layout, but pointed out there remain things that seven-time champion Hamilton brings that few could match.
"We can all drive cars extremely quickly, and maybe it's just a car that suits George and probably suits a lot of other drivers as well," he said.
"If you want to win a championship, you need to be in a Mercedes, so I think a lot of drivers could do something kind of similar and, at some races, bring the fight to Valtteri or bring a fight to Lewis.
"But there's a lot of traits which Lewis has, like his consistency to be able to be on pole the majority of the weekends and have flawless races without mistakes, those are his impressive traits.
"I think if we go to Abu Dhabi maybe you'll see a slightly different story.
"This is a track with four corners. If there's a track where maybe it's a bit easier for a driver to jump into a new car and do something special, it is probably here.
"So it'll be interesting to see if George was in the Mercedes next weekend in Abu Dhabi, whether it'll be the same story and whether he'd be even quicker, or whether he just struggles that little bit more because he doesn't know the Mercedes like the back of his hand like Valtteri would."
Autosport has produced a standalone special magazine to celebrate our 70th birthday. All current print subscribers will receive a copy for free. To order your copy of the 196-page Autosport 70th Anniversary issue, please go to: autosport.com/autosport70th
[ad_2]

Source link