[ad_1]

Fabio Quartararo admits his MotoGP engine mileage is "not the best", but isn't fearing a pitlane start penalty that Yamaha counterpart Maverick Vinales has received for the European Grand Prix.
Yamaha was forced to exceed Vinales' engine allocation for the season at Valencia on Friday and fit a fresh sixth unit over fears of the durability of his already well-worn remaining motors.
Owing to a technical issue at Jerez at the start of the season and two of his engines proving to be illegal, Vinales has had just two engines to use since the second Jerez round.
Quartararo has had just three at his disposal since Jerez, but only unsealed his fifth and final engine at the Catalan round.
With three rounds still to run in 2020 and Quartararo firmly in the title hunt just 14 points off the championship lead, the Frenchman's engine position is precarious.
"Honestly, I don't really know the mileage of my engines, but I cross the fingers, touch wood that I don't break anything this year," Quartararo said when asked by Autosport if he was worried about receiving a similar penalty to Vinales soon.
"I think that mileage is not the best like everybody, but in the end it's important for us to keep focused on our job and try to not be really focused on the mileage.
"But I think I'm not so bad."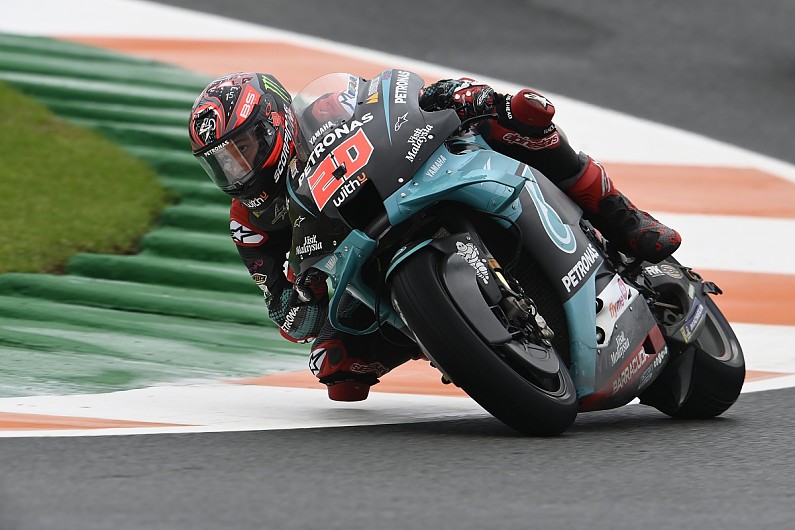 Quartararo admits "I don't really have an opinion" about the FIM's Thursday ruling which found Yamaha had run illegal engines at the Spanish GP, but insists he is not "disappointed" at Yamaha in regards to the current engine situation.
"I feel happy because Franco [Morbidelli] won two races, I won three, Maverick won one," he added.
"I don't know about the situation of Yamaha, but I can say I'm happy with the bike.
"I do my best, they do their best. We struggled a lot this year, but I'm not disappointed and they gave me my first victory in MotoGP, even three this year.
"So, this year right now is already a fantastic year. So, whatever happens in the last three races I'm really proud and happy about the decisions we take."
Earlier on Friday, Suzuki boss Davide Brivio said a Yamaha title win would cast a shadow over the 2020 season due to the engine debacle, but Quartararo insists "I don't care" about such thoughts on legitimacy.
Quartararo currently holds a provisional Q2 place after ending Friday's mixed running ninth overall.
But the Petronas SRT rider was some 2.7 seconds off the pace in the fully wet FP1 and admitted he hadn't found much in the conditions following his tough French GP when he finished ninth.
"This morning was so tough, I couldn't make any good laps or have a good feeling on the bike," he said.
"Looks like we found something, but it's so strange, I'm frustrated that we're in Valencia and we still don't have a base [set-up] in the wet conditions.
"So, we need to have this under control and be more regular in the wet conditions."
[ad_2]

Source link