[ad_1]

The Portuguese Grand Prix will mark the end of the long-lasting story between Valentino Rossi and Yamaha. After fifteen years, interrupted only by the two-year period with Ducati, the Doctor will no longer wear the official colours of the Japanese team from next year, as he will race in the Petronas Yamaha SRT team together with Franco Morbidelli. The rider from Tavullia, in an interview with Sandro Donato Grosso, spoke to the microphones of Sky Sport MotoGP, talking about his emotions, goals and future projects.
Next year we won't see you in the Yamaha colours, what is your mood like? Are you a little sad or maybe curious to go to the other side, how do you feel?
"It's an important moment because it was a very long journey together, a wonderful experience divided into two parts because I spent two years with Ducati in between. I am happy and I will always be grateful to Yamaha for giving me the opportunity to return even after two disappointing years elsewhere. I'm sorry to leave the team, but I wouldn't say I'm sad because I'm in Petronas anyway and I'm curious to see what it will be like, even though I don't think it will change much apart from the colours. "
In Valencia in 2010, when you switched from Yamaha to Ducati, you stopped at a corner and kissed the bike. This year?
"I think that I will not stop to kiss the bike, I will hug all the people who have been with me in these years and that next year I will see less. In the end we will dress the bike with other colours but it remains the same. "
What was positive about this season?
"That I've been quick sometimes. I showed good competitiveness and above all it wasn't like last year when I often had the same problem, we solved some things. It was a very difficult year because in some cases I made mistakes, then in other cases I was unlucky, I had some problems with the bike, then I caught Covid, so all kinds of things happened. I would have gladly done without Covid. "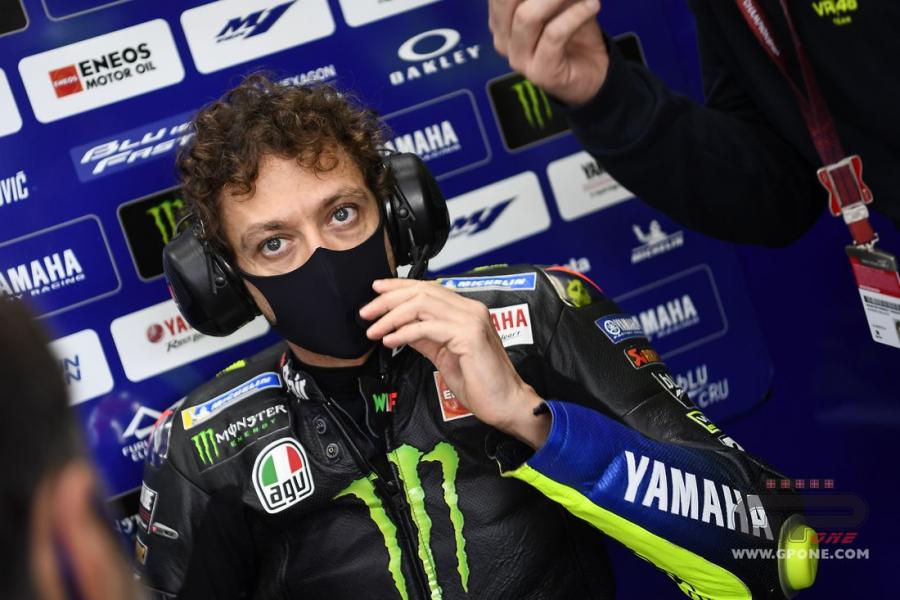 Rossi: "Covid was a bad thing: even my mother was afraid to hug me"
If you think about it, it was a moment of humanization that brought you closer to people. Valentino Rossi the champion is the same as Mr. Rossi who has stopped, he has to wait for the result.
"What made the most impression on me was the difference, because usually people come to give me a hug, but at that moment everyone was careful to stay away from me because they were afraid, starting with my mother. Well, this made a little impression on me, it was not a nice thing. "
Rossi: "I was waiting for the result of the swab, just like results coming out at school"
When it kept coming out positive, were you afraid, sad, bothered?
"Afraid no, because luckily I've always been fine. I was very disappointed not to have been able to race. I was always at my house, it's boring because you can't do anything, but I wasn't afraid. In the end, it's something you can't do anything about, it's not something that if you are good, you pass like an exam. So you are there waiting for five or six in the afternoon for the result. It felt like going back to school. "
You chose to go to Yamaha Petronas when the races were stopped due to Covid. If you had to decide two months ago, would the choice have been the same?
"I think Yamaha and others always choose too early, we should wait longer, at least half of the season to be able to choose for the next one. I honestly think it would have changed little. "
In this team, what is it that you like and what is it that doesn't convince you? Sometimes you are happy, while other times you say that you are slow compared to others.
"There is one thing in the team, in the official one: there are a lot of people working and trying to do everything at the top, there is certainly more strength than a team like Petronas for example. Then there is the evolution of the Yamaha which is mainly done in Japan. On this in recent years we have been a bit static, we haven't exactly been fantastic. I would like there to be more collaboration between the Japanese and Italian-European sides to improve the bike. "

Rossi: "In Japan there is a bit of confusion in the engine department"
Regarding the story of the valves, were you struck by the fact that you don't have a high-performance engine?
"We have suffered a lot this year with the engine while we hoped to be more competitive. We also broke some engines. This story of the valves reflects the situation a bit. In Japan there is a bit of confusion in the engine department. "
"Rossi:" With Morbidelli we grew snakes within our womb "
Franco Morbidelli is a great story. You find him again, he is your "son". Next year?
"We grew snakes within our bosom. Meanwhile, the story with Franco is special because we have helped him since he was little. Being in a team together in MotoGP with Yamaha next year is something I never expected, so yes it's a good story. The problem is that I think he's the most in-form rider in MotoGP for now, so staying ahead of him next year will be difficult. "
Every time, even you finish behind in the race, you play around with us journalists. Do you still have this mood of being Valentino Rossi that children like?
"I would say yes, I am like that in my character. The difference is the results you do, because the way the race goes on Sunday will decide your mood for at least four or five days. When it goes well, everything is easier, while when it goes wrong it is a little harder to joke. "
Rossi: "After the races there will be a different life: I don't know if it can be called fear"
Are you afraid of growing up? I don't want to mean 'being a dad', but is there a fear of seeing the world from another dimension other than this one or not?
"Yup. I don't know if it can be called fear, but there is the awareness that then there will be another part of a different life where there will be other satisfactions, but it will never be like being a real MotoGP rider. I would like to become a dad, but I realized that if I have to wait to be ready it will never happen, so at a certain point I will throw my heart over the obstacle and see. "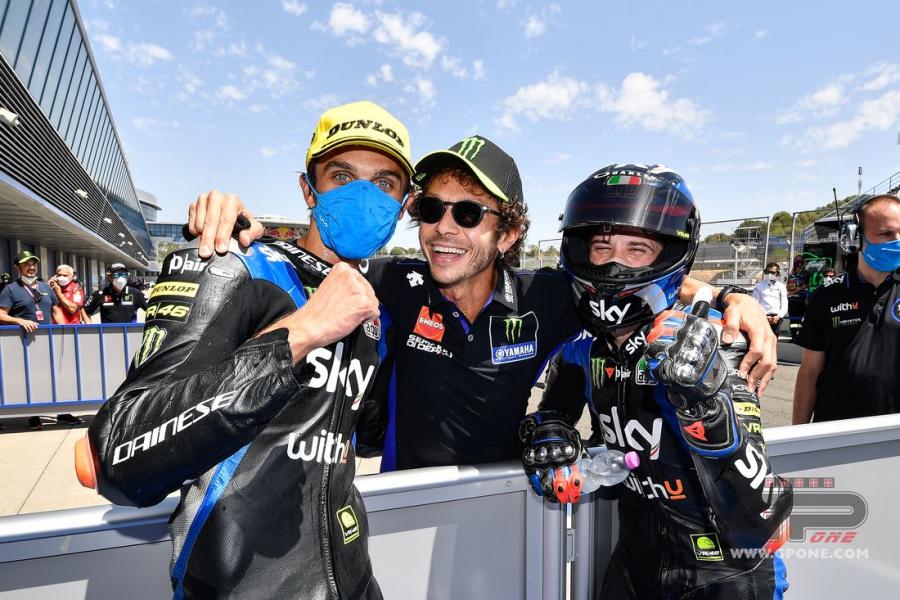 Rossi: "A tenth title? It would be OK if I just won some races, and am protagonist"
The recurring desire a few years ago was always that of the tenth world title. Do you still have it or has it changed?
"That is always the main goal, but it would be OK just to win races, be competitive, get on the podium and be among the protagonists on Sunday."
Are we going to meet up with you again in July and ask you if you have thought about continuing another year or not?
"I think I will decide during next summer whether to continue or not. But I haven't decided to quit yet, it will depend a lot on the results. I hope that next year we will run normally, with the right dates and that there will be a small break in the middle, I think at that moment I will decide. "
Valentino Rossi focuses on his team, his guys, his sponsors, is this an idea that we will find sooner or later?
"Years ago I would have said no, but it was a wonderful experience to be a team in Moto3 and then Moto2 together with Sky. Being a team in MotoGP is another thing entirely, you have to structure yourself well, find a lot of money and this is the most difficult thing. Next year we will try to understand with Luca how it works and then we will decide whether to do it. But that's not necessarily the case, you have to see a lot of things first. "
Rossi: "My team in MotoGP? It might even be Ducati"
As a Yamaha ambassador, are you obliged to take Yamaha into the team or if Brivio came with Suzuki would you do it all the same?
"My story is one thing and then another story could be my team. There are things that we cannot decide ourselves, in the sense that if there are four Yamahas and it goes with Petronas then the available bikes are finished. So it's not something that can be decided now, I'm afraid we will have to see next year. I'm not ruling out Ducati, in the end Luca will race with them so everything is open. I don't have great relations with Honda at the moment. "
The world championship won by Mir, a brilliant young guy, who however won only one race, is it a world championship that has equal value even if there was no Marquez and the world championship was unusual or not?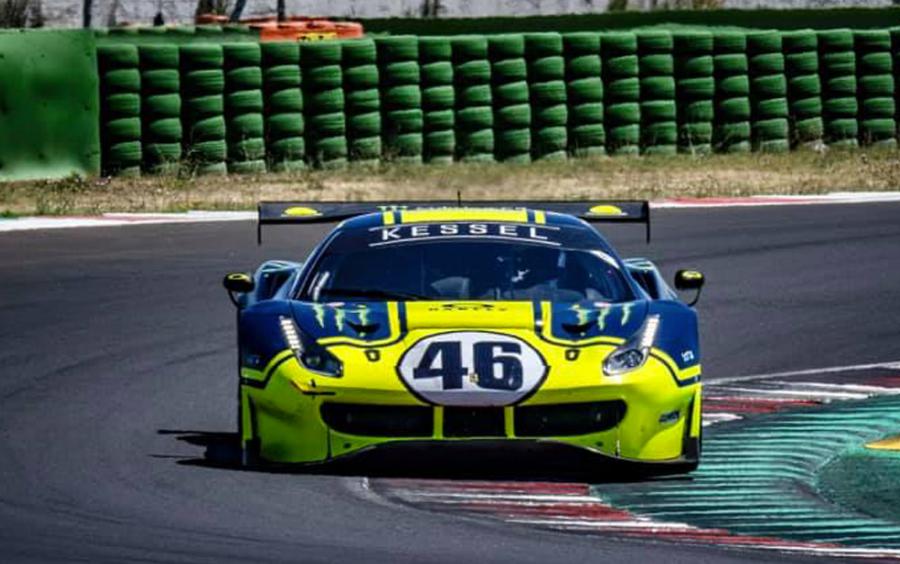 Rossi: "He only won one race but it would have been two, with a lot of podiums: congratulations to him"
"It's a well-deserved championship because he was the best rider. He won only one race, but he made a lot of podiums. Then we have to consider that in the first race in Austria he had already won, he was two and a half seconds ahead, then the race was stopped, so he would have won two. I must say that the calendar made the championship difficult because we raced on so many tracks at the wrong time, we had so many problems with the tyres etc. But Mir is the world champion and congratulations to him. "
What advice will you give to Luca Marini?
"To try to take it slowly, because the Ducati is a bike that has great potential but is very particular to ride."
Rossi: "I won't race at Monza, I'll be in Bahrain with Luca and Uccio"
Your passions are the same as always: cars? What will you do this year, why won't you take part in the Rally of Monza?
"No, I'm not going to do the Monza rally. I will race in Bahrain on 9 January with Kessel's Ferrari 488 together with Uccio and Luca like last year. We raced in Abu Dhabi, while this year we will do it in Bahrain because of this Covid story. It will be a twelve hours. Racing with these cars is something I'd like to do when I stop racing bikes. Group 3 are nice and fast cars. They usually do six, twelve or twenty-four hour endurance races at Spa, Monza, there are a lot of races. "
You once said that you would like to participate in the Dakar as well, is this still the case?
"I would like to be on asphalt more, I realized that my favourite surface to race on is asphalt. On the other hand, the Dakar is more off-road, so at the moment no, but I would certainly do it in the car. "
Rossi: "Hamilton? I come from a time when the riders were all badly dressed"
As for sports greats like you, in Formula 1: Schumacher or Hamilton?
"I knew Schumacher a little, I've seen him a couple of times and I know Hamilton better. Lewis is a great, along with Schumacher he is one of the strongest drivers in history along with Senna and Prost probably. Hamilton brought this image into fashion that the sportsman must be almost a model, dress in the latest fashion and have the right hair. I come from a generation before where the riders were usually all poorly dressed and I continued along that line. "
Tennis: Federer, Nadal, Djokovic?
"I have always been and always will be for Federer. He seems to be the one closest to me than the others. "
Football: Messi, Ronaldo, Maradona, Pele? What rating do you give to Inter Milan this year?
"I mean Maradona and Ronaldo the Brazilian, the Phenomenon. They are my two favourite players of all time. I actually knew Maradona and I also went for dinner with him but I never saw him play, because he had already stopped. Instead Ronaldo, the Phenomenon, is the one who made me passionate about football when he came to play for Inter. Maradona is among that elite of sports people, and in general, the best and most famous in history. Inter high expectations, at the moment we have not yet expressed our best, but in my opinion we can do much more. We have some very strong players, I expected it to be a bit further up both in the league and in the Champions League. "
How are you doing in the championship with the guys from the Ranch?
"We are doing very well. This year has been a fantastic year! At Misano they even finished first and second in MotoGP and Moto2 and it was like the crowning of a dream. "
Does Valentino Rossi have a dream? You can say anything, an idea from Valentino?
"Having people around who love me, whom I can rely on and for whom I could put my hand on the fire."
Text provided by Nicole Facelli
[ad_2]

Source link