[ad_1]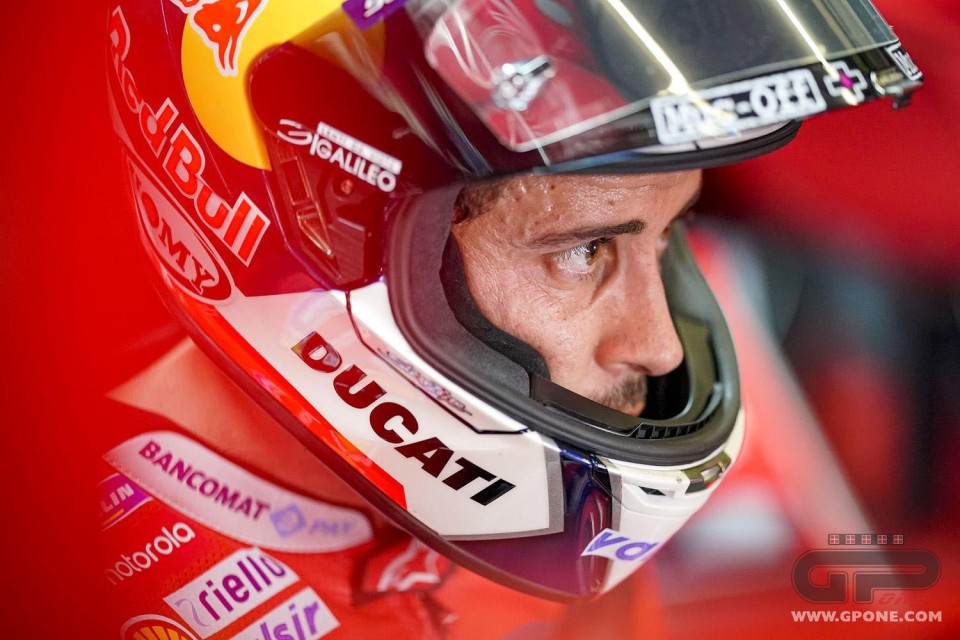 "The last time I could have squeezed my Ducati with qualifying tyres. Yes, I thought about it."
These are the words that alone manage to break down the wall that separates the rational, precise and at times even cold Andrea Dovizioso from the more emotional one, even tense if you like, who today spoke with journalists, to comment on his last qualifying session on the Borgo Panigale bike in MotoGP.
Those fifteen minutes in which absolute performance and total concentration is everything to find the perfect union between man and machine.
An effort that today led to a 12th position on the grid that certainly did not please Dovizioso.
"I'm angry, if I don't sleep well tonight it will be just for this reason", said Dovi. Today's result, however, did not take away his smile as he spoke about and explained the whole whirlwind of emotions that went through his head and that perhaps he had not planned to experience. Eight years in which the love affair with Ducati has borne many fruits, but also the regret of not being able to change something very important.
"More than talking technically about what I would have liked to change at Ducati, I would have liked to improve certain other things that in my opinion could have influenced many other aspects. I believe that in Ducati there are very competent, very good people. Things could have been done. differently. Not better or worse, but different. That annoys me, not being able to influence things. "
So you mean a different human approach?
"No, don't put words I didn't say in my mouth! I replied, now be good and use my words".
How did you feel today when you lowered the visor before entering Q2?
"Even if you want to, you can't stop your head completely. Nice and not so nice thoughts come to mind in situations like this. You think about it, you can't help but think about certain things, but honestly I'm taking it well. Today I thought I had the last chance to squeeze the Ducati on the qualifying tyres. I thought about it in a positive way, not a negative one. Tonight I won't have any problems, I won't have any special thoughts. I'm not in a moment of melancholy that can make me have a bad night. I'm more angry about the 12th position, which really makes me pissed off. It was important to start from the front to fight for the classification."
I mean, you're taking it well…
"Yes, I'm taking it well. Every decision has its pros and cons, but I'm living mine well. I can't say that everything was perfect and that I will miss something in particular. Since I made the decision until now, I have not lived it badly. There are various dynamics, of course, but it is right to live it as it is going ".
Dovizioso: "A tear in my eyes? I'm a cold, guy but it might happen tomorrow"
Will there be a tear in your eye tomorrow? Crutchlow had one today.
"I am colder than him, although over the years I have become a bit softer and also excited in too many situations for the way I am used to. I was also pleased, I must say. Especially when you feel that you have the power to excite people, like I've had in the last few years, it's priceless. Not everyone can afford to be in this situation and it was cool. But I'm always very focused on pre-race situations. Then post-race, it depends. It depends on who's there, and how certain things happen! ".
We seem to understand in any case that the thing that makes you feel bad is not having qualified better…
"I'm very angry and disappointed because my pace improved practice by practice and my pace for the race is interesting. For many reasons it was important to start on the first two rows because it's very, very difficult to overtake in this track because you have to ride always with angle. There isn't a really hard brake, and with the characteristics of the Michelin you can't brake too late and aggressive. As you can see, a lot of riders did a lot of mistakes on braking, because we lock the front so easy with angle and it's very, very difficult. I think if you start in front with a fast rider you can follow them because it's more about flowing at this track. If you can follow somebody, you can be much faster in most of the track. In the race, if you are not that far from your pace you can make that up. We didn't lose everything because we are fighting for the championship with a lot of riders and they are around me. The start is very important because the first two corners are tight and it's almost impossible to gain a position. We have to stay focused because the speed is there."
Are you happy to do this last race in Portimao?
"I was very happy to make the last race in a new track. It's a wonderful place but I don't like the layout that much, but just because of my characteristics and my style is different. Normally I'm a hard braker, Malaysia, Japan are completely different tracks and it's what I love. But anyway, to finish here is a really nice place."
Dovizioso: "Pity we didn't race at Mugello, but without the fans it would have been different"
If you could choose another track, which one would you have chosen?
"If I think of some fantastic tracks on which I have not been able to ride this season, it is not the best. But to race at Mugello without the fans would not have been so good. Of course, it's still a nice track but it is not the same thing. At the start of the season I was also happy to experience a more empty paddock, because there is less stress and you live better. But race after race, every time you get a result, you regret not having the fans, friends to celebrate with. When I won in Austria , the adrenaline that I felt was completely different. If you go racing on special tracks, you need to find the fans and friends there. "
What were you missing today to qualify better?
"When you ride at these levels, to go fast in qualifying you have to be in total confidence with the bike or you have to come up with something extraordinary. To make certain times you have to risk everywhere, slide the bike in a way that you don't know if you will stay up or not. ou have to play with limits that are difficult to overcome, especially on a track like Portimao. It is difficult to create this mix, today I had problems on fast corners. You have to use a lot of angle, slide the bike and make the bike turn using this technique . If you can't do it, you lose confidence and just go slower. For me it's amazing that they managed to make the new asphalt, but there were bumps all over the track."
These days Jorge Lorenzo has attacked you on social media first and then Crutchlow. How come, in your opinion?
"In my opinion Lorenzo is experiencing this situation particularly badly, having been dumped by Yamaha and therefore he attacks anyone he can find, it's very simple."
[ad_2]

Source link