https://speed.clothing/wp-content/uploads/2020/12/GPBox-Rectangle-Pictures-2.jpg

Coronavirus meant 2020 was a season like no other, but there were still plenty of special moments when motorsport did restart. Autosport's veteran national correspondent MARCUS PYE looks back
The year 2020 will be remembered for the havoc COVID-19 wreaked on planet Earth. It ended lives and destroyed livelihoods and, after government lockdowns implemented to curb the virus's spread, survivors had a different perspective of 'normal'.
Following a three-month Motorsport UK-imposed hiatus, motorsport was permitted here from July, and participants on both sides of the barriers – if not always spectators – made the most of it. International travel logistics, specifically quarantining requirements, torpedoed the Spa Six Hours and other events in my orbit, but domestic meetings rose to the challenge, surpassing expectations.
FIA Historic Awards, Paris
Seeing an ERA and a Maserati 250F demonstrated during the 1967 British Grand Prix at Silverstone started my love of historic cars. Over 43 years on Autosport, I've worked at dozens of dedicated race meetings. The invitation to compere the FIA Historic Awards dinner in Paris in January was therefore a surprise I enjoyed greatly.
Meeting 2019's top hillclimb and rally combatants from many countries, beside those in my regular circuit racing sphere, was particularly welcome. Aside from competition engines, my favourite music has always been classical, thus an amble to the Passy Cemetery to pay respects to French composer Gabriel Faure was irresistible.
Passion for Speed, South Africa
After 10 years out, sitting on the grid at South Africa's Zwartkops circuit in February, aboard Ian Hebblethwaite's superb Merlyn Mk20 (below), all the old feelings came rushing back.
I'd reconciled myself to accept it if I didn't enjoy it, or was woefully uncompetitive, but battling with Ecurie Hebble team-mate Matt Nash (in a sister Van Diemen RF81 to the one in which I'd scored my first win at Brands Hatch in 1982) and Mike Ward (Royale RP21) sharpened my senses. I saw much more of Matt's gearbox at Killarney, Cape Town, the following weekend, where the vista of Table Mountain out of Turn 1 is incredible.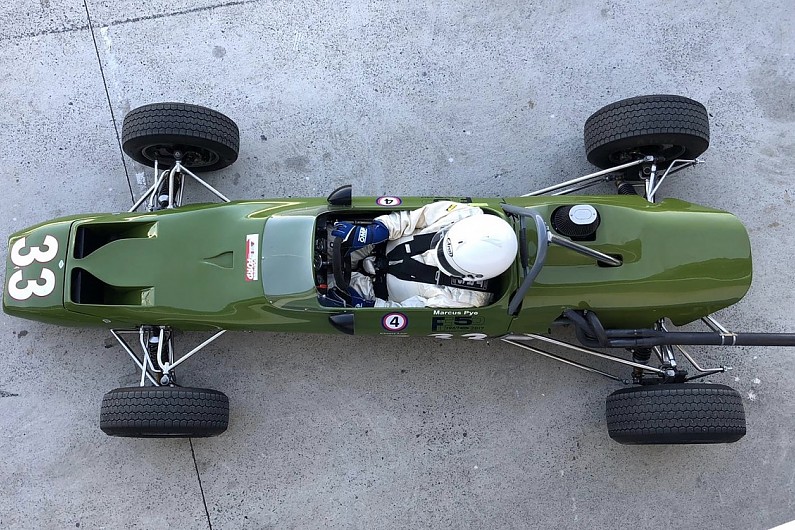 'Sticker Of The Day' engages the world
While rationalising our loft's contents during the first lockdown, I unearthed my racing decal archive, spanning the 1960s to now, which spawned my popular Facebook entity 'Sticker Of The Day'. Launched on 1 April, it has evolved and has now recently passed #250. I don't do other social media, but its reach is remarkable.
Averaging 160-plus likes per day, it's how it engages competitors (many long gone), their relatives, officials and enthusiasts globally that has blown me away. Generous sticker donations have enhanced the stock as we celebrate a team, personality or sponsor in 110 words. Barrie 'Whizzo' Williams's tops the rankings on 333 likes!
Brands Hatch welcomes racing back
Sure, converted coaches, caravans and ratty open trailers have been superseded by smart trucks, motorhomes and boxed transport, but the paddock was rammed with racing cars, the atmosphere buzzing
When UK racing resumed in July, after Motorsport UK's three-month permit pause, the Historic Sports Car Club's Legends of Brands Hatch Super Prix was the first event I reported and commentated on.
Online entries, remote signing-on, self-declaration scrutineering (with random checks), facemasks and socially distanced marshalling (with different incident protocol) were strange, but competitors' hunger was palpable after nine months out.
INSIGHT: Inside UK club racing's 'new normal'
Highlight of the weekend's racing was an exemplary tactical Guards Trophy victory for father-and-son Westie and Sam Mitchell, first time out in the ex-Nikolaus Killenberg left-hand-drive Chevron B8 the family had been restoring for two years.
Back to the old days at CSCC Thruxton
Arriving at the Classic Sports Car Club's annual Thruxton meeting in July turned the clock back to the early 1970s for me. Sure, converted coaches, caravans and ratty open trailers have been superseded by smart trucks, motorhomes and boxed transport, but the paddock was rammed with racing cars, the atmosphere buzzing.
The colourful Special Saloons and Modsports field – a fine turnout – reminded older fans of the resident British Automobile Racing Club's Forward Trust, Wendy Wools and Blue Circle championships of yore. It's back to basics 'run-what-ya-brung' all-inclusive categories with the CSCC, which is why it's so popular. Donington Park's event in September boasted 500 competitors!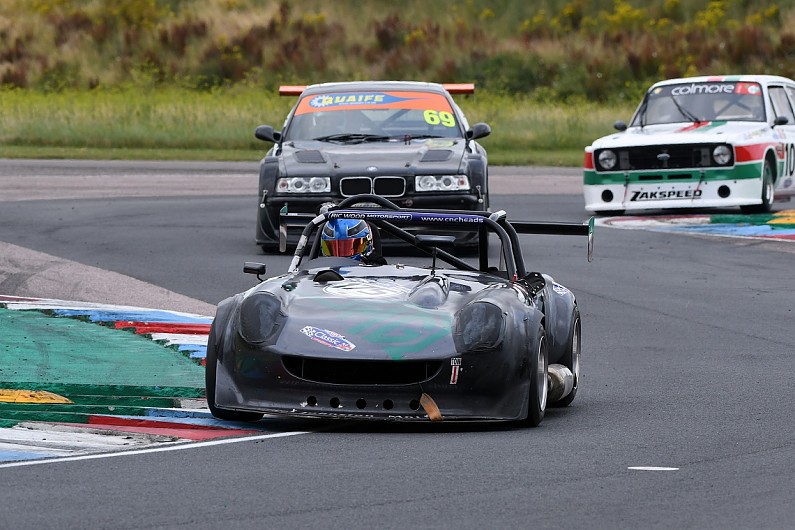 Famous Healey wins GTSCC thriller
Austin-Healey 3000s were popular GT cars when I was a kid, thus I've always loved them. Watching John Chatham and Stewart Hands battling for victory at Castle Combe in 1967 helped. Perhaps the most famous Healey racing back then was SMO 746, the ex-works rally car owned by policeman John Gott, Northamptonshire's chief constable and friend of Silverstone.
The combo competed at Thruxton in 1970 and 1971, so it was a joy to see the car return and unexpectedly win August's drama-laced GT & Sports Car Cup race on Mark Holme's debut in it, partnered by marque ace Jeremy Welch.
Streaming gets 750MC message across
Over the past couple of years, progressive clubs have broadcast their events via livestreaming, giving sponsors, members and friends a cost-effective window on events – more important with many run behind closed doors this year – and a permanent archive of coverage. The 750 Motor Club has engaged AlphaLive – a small company run by Luke Austin and associates – to great effect.
Having commentated with Ian Sowman, Josh Barrett and Lewis Beales through this medium at Silverstone for the August weekends and Birkett Six Hour Relays, I'm blown away by the advances in technology and improvement in broadcast quality between the seasons.
Hysterical HRDC Historics On The Hill
September's second Historic Racing Drivers Club Historics On The Hill race meeting built on the success of last year's at Lydden. Three double-header grids provided plenty of short, sharp action to entertain spectators, with 2013 British Touring Car champion Andrew Jordan (Austin A40) among the cast.
A new vehicle access road and, subsequently, pukka race-control building overlooking Paddock Bend, for which planning permission has been granted, will make the quaint little Canterbury amphitheatre even better. My weekend opened with the first rallycross I'd seen at the discipline's spiritual home in probably 40 years. Tristan Ovenden's sonorous Renault Clio V6 and John Cross's VW-powered Lancia Stratos impressed.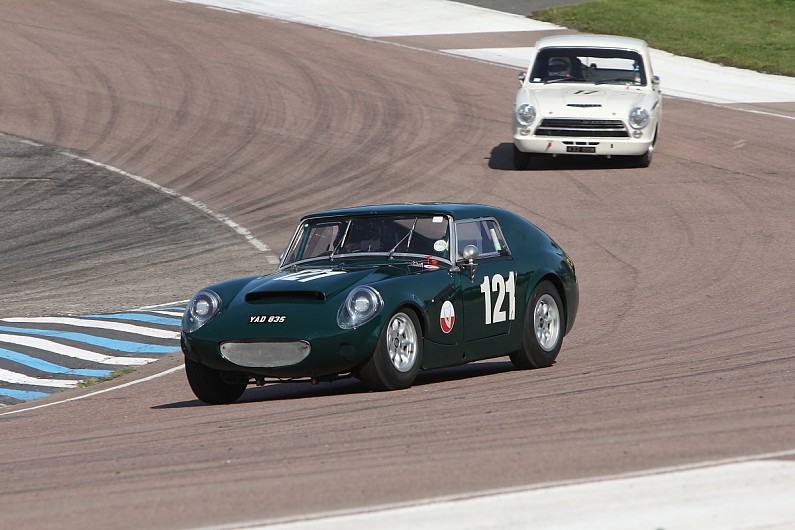 Leviathans star at Goodwood SpeedWeek
Goodwood sells tickets on sports and touring car drivers competing at its events (now the ever-expanding Formula 1 calendar has all but closed that avenue), yet the real heroes are sometimes underheralded. Having lost its Members' Meeting, Festival of Speed and Revival, October's SpeedWeek pulled the rabbit out of the hat.
Undoubted stars of the circuit action were the SF Edge Trophy Edwardian racers, whose magnificent displays of derring-do wowed streaming audiences. My favourite image (below) shows Mark Walker (25.4-litre Darracq 200hp) thundering into the heat haze from son Hughie's 10-litre Theophile Schneider. They finished 2-1 on Sunday.
MRL Silverstone points the way forward
Race organisers or groups who habitually subscribe to continental events found their calendars kiboshed by the coronavirus misery and its moving repercussions. Motor Racing Legends wasn't alone in losing its Spa Six Hours fixture – for 20 years the holy grail – and Iberian curtain closers.
INSIGHT: The lessons club racing can learn from in 2020
Fortunately, MRL pulled together a one-day RAC Historic Tourist Trophy event on Silverstone's GP circuit in late October. Three endurance races attracted excellent grids close to home for most, helping to balance the books. Convivial atmosphere and spacious Wing pits left competitors saying that races on top UK circuits were the way forward until the cloud lifts.