[ad_1]

Brands Hatch played host to a number of thrilling title deciders last weekend in the British Touring Car Championship support series, including Ginetta Junior, Ginetta GT4 Supercup, Mini Challenge and British Formula 4
Three drivers separated by just 15 points in the battle for the Ginetta Junior title, combined with wet weather, suggested that a memorable Brands Hatch finale was in store.
But instead, incident after incident led to a cluster of safety car periods and red flags, leaving just 10 racing laps across the two contests and a disappointing climax to the season. Not that Tom Lebbon minded, as it was he who emerged with the title.
Elite Motorsport racer Lebbon had a blistering first lap in the opener as he profited from a slow start from main rival Bailey Voisin, passed Josh Rattican straight away and then grabbed the lead from Josh Miller on the run up to Druids. But the race was soon red-flagged with Tommy Pintos and Will Aspin off at Paddock Hill Bend.
The restarted race was due to last 10 minutes and Lebbon did not have quite such a good first lap this time, losing the lead to outside title bet Rattican at Graham Hill Bend, before the safety car was called with Trennon Bettany in the Paddock gravel. Rattican continued to lead Lebbon on the restart but, after three more laps, the race was red-flagged again as Liam McNeilly became another Paddock victim.
Crucially, on the safety car restart, Voisin (below) overlapped Georgi Dimitrov and, with Dimitrov subsequently dropping down the field, Voisin was relegated from fifth to eighth in the final result.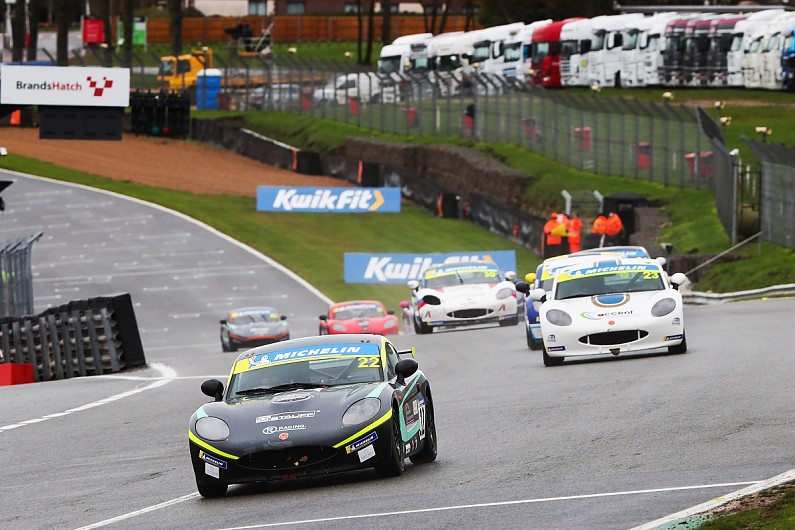 Not even one lap was completed before race two was halted. Freddie Tomlinson struggled to get away and was collected by William Vincent, who in turn was hit from behind by cousin Rowan. After a lengthy clean-up operation, and William Vincent being taken to the medical centre, it left another 10-minute race.
But the recurring theme of the weekend continued, with Bettany stranded at Paddock again and the safety car required.
After this, finally, there was a glimpse of what might have been as the three title contenders had a thrilling battle.
While Miller led away to take his maiden victory, Rattican was pressurising Lebbon for second. But a failed attempt instead allowed Voisin to pounce at Druids and challenge Lebbon into Graham Hill Bend. There, a slight wobble for Voisin cost him momentum and allowed Rattican back ahead, the trio finishing in the same order. And that was enough for Lebbon to become the first rookie to win the title.
"It means a lot, especially for the team to come 1-2 [as Rattican pipped Voisin to runner-up in the points]," said Lebbon. "It was tough, we didn't have the pace in the greasy and wet conditions, so I had to use my head."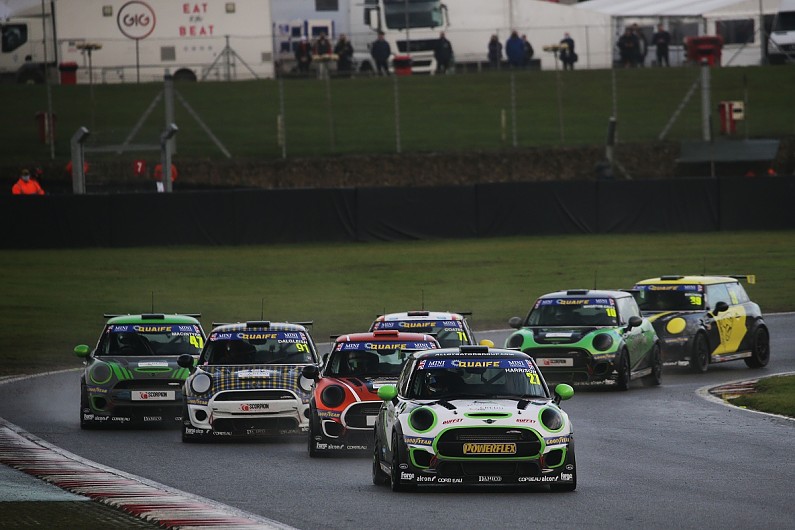 Max Bird and Lewis Brown may have taken the final Mini Challenge victories of the season at Brands Hatch, but it was Nathan Harrison who left the happiest after finally sealing the title.
The Excelr8 Motorsport driver entered the weekend with a 14-point advantage over Dan Zelos and 27 over Ant Whorton-Eales but, with another five drivers still in mathematical contention – including Bird and Brown – Harrison was far from assured of the crown.
Harrison had at least one hand on the trophy after a strong drive to second in the opener. Polesitter Max Coates made a slow start and the pack squabbled to get ahead of him, Harrison emerging in second. By mid-distance all three of the main contenders were in the top four, Whorton-Eales aggressively passing Coates at Clearways to chase after Zelos.
But in front of them all was Bird, who surged into a 3.5-second lead as the others battled behind. He did not enjoy such comfort for long. Harrison and Zelos began taking chunks of time out of him as rain returned, and Bird was delayed by Snetterton race winner Isaac Smith battling to unlap himself.
Harrison got closer and closer, and a wide moment for Bird out of Paddock Hill Bend put Harrison right on his tail, but Bird clung on to win by 0.155s.
Rookie Liam Lambert – in just his second event – was the reversed-grid polesitter and led away at the start, but was soon under pressure from Brown, who dived ahead at Graham Hill Bend on lap four. Meanwhile, Zelos was on a charge to do everything he could to win the title.
He was up from eighth to fourth by the end of the second tour, before also passing Callum Newsham. But his momentum was halted due to a lengthy safety car period to recover three cars.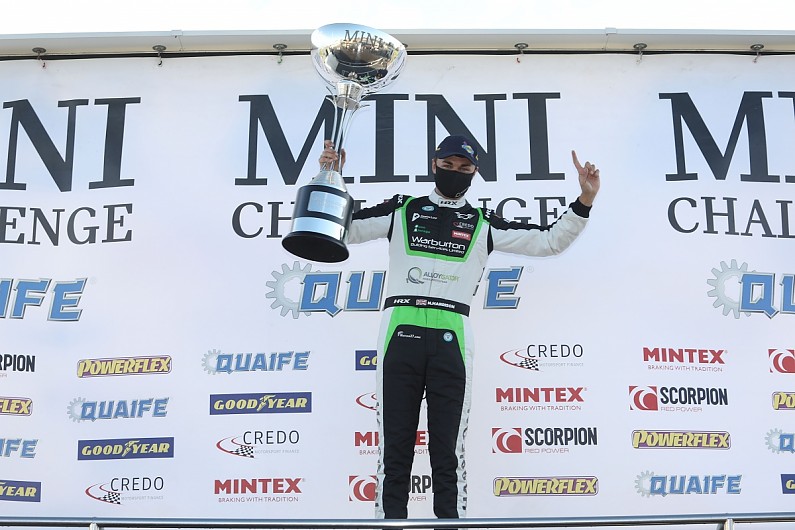 This left time for only two minutes of racing and Zelos instantly pounced on a slight mistake from Lambert at Graham Hill Bend, but could do nothing about Brown ahead. Eighth place for Harrison (above) was therefore more than enough for him to become champion.
"I did my best, but Nathan had the advantage coming into the weekend," said Zelos. "I really enjoy the wet conditions and I was able to jump on other people's mistakes."
But the driver he really needed to make a mistake did not put a foot wrong, as Harrison made up for several near-misses to finally land the crown.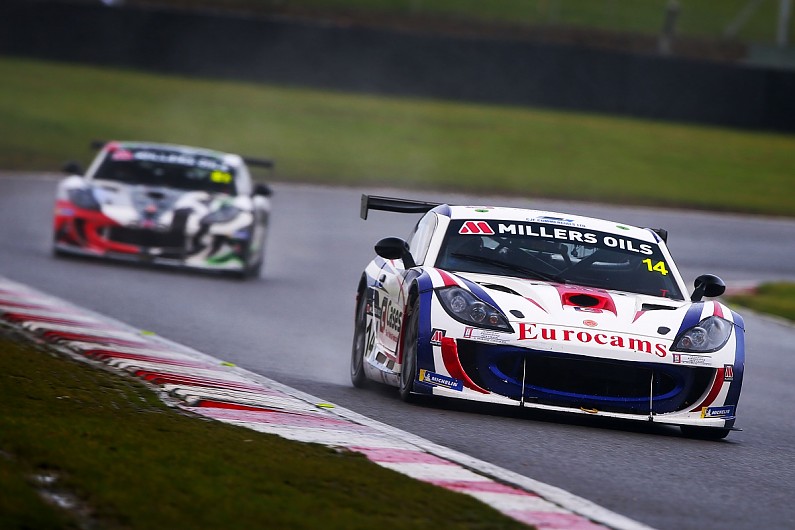 Unlike some of the twists and turns in other championships being decided at Brands Hatch, there was no sting in the tail for Will Burns as he finally landed the Ginetta GT4 Supercup crown.
Burns essentially just needed to finish the first race to be sure of the title – and he did just that, cautiously taking fourth place on the wet track and not putting up too much resistance to Pro-Am runner Tom Emson, who sealed a maiden series podium.
Up front, the race was all about Adam Smalley as he blasted clear to lead by seven seconds before a safety car period. That did not halt his charge as he secured a fourth win of the season, beating championship runner-up Gus Burton.
The Century Motorsport driver moved into second place with a forceful pass on Tom Hibbert through Clearways, the resulting lack of momentum dropping Hibbert behind Burns and Emson.
Burns was racier in the second contest, first diving down the inside of Hibbert at Paddock Hill Bend, before demoting Smalley through Clark Curve near the end. But he had no answer to Burton, who stormed into the lead off the line and ended an impressive season with another victory.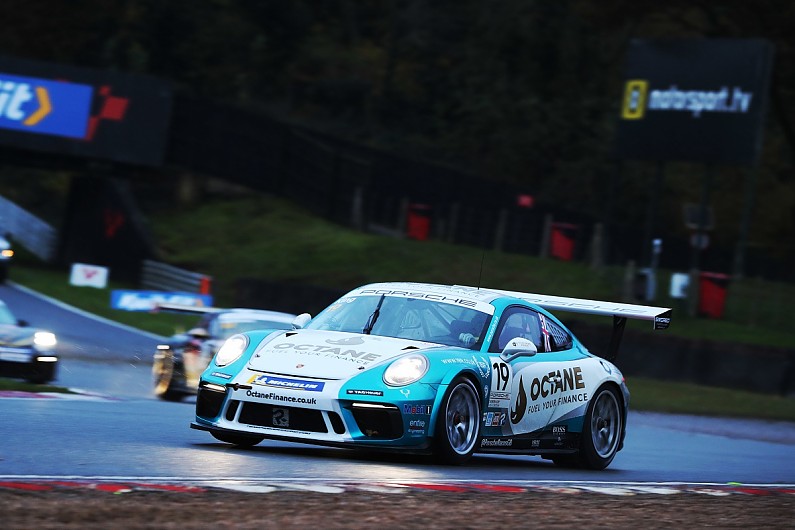 Harry King completed his emphatic Porsche Carrera Cup GB season with a double win at Brands Hatch, but paradoxically it was the opening race, and not the reversed-grid sequel, that proved most difficult.
King got ahead of poleman Scott McKenna on the opening lap, via side-to-side contact off the line, and the Team Parker Racing star built up a lead. Matthew Graham passed Redline Racing team-mate McKenna at one-third distance, before Lorcan Hanafin crashed out of fourth and triggered a safety car.
King, his wet-weather tyres fading fast, looked vulnerable over the five-lap dash to the flag. Graham probed for an opening, but in turn left himself open to attack from McKenna, and they clashed at Druids on the penultimate lap. That left Mark Kimber second from Will Martin and Josh Webster, but Kimber was penalised down to fourth for a feisty move on Webster.
Kimber held on in front of the reversed-grid race for 11 laps, before King – from fifth on the grid – got him at Paddock, just before a safety car appeared due to early second man Sam MacLeod being in the Druids gravel. Rookie Martin completed an excellent weekend with another second place after passing Kimber, with Webster fourth.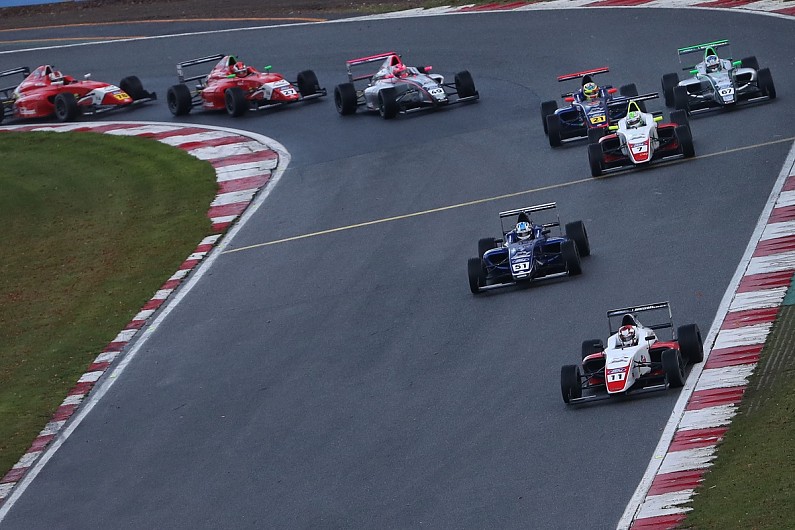 You could not make it up – it sounds too far-fetched. Two title rivals battling before both going off on oil, the outside bet then recovering to a position where they could win the championship, only for rain to end the race early, leaving half points awarded and the leading contender triumphant after all. Incredible as it seems, that is exactly what happened in British Formula 4's title showdown.
Although rivals Zak O'Sullivan and Luke Browning shared the front row for the final race of 2020 at Brands Hatch, there was no hint of what drama would be in store. Browning entered the race 16 points clear and his title prospects looked good.
But O'Sullivan laid down a marker of intent on the first lap by blasting around the outside of Paddock Hill Bend to pass polesitter Browning – who also lost out to James Hedley at Graham Hill Bend. Then, suddenly, all three were off. Each had encountered oil at Clark Curve and, while O'Sullivan continued in fourth, Browning spun and dropped to last.
O'Sullivan quickly barged past Browning's Fortec team-mate Roberto Faria, before also demoting Abbi Pulling and Christian Mansell to return to the lead. With Browning languishing in 10th, it was enough for the title to go O'Sullivan's way. Then the threatening dark clouds began depositing a significant amount of rain and the race was soon red-flagged.
There was no time to restart, because of the condensed timetable, and cue jubilation for O'Sullivan. But a key regulation had been forgotten: only half points are awarded when less than 75% of the race is completed. The nine-and-a-half minutes of racing was less than 50% so Browning took the glory by four points.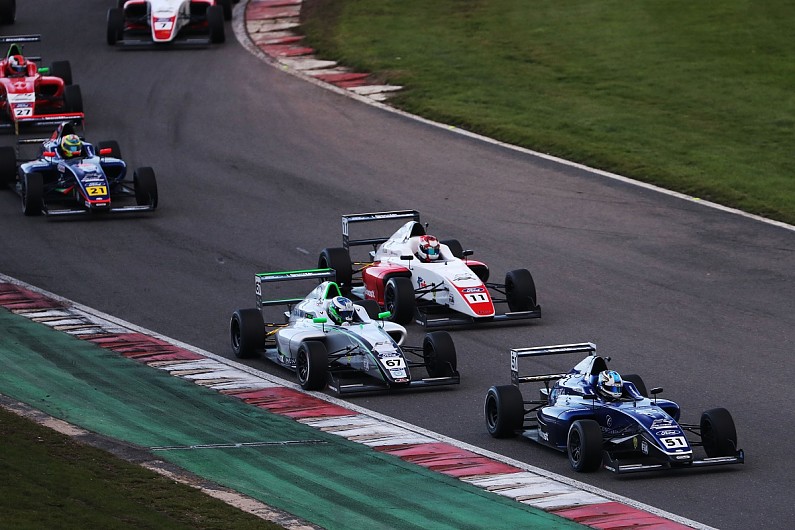 "I can't believe it!" said Browning. "I was at the bottom of the world on the first lap. There was a big oil spill that we never could've predicted. But then the rain saved me!"
O'Sullivan was angry the race had not continued for longer. "There was no immediate safety reason," he said. "There was no need to red flag it – you have a safety car for a reason."
The pair had arrived in Kent tied on points but Browning landed the first blow as he held off O'Sullivan throughout race one. "It couldn't be more important [winning the first race]," said Browning. "If I was in his shoes, it would be pretty gutting – it makes it difficult in the reversed-grid race."
But O'Sullivan made life even harder for himself in that second race, which began behind the safety car despite track conditions being better than most of the weekend. O'Sullivan passed Carlin team-mate Mansell when the safety car boards had already gone back out at the end of the first racing lap. Despite rising to second, he was demoted behind Mansell to fourth post-race – had he waited and overtaken Mansell later, he would be the champion.
"It seems like I had a bit of a target on my back all weekend," said O'Sullivan, who branded the penalty as "harsh". It was yet another example of what an eventful weekend of racing it had been.
Reports by Stephen Lickorish and Marcus Simmons. Pics by Jakob Ebrey Photography. Want the full picture on last weekend's national racing? Subscribe today and never miss your weekly fix of motorsport with Autosport magazine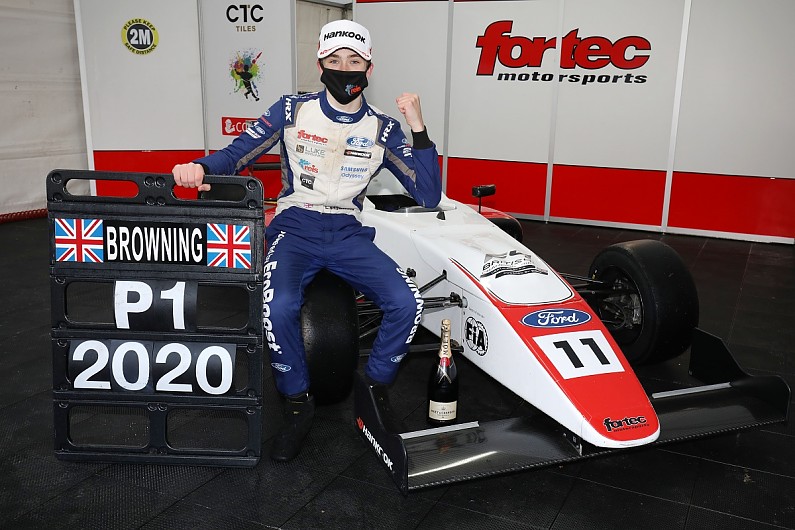 Autosport has produced a standalone special magazine to celebrate our 70th birthday. All current print subscribers will receive a copy for free. To pre-order your copy of the 196-page Autosport 70th Anniversary issue, please go to: autosport.com/autosport70th
[ad_2]

Source link