[ad_1]

Treacherous conditions plagued much of UK motorsport last weekend, but there was still some superb action from the British GT races at Snetterton and the annual Castle Combe Autumn Classic
Phil Keen and Adam Balon kept themselves in the British GT title race by becoming the first repeat winners of an extraordinary 2020 season when they took victory in the second of two wet races at Snetterton.
It was a day that left all three of the remaining title contenders pondering what might have been, including Barwell team-mates Sandy Mitchell and Rob Collard in the other Lamborghini Huracan.
Mitchell claimed race-two pole with a superb lap that demoted Keen to second, although the poor weather meant that, for once, starting on the outside would be advantageous. As Mitchell braked early on the inside for Riches, Keen took a deep breath and swept cleanly past before building a lead, which stood at around eight seconds prior to the stops, where Mitchell and Collard had a 7s success penalty to serve for finishing second in race one.
Still, such was Mitchell's advantage over Yelmer Buurman's RAM Mercedes in third that Collard should have easily rejoined still in second and with a chance of challenging Balon in the closing stages. But those hopes were dashed by a bungled driver change – the belts going behind Collard's seat insert – which cost 20s to remedy and dropped Collard to fifth, 40s off the lead. "It's disappointing and a mistake that we shouldn't be making," said a gutted Mitchell.
At the flag, Collard was just 13s behind victorious team-mate Balon, and scored just 10 points when the full 25 were very much up for grabs. As it was, he and Mitchell sit six points behind championship leaders Sam De Haan and Patrick Kujala, who also might have left Norfolk with more reward under different circumstances.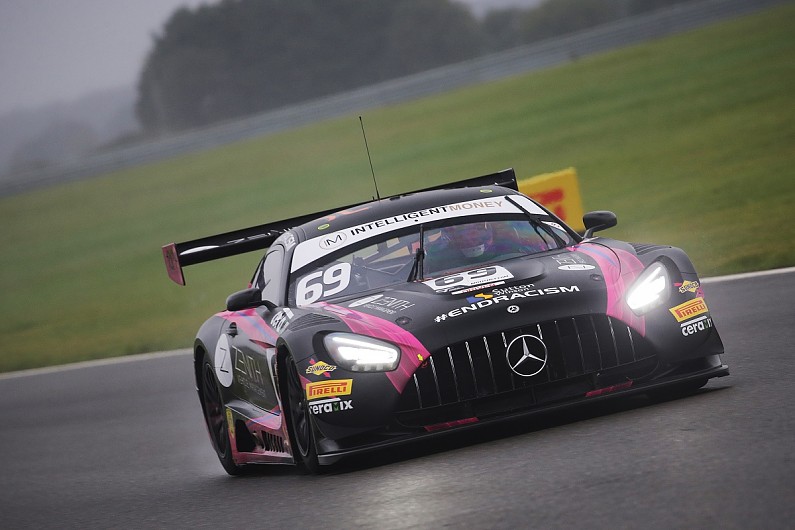 De Haan (above) gave himself the best possible chance of overcoming a 10s success penalty for winning last time out at Donington Park by pipping Collard to race-one pole in his RAM Mercedes. But amid unabating rain – the warm-up was twice red-flagged, with Richard and Sam Neary forced to withdraw their Mercedes after its prang with the barriers at Riches – the race was started behind the safety car, and it wasn't until lap four that the pack was finally released.
To make matters worse, at the end of the first racing lap De Haan was ambushed into Murrays by the fast-starting Jordan Witt (2Seas McLaren), who then chopped across De Haan as the Mercedes attempted to fight back on corner exit. This forced De Haan onto the grass, allowing Lewis Proctor (Optimum McLaren) to demote him another place.
As the McLarens duelled at the front, Witt gradually pulling away from Proctor en route to the 2Seas team's first win, De Haan slid gradually backwards and was 11s behind
by the pitstops, where Mitchell's shorter stop helped him to emerge ahead of Kujala.
But his hold on fourth would also be short-lived. Despite Buurman making a mistake at Williams when he was too preoccupied flashing the lights to make the corner, he was soon on Kujala's tail again and slithered around the outside on the approach to Turn 3. At the flag, Kujala was a distant fifth, while Mitchell dragged past Ollie Wilkinson (who had taken over the Optimum McLaren from Proctor) to snatch second by 0.081s at the line.
RAM boss Dan Shufflebottom admitted afterwards that the team was mystified by the car's race-one struggles, suggesting the narrow tyre pressure and temperature windows as the likely cause.
Fortunes were reversed for race two, as Kujala ran fifth in the opening stint behind Keen, Mitchell, Buurman and Andrea Caldarelli (WPI Motorsport Lamborghini), only to profit from Barwell's calamitous pitstop, and a mistake from Ian Loggie (in for Buurman) at Williams when under pressure from Michael Igoe (in for Caldarelli) that dropped him from second to fourth; behind De Haan, but crucially still ahead of Collard.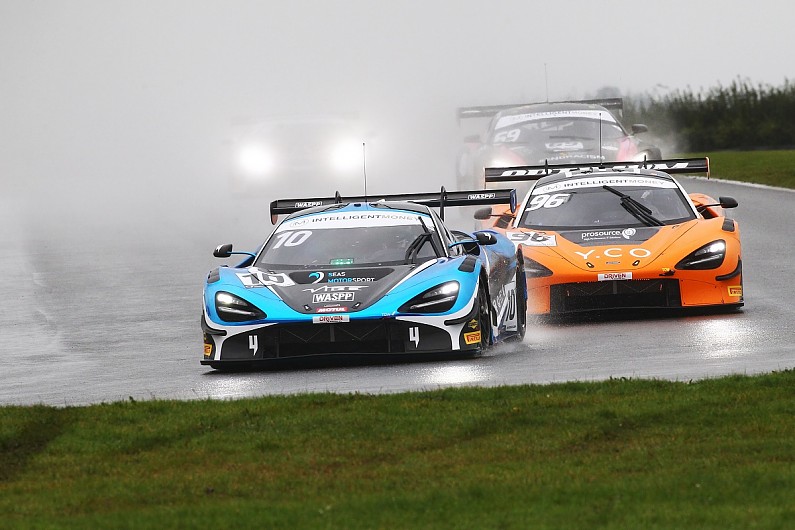 Despite ending the day on top, Keen and Balon too had cause to wonder what might have been after Balon spun at Turn 3 on the opening lap of race one, dropping to the back of the GT3 field. Seventh place was not a bad recovery given the 7s penalty carried over from Donington, but a top-six finish was certainly achievable on a track where the Huracan traditionally excels.
Away from the significance of the title fight, there was jubilation in the 2Seas camp (above) as the Bahraini-owned team made good on the promise it had shown in the Oulton Park season opener, where only a pitlane infringement had cost it a debut victory. Jack Mitchell, the 2018 GT4 champion, didn't put a foot wrong after taking over from Witt and prevailed by 7.79s over his Scottish namesake.
"We knew the threat was going to be Sandy, you could see the pace at the end, it was very strong," said Mitchell, who finished eighth in race two after a last-lap excursion for Witt. "Towards the end I managed to pull a nice gap to Ollie which just gave me a bit of breathing room."
This most unpredictable of seasons is due to have one final act, with three hours of racing ahead at Silverstone.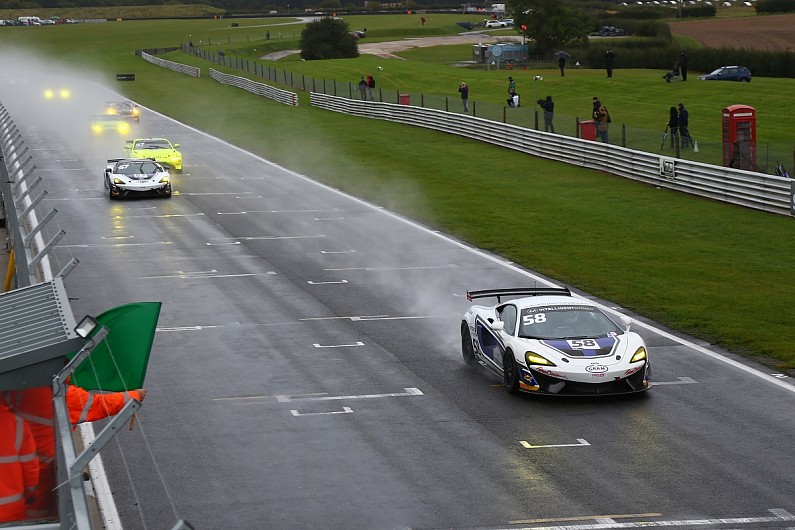 British GT4: Title battle goes down to the wire
If Rob Collard left Snetterton feeling a little short-changed, his son Jordan restored family honour with a swashbuckling drive to GT4 victory in race two to keep the title race finely poised.
Patrik Matthiesen started the HHC Motorsport McLaren from second, but lost out in the first-lap battling and dropped to fifth behind the TF Sport Aston Martins of Jamie Caroline (up from fifth) and Patrick Kibble, Euan Hankey's Balfe McLaren and the Academy Ford Mustang of poleman Matt Cowley.
The Dane gained one place back on Cowley with a bold move around the outside of the fast Brundle left-hander but, out front, the two Astons had built enough of a gap to negate their success penalties (10s for Caroline, 5s for Kibble), even if a shorter stop for the Pro-Am Balfe car would allow Mia Flewitt to briefly emerge in the lead. Matthiesen was the first GT4 driver to pit on lap 12, and Collard was swiftly up to speed when the top three all pitted four laps later.
Collard remarked afterwards that HHC had given him a car "on rails" – "It made me look a bit of a hero, but it was all down to them" – but he made full use of it, first clearing Kibble's team-mate Connor O'Brien around the outside of Riches on lap 19. He dispatched Flewitt on the following tour, then repeated his earlier move on Dan Vaughan's leading Aston at the start of lap 21. As if to prove the McLaren's dominance, in the remaining five laps Collard stretched that lead to almost 10s.
Collard had started race one from pole and led the entirety of the opening stint from team-mate Gus Bowers, with Vaughan and O'Brien chasing. But, after serving their 10s success penalty, Matthiesen emerged behind Caroline and had to turn his attentions to fending off Kibble, who had outbraked Chris Wesemael (in for Bowers) at the Agostini hairpin on lap 23.
The title battle is now effectively a three-horse race after a tough weekend for Cowley, without usual team-mate Jordan Albert after his sponsor withdrew. He was just 1.5 points off the lead heading into the weekend, but an off at the Wilson hairpin in race one cost him places to Hankey and Sam Smelt's Toyota, and a race-two spin when pressured by series returnee Ben Tuck's BMW means he faces an uphill battle at Silverstone.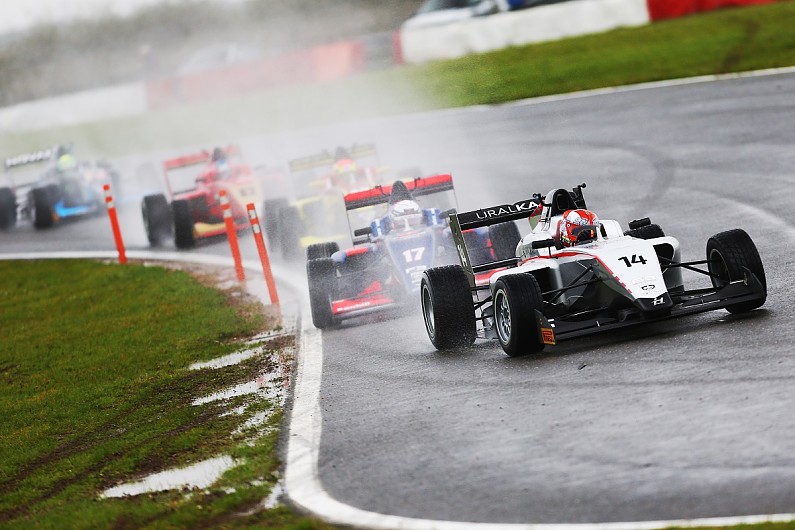 BRDC British F3: Maini's points lead washed away
The battle for the 2020 BRDC British F3 Championship came to life in the mirk and gloom of Snetterton, as the top four in the standings all won a race.
Despite a victory, Kush Maini had his points lead slashed after enduring a difficult weekend as he struggled to adapt to the wet conditions that were an ever-present fixture in all the encounters.
The Hitech GP driver's closest challenger heading into the meeting had been Kaylen Frederick – 54 points in arrears – and the American immediately set about reducing that gap by winning the opening race having got the jump on polesitter Louis Foster off the line.
Behind, there was contact between the slow-starting Benjamin Pedersen and Josh Mason, with both retiring on the spot before there was slight confusion when a safety car board was briefly shown before the end of the opening lap (see page 65). No safety car was actually deployed but, with some drivers slowing down momentarily – as well as the huge rooster tails of spray being thrown up – it meant the normally tightly-contested field quickly spread out.
Frederick crossed the line with just over three seconds in hand over Foster, as Frederick's Carlin team-mate Nazim Azman completed the podium from Oliver Clarke (Hillspeed) and the Douglas Motorsport duo of Ulysse De Pauw and Manaf Hijjawi.
Maini, having started eighth, could only finish 11th having spun at Williams with two laps to go while running in the same spot he qualified. He made amends in the full reversed-grid second race, which took place on a damp but drying track. Only Fortec's Roberto Faria decided to brave slicks – which didn't pay off – and, having started third, Maini was leading by the end of the opening lap after deposing Piers Prior and Alex Fores.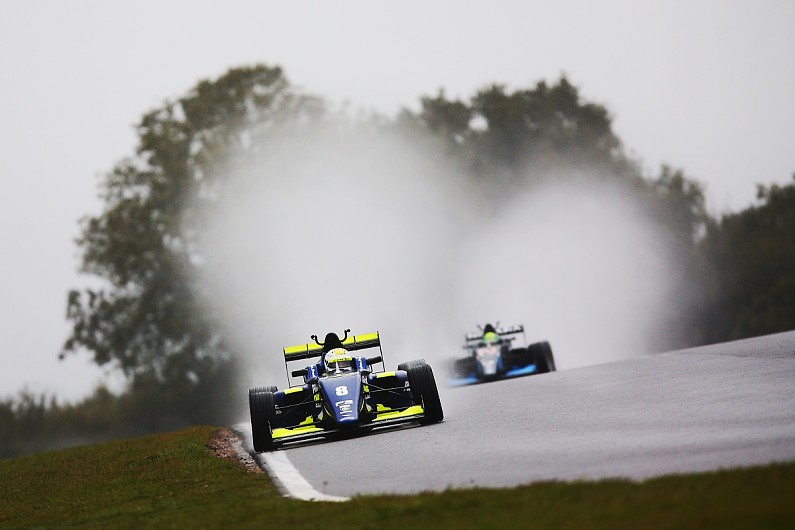 As the championship leader pulled clear, De Pauw was making terrific progress from ninth. He was up to sixth by the end of the opening tour, fourth by lap four and third on lap six after passing Fores around the outside of Riches. He made his move on Josh Skelton through Nelson and Brundle on lap eight of 10 to move into second, as Maini took the win by more than four seconds.
Frederick (above) had also been looking likely to make progress from the rear of the grid, but was knocked off by Sasakorn Chaimongkol at the Bomb Hole on the opening lap – for which the Hillspeed driver was given a five-place grid drop for race three – and he only salvaged 12th.
Sunday's race three began behind the safety car in atrocious conditions with Double R's Foster eventually taking a lights-to-flag victory, but only after surviving mid-race pressure from the ever-present Frederick.
Some 12s adrift of the winner, Pedersen put in a fine drive to hold off Hijjawi and De Pauw for third, as Maini endured a torrid race and was only able to finish 15th. It was a similar story for Maini in race four – the grid decided by a driver's two best times from the previous three races – as, having started fourth and behind the safety car again, he soon headed a train of faster cars.
He lost out to Azman, Clarke, Foster and Skelton through the first three turns on lap five, only for Skelton to undo his hardwork by going off at Williams. The Chris Dittmann Racing driver did repass Maini on the penultimate lap, however, ensuring the latter finished only seventh.
Foster had initially led the race from pole and looked likely to claim his second win of the weekend, but he dropped down the order after running wide at Wilson on the first lap of racing and finished fifth.
De Pauw inherited the lead after Foster's error and took the victory, as Frederick claimed another second to move within nine points of Maini in the standings, with Foster and De Pauw just 21 and 32 points behind respectively and six races remaining.
With the Ginetta G40 Cup title already clinched by Tom Golding – to go with his first success in 2018 – he sat out the final event of the season, leaving the way clear for Giles Dawson to dominate proceedings.
He took a lights-to-flag victory in the opening race, while Mark Sansom and newbie Barry Ward completed the podium. Dawson repeated his success in race two, but only after regaining the lead when Sansom had run wide at Oggies on the first lap. Ward made it briefly into second at Sansom's expense through Brundle and Nelson, only to go off at Bomb Hole and drop to fourth, as Owen Hizzey took second from Sansom.
Hizzey went one better in race three, getting the jump on Dawson at the start and putting in a superb defensive drive on a slippery track to take his maiden series win.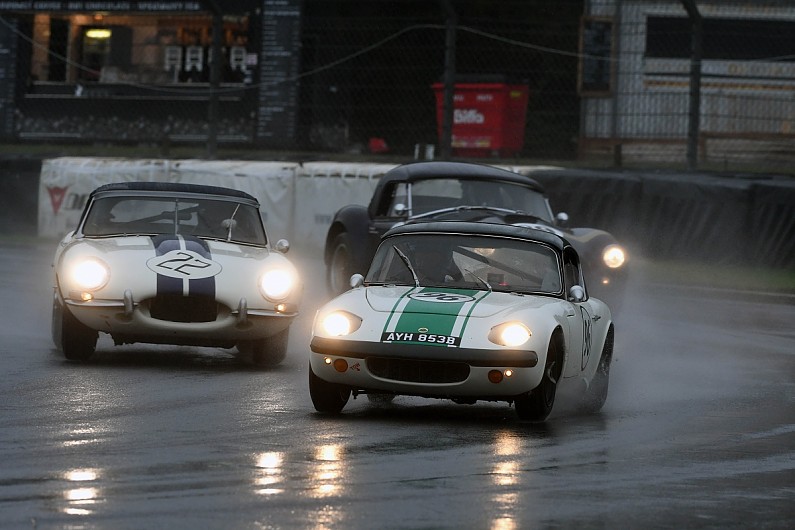 CCRC Autumn Classic: Haddon and Wolfe reign supreme
Forty-eight hours of rainfall wreaked havoc on Castle Combe's 70th Anniversary Autumn Classic, wiping out day two, but the cream of Saturday's racing was top-drawer quality.
The 90-minute GT & Sports Car Cup finale was contested in exemplary fashion, its result in dispute until the flag. Past Spa Six Hours winners Andrew Haddon/Andy Wolfe (Lotus Elan, above) emerged victorious over the Jaguar E-type of Scots Gregor Fisken/Marino Franchitti, the owners' bookend dices as vital as Wolfe's gripping duel with prototype ace Franchitti.
Polesitter Miles Griffiths made the running in John Clark's semi-lightweight GT4 E-type, pursued by Fisken's earlier GT3 version and Haddon, who displaced Mark Williams's AC Cobra. Ben Adams also passed the Anglo-American brute in his diminutive Lola-Climax Mk1 before the first round of two mandatory stops. Griffiths ran 25 laps – one more than Haddon and Fisken – before Clark took over and the enduro's complexion changed.
Wolfe and Franchitti ousted the blue Jag inside three laps and stayed aboard for 35 mesmerising minutes, during which Franchitti reeled the Elan in. For six magical laps they slugged it out, then pitted together after a very short safety- car interlude to enable marshals to retrieve an exhaust pipe from Bobbies.
During the central phase, Jeremy Welch hurled Christiaen van Lanschot's Le Mans Austin-Healey 3000 'DD300' back to third (lapping quicker than the leaders, which doubtless delighted long-time owner John Chatham), but Nigel Greensall was flying too in David Gooding's GT3 E-type and growled ahead. Adams, having briefly ceded the Lola to preparer Nick Finburgh, and Griffiths were closing in though, and went third and fourth as the spotlight refocused on the leaders.
Fisken threatened Haddon, shadowing him until they caught a line of traffic with three laps to go. "I got very close to the Elan and gave it a love tap, for which I've apologised, then got up alongside a Cobra at the Esses," Fisken said. "It was his corner and I spun." That gave Haddon 10 seconds' breathing space, which proved decisive. He and Wolfe were ecstatic. "The race had a great Pro-Ammy feel to it – that scrap with Marino was awesome," grinned Wolfe.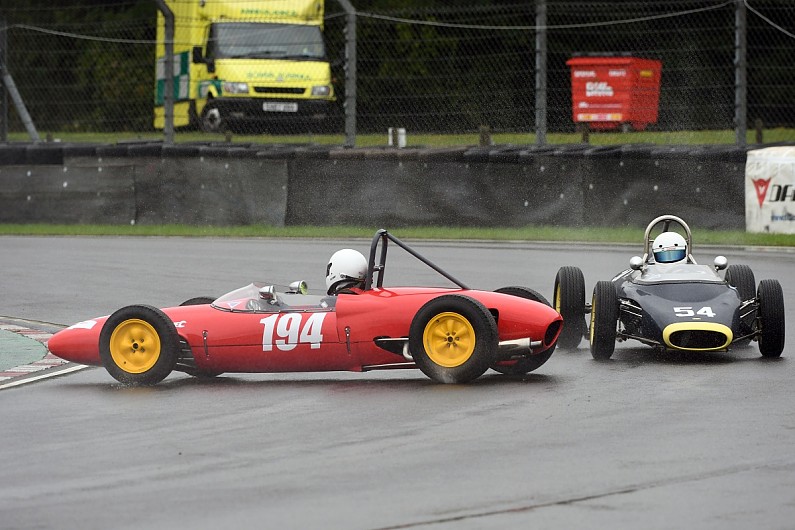 Eight seconds behind Fisken, Griffiths brought Clark's Jag home third, with fastest lap, 5s clear of the drenched Adams's Lola. A lap down, Gooding continued Greensall's work to claim a fine fifth, with the first big Healey – that of class rivals Chris Clarkson/David Smithies – 2.3s behind, Clarkson having overtaken van Lanschot, who staved off Mike Grant Peterkin's 3000 by 0.6s.
GT2 honours went to Simon Orebi Gann/Calum Lockie (ex-Gordon Spice Morgan +4 SLR) by a lap from Mike Thorne/Sarah Bennett-Baggs (Healey 100M). Redolent of the venue's inaugural meeting in 1950, the aroma of methanol hanging in the air heralded a superb 500cc Formula 3 grid at the Autumn Classic for the first time since 2017. Rainmaster Richard de la Roche – 2016's winner in a Cooper-JAP – qualified his Smith Buckler on pole by 2.5s but, when its JA Prestwich engine's main bearing ran as it was warmed up, the opening race was thrown wide open.
George Shackleton moved his Cooper-Norton MkXI confidently past early leader Mike Fowler's 1951 MkV on lap two and sped clear, only for a gearbox glitch to leave him with only its top cog, which forced retirement. Fowler thus splashed to victory over Simon Frost (Martin) and Stuart Wright (Cooper MkXI), who had inadvertently sent Nigel Challis's Cooper MkVIII spinning out of third at the Esses on the final lap. Challis finished fifth, behind Roy Hunt (Martin). First JAP-powered finisher was Cumbrian race debutant William Irving (Cooper MkVIII) in a meritorious eighth.
Second in last year's Freddie Giles Memorial Trophy Frazer Nash race, young Tom Waterfield advanced to the podium's top step with a spectacular seat-of-the-pants drive through the torrents in Simon Blakeney-Edwards's 91-year-old Meadows-engined Super Sports.
Waterfield's bravado in the chain-ganger, underpinned by lightning reflexes, were reminiscent of maestro Patrick B-E's, but Pat's sister car broke. Thus, with Eddie Williams (SS) another early dropout, the deep-throated 3.2-litre Ford-powered GNs of Dougal Cawley and Tom Walker finished a distant second and third, with David Wylie (SS) in Walker's slipstream at the flag.
The de la Roche family's fortunes quickly turned around, for Richard's son Peter aced Formula Junior in Pat Barford's Lola Mk3, brilliantly seeing off the Lotuses of Sam Wilson (in Simon Diffey's gold 20) and Clive Richards (22) in a flurry of opposite lock. Front-engined standout Stuart Roach (Alexis Mk2) bounded to fourth overall, ahead of Diffey (ex-Peter Warr Lotus 20/22) and impressive single-seater debutant Tim Child (ex-Curt Lincoln Cooper T59).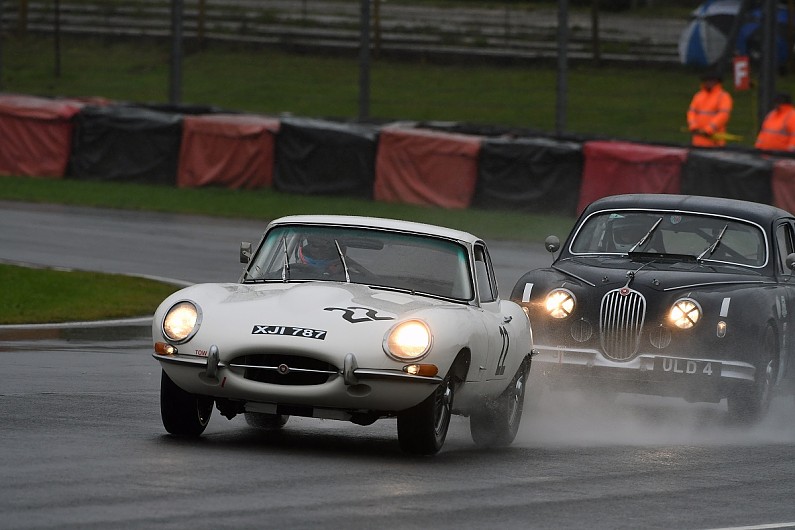 There was no catching the professionals in the Pre-'66 Jaguar and Mini features. Racing an historic car for the first time in five years, Alex Buncombe (above) dominated the former in Nissan GT team boss Bob Neville's newly built E-type. On pole by 7s first time out at Combe, third- generation racer Buncombe drove like the wind, evoking memories of grandad John racing HRG, Healey Silverstone and Jags here in the 1950s and father Jonathan's saloon victories in the '70s and '80s.
In a field notable for a fine selection of Mk1 and Mk2 saloons, John Young growled Nigel Webb's ex-Equipe Endeavour car, raced in period by Ivor 'the driver' Bueb, home an excellent second. "I got my nose ahead for a few yards at the start but that was it," he said. Andrew Keith-Lucas completed the podium, squeezing the CKL Developments XK150S back past fast starter Mark Russell's primrose-hued E-type hardtop.
Andrew Jordan (below) added to his Mini Miglia tally with another copybook victory. Kane Astin kept the 2013 British Touring Car champion honest initially before falling back. Rupert Deeth, making up for a spin at Old Paddock, finished third ahead of Aaron Smith. Dan Lewis beat Rob Davis by less than a second in the Libre class.
Another BTCC veteran, Jeff Smith, emerged atop the 1000cc Mini Se7en brigade. The 2019 champ denied points leader Spencer Wanstall after a tap sent Wanstall spinning at the Esses. The 1275cc S Class raced concurrently, from a second grid. Connor O'Brien carved through to sixth overall, snookering Thorburn Astin.
Reports by James Newbold, Stefan Mackley and Marcus Pye. Pics by Jakob Ebrey Photography, Motorsport Images and Steve Jones. Want the full picture from last weekend's national racing, including more event reports? Subscribe today and never miss your weekly fix of motorsport with Autosport magazine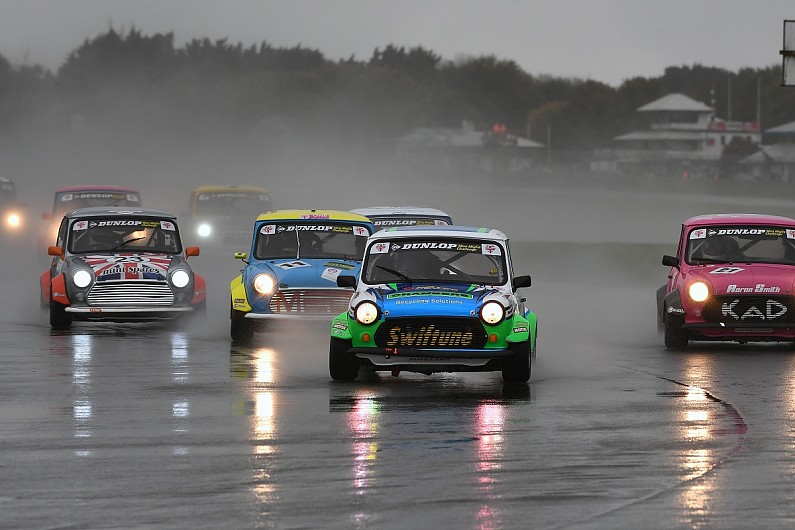 [ad_2]

Source link