[ad_1]

Acura Team Penske's ARX-05s locked out the front row for the IMSA SportsCar Championship Petit Le Mans as Dane Cameron edged team-mate Ricky Taylor by less than a tenth.
On the championship's second visit to the Road Atlanta track this year after a six-hour race held in September, Mazda's Harry Tincknell was the first driver to duck under the 69sec barrier, but his benchmark was soon beaten by defending IMSA champion Cameron before Taylor edged his team-mate by 0.090s.
Tincknell pitted with five minutes still remaining while lying third, but Cameron stayed out on track and managed a time 0.094s faster than Taylor.
His 1m08.412s stands as a new track record for DPi cars.
Felipe Nasr, the 2019 Petit Le Mans winner, slotted the Action Express Racing Cadillac DPi-V.R just ahead of Tincknell to claim third, while championship leader Ryan Briscoe placed the Wayne Taylor Racing Caddy he'll share with Renger van der Zande and Scott Dixon in fifth ahead of the second Mazda of Tristan Nunez.
With his final flyer, Sebastien Bourdais moved ahead of JDC-Miller Motorsports Cadillac teammate Gabriel Aubry to claim seventh, the entire class covered by just 0.817s.
Antonio Garcia also set a searing record-breaking pace on his final flying lap to land the GTLM class pole in the championship-leading #3 Corvette C8.R.
The Spaniard's 1min15.163s effort in the car he shares with Jordan Taylor put him over a quarter second faster than his nearest challenger, Connor De Phillippi in the #25 BMW M8.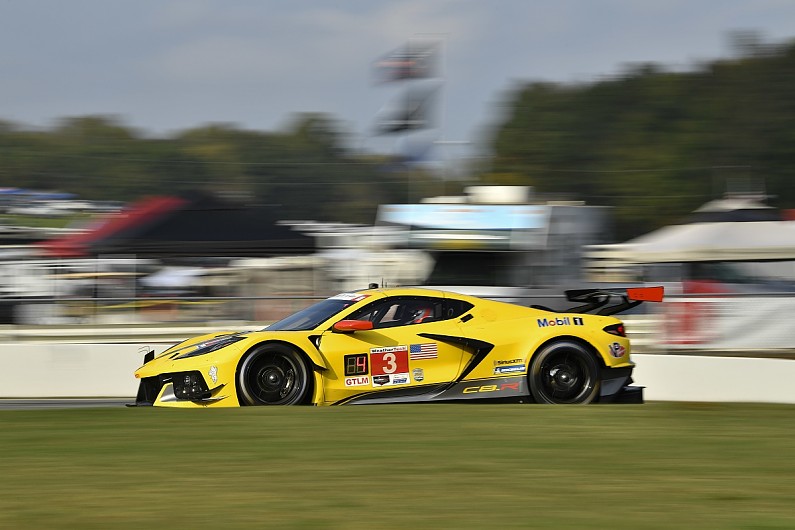 John Edwards took third in the second of the Rahal Letterman Lanigan-run BMWs, while Laurens Vanthoor was half a second off the pace in the faster of the two Porsche 911 RSRs.
Following his late race-ending shunt at Charlotte last week, Tommy Milner's repaired #4 Corvette was 0.7sec slower than Garcia's sister machine but managed to outpace the second Porsche of Nick Tandy.
Meanwhile in GT Daytona, Shinya Michimi scored Meyer Shank Racing's first pole of the season in the championship-leading #86 Acura NSX he shares with Mario Farnbacher and Matt McMurry, pipping Jeff Westphal's #63 Scuderia Corsa Ferrari 488 by 0.173s.
Frankie Montecalvo fell 0.1sec short and slotted into third in the #12 AIM Vasser Sullivan Lexus RC F.
MSR's two main GTD title rivals will start from the fifth row, with the second Lexus that Michael de Quesada shares with Jack Hawksworth and Aaron Telitz, and the Wright Motorsports Porsche 911 GT3 R of Ryan Hardwick, Pat Long and Jan Heylen starting ninth and tenth in class.
Patrick Kelly's PR1 Mathiasen Motorsports ORECA was fastest in the thin LMP2 field, 1.6s ahead of Rob Hodes in the similar Inter Europol Competition machine.
John Farano was third in the Tower Motorsports by Starworks machine he'll share with European Le Mans aces Job Van Uitert and Mikkel Jensen.
Petit Le Mans starting grid
| Pos | Class | Driver | Team | Car | Gap |
| --- | --- | --- | --- | --- | --- |
| 1 | DPi | J.P.Montoya, D.Cameron, S.Pagenaud | Acura Team Penske | Acura | 1m08.412s |
| 2 | DPi | H.Castroneves, R.Taylor, A.Rossi | Acura Team Penske | Acura | 0.094s |
| 3 | DPi | F.Nasr, P.Derani, F.Albuquerque | Whelen Engineering Racing | Cadillac | 0.200s |
| 4 | DPi | J.Bomarito, H.Tincknell, R.H.-Reay | Mazda Team Joest | Mazda | 0.224s |
| 5 | DPi | R.van der Zande, R.Briscoe, S.Dixon | Konica Minolta Cadillac DPi-V.R | Cadillac | 0.438s |
| 6 | DPi | O.Jarvis, T.Nunez, O.Pla | Mazda Team Joest | Mazda | 0.513s |
| 7 | DPi | S.Bourdais, T.Vautier, L.Duval | JDC-Mustang Sampling Racing | Cadillac | 0.628s |
| 8 | DPi | C.Miller, M.Leist, G.Aubry | JDC-Miller Motorsports | Cadillac | 0.817s |
| 9 | LMP2 | P.Kelly, S.Trummer, S.Huffaker | PR1/Mathiasen Motorsports | ORECA/Gibson | 3.178s |
| 10 | LMP2 | A.McCusker, J.Smiechowski, R.Hodes | Inter Europol Competition | ORECA/Gibson | 4.749s |
| 11 | LMP2 | J.Farano, M.Jensen, J.van Uitert | Tower Motorsport by Starworks | ORECA/Gibson | 5.670s |
| 12 | GTLM | A.Garcia, J.Taylor, N.Catsburg | Corvette Racing | Chevrolet | 6.751s |
| 13 | GTLM | B.Spengler, C.De Phillippi, C.Herta | BMW Team RLL | BMW | 7.022s |
| 14 | GTLM | J.Krohn, J.M.Edwards, A.Farfus | BMW Team RLL | BMW | 7.203s |
| 15 | GTLM | E.Bamber, L.Vanthoor, M.Jaminet | Porsche GT Team | Porsche | 7.245s |
| 16 | GTLM | O.Gavin, T.Milner, M.Fassler | Corvette Racing | Chevrolet | 7.444s |
| 17 | GTLM | N.Tandy, F.Makowiecki, M.Campbell | Porsche GT Team | Porsche | 7.446s |
| 18 | GTD | M.Farnbacher, M.McMurry, S.Michimi | Meyer Shank Racing with Curb-Agajanian | Acura | 10.879s |
| 19 | GTD | C.MacNeil, A.Balzan, J.Westphal | Scuderia Corsa | Ferrari | 11.052s |
| 20 | GTD | F.Montecalvo, T.Bell, K.Kirkwood | AIM Vasser Sullivan | Lexus | 11.151s |
| 21 | GTD | B.Sellers, M.Snow, C.Lewis | Paul Miller Racing | Lamborghini | 11.155s |
| 22 | GTD | B.Auberlen, R.Foley, D.Machavern | Turner Motorsport | BMW | 11.245s |
| 23 | GTD | A.Parente, M.Goikhberg, T.Hindman | Heinricher Racing with Meyer Shank Racing | Acura | 11.254s |
| 24 | GTD | R.Ferriol, M.Winkelhock, A.Davis | Team Hardpoint | Audi | 11.310s |
| 25 | GTD | D.Olsen, Z.Robichon, L.Kern | Pfaff Motorsports | Porsche | 11.362s |
| 26 | GTD | J.Hawksworth, A.Telitz, M.De Quesada | AIM Vasser Sullivan | Lexus | 11.496s |
| 27 | GTD | R.Hardwick, P.Long, J.Heylen | Wright Motorsports | Porsche | 11.987s |
| 28 | GTD | I.James, R.De Angelis, D.Turner | Heart of Racing Team | Aston Martin | 12.022s |
| 29 | GTD | A.Lally, J.Potter, S.Pumpelly | GRT Magnus Racing Team | Lamborghini | 12.041s |
| 30 | GTD | G.Robinson, L.Aschenbach, B.Keating | Riley Motorsports | Mercedes | 12.210s |
| 31 | LMP2 | J.McGuire, M.Bell, C.Braun | Performance Tech Motorsports | ORECA/Gibson | – |
[ad_2]

Source link