[ad_1]

The Haas Formula 1 team says Romain Grosjean will be released from hospital on Tuesday as he continues his recovery following his accident in the Bahrain Grand Prix.
The Frenchman received burns to the back of his hands but was otherwise uninjured in the 137mph accident.
In a short statement the team noted: "Romain Grosjean is continuing his convalescence at the Bahrain Defence Force (BDF) hospital having remained there overnight following Sunday's incident at the Bahrain GP.
"Treatment on the burns Grosjean sustained on the back of both his hands is going well. Grosjean was visited by Gunther Steiner, team principal of Haas F1 Team, on Monday, and it is anticipated he will be discharged from the care of the hospital on Tuesday 1st December."
Speaking on Sunday evening prior to his hospital visit Steiner said he will support any decision Grosjean makes about participating in next week's Sakhir GP.
If he is passed fit he is due to be back in the car on Friday for what is scheduled to be his penultimate F1 race with the team.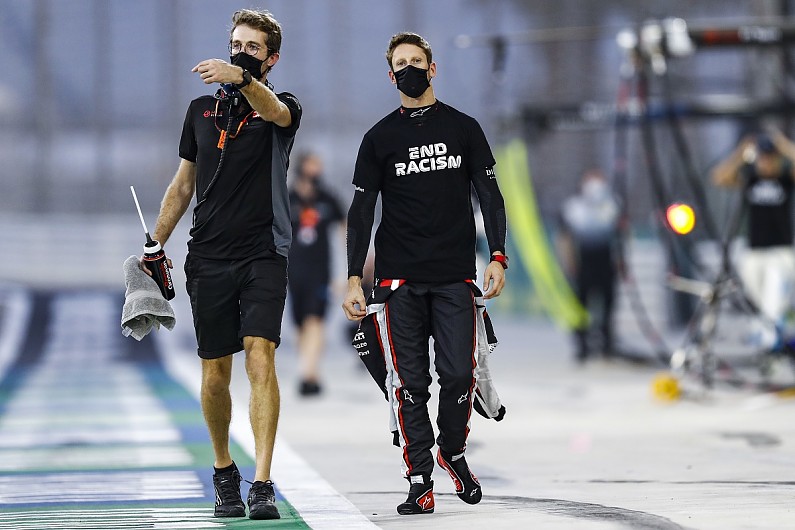 Steiner conceded that the team has a plan in place regarding a substitute driver should one be required, although he wouldn't elaborate, insisting that he wanted to meet Grosjean first.
"My plan is tomorrow to go and see him, see what is really happening," Steiner said on Sunday. "I didn't go there today, I just spoke on the telephone with him because we had a lot of stuff to sort out here.
"He was feeling good, he was in good spirits. I must admit I found him in good spirits, we even cracked a few jokes, and we just talked through a little bit.
"He asked me a few things, I asked him a few things, but he was very upbeat. When I called him, he was on the phone with his son, so he's spoken with his family.
"For sure we have got always a plan in place, but at the moment, my plan would be, if he is OK, to get back in on the race in Bahrain next weekend.
"I [will] go and see him tomorrow, and see how he feels. And that is his decision, I will not interfere with that one. He needs to make that one up with himself.
"So that's why I don't want to start to speculate who's gonna replace him, if he's gonna replace him, when we don't know if someone is gonna replace him or not. So that is the reason why I want to give him a little bit of time to think about it, to give us feedback, what he wants to do, and go from there."
Haas has two official reserve drivers in Pietro Fittipaldi and Louis Deletraz, both of whom are already in Bahrain.
However the latter is committed to the F2 finale next weekend, as is Mick Schumacher, who is expected to race for the team in 2021 and also has a superlicence.
Both would however be available for the Abu Dhabi GP, as would the team's other expected 2021 signing Nikita Mazepin, pending a successful superlicence application.
Autosport has produced a standalone special magazine to celebrate our 70th birthday. All current print subscribers will receive a copy for free. To order your copy of the 196-page Autosport 70th Anniversary issue, please go to: autosport.com/autosport70th
[ad_2]

Source link