https://speed.clothing/wp-content/uploads/2020/12/GPBox-Rectangle-Pictures-2.jpg

The Envision Virgin Racing Formula E team has partnered with the UK government and will feature its branding on the cars ahead of the United Nations Climate Change Conference.
EVR will work with the UK government to boost the adoption of electric vehicles in preparation for the 2030 ban on the sale of new petrol and diesel-powered cars and vans.
This comes as the government has also pledged to hit net-zero carbon emissions by 2050, with EVR currently the only carbon neutral team recognised in FE.
The race cars of drivers Robin Frijns and new signing Nick Cassidy will carry the 'Together for Our Planet' slogan, the tagline for the UN COP26 conference that will be held in Glasgow across 11-12 November.
Alok Sharma, president designate for COP26 – the 26th gathering of the UN Climate Change Conference of Parties – said: "I am delighted Envision Virgin Racing are taking the Together for Our Planet campaign 'on tour' and inspiring people around the world to take urgent climate action ahead of COP26.
"We know that electric vehicles are greener, cleaner, and better for the planet.
"To meet the targets of the Paris Climate Agreement, we need to clean up the air we breathe by doubling the pace of transition to zero emission vehicles."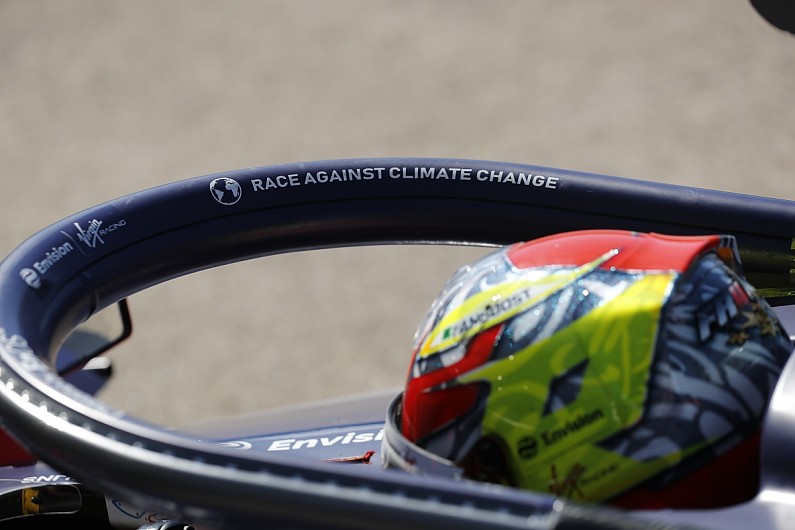 EVR will boost awareness around the conference by hosting a series of digital events, running a competition for children to design an "environmentally inspired" race suit that Cassidy and Frijns will wear, plus further activities at each FE race in 2021.
The team's managing director Sylvain Filippi added: "Envision Virgin Racing, Formula E and the UK Government are all at the forefront of the EV revolution, especially with so many personnel, vehicles and infrastructure based and built right here in the UK.
"As such, we are honoured to be joining forces with what is the most important climate event of the year and playing a pivotal role in encouraging motorists to make the switch and, more importantly, tackle climate change before it is too late.
"Through the exciting platform of motorsport, we're able to showcase the true potential of electric vehicles as we compete in cities across the globe, developing innovative technology that will filter from the track to the road and accelerating the adoption of EVs."
In addition to its carbon neutral status, EVR has also been – along with Mercedes and Mahindra Racing -recognised with the FIA's highest three-star environmental accreditation rating. It is also the first motorsport team to sign the UN's Framework Convention on Climate Change.
Envision Group, the team's majority owner, specialising in battery and wind technology, is the first company in mainland China to commit to 100% renewable energy by 2025.