[ad_1]

Formula 1 race director Michael Masi says he will review procedures after the Turkish Grand Prix's second qualifying session was started while there was a crane in the run-off area.
The drivers were released to start Q2 while Nicholas Latifi's stricken Williams was still being recovered, after the Canadian had spun into the gravel at Turn 8 in the closing stages of Q1.
A recovery vehicle was sent to crane the Williams out of the way when the first session ended.
The normal procedure is for officials on the spot to keep the clerk of the course informed of progress, with the official in turn communicating with Masi.
The message came through that the job would be complete by the time the cars passed by on their out-lap at the start of Q2, and thus they were duly released on schedule.
However moving the crane behind the barrier took longer that expected, and drivers were critical that the session had been started in the slippery conditions with the potential hazard.
Ferrari protege Jules Bianchi suffered fatal injuries when his Marussia crashed into a crane that was recovering Adrian Sutil's Sauber at the 2014 Japanese Grand Prix.
"I'm quite surprised there was a green," said Renault driver Daniel Ricciardo.
"I don't know what the rush was, I guess maybe they'll worried about light.
"But as we know, I don't think that should be happening."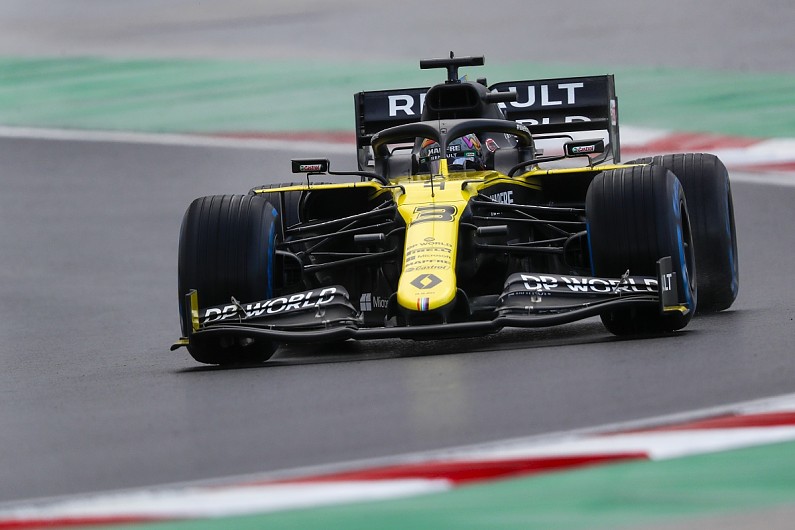 Red Bull's Alex Albon said it was "silly" that the session was not postponed.
"I'm sure we could have waited another five minutes for a crane to move," he said.
"I think there must have been some misjudgement between them, because there's no way they did it on purpose."
Former Sauber driver Marcus Ericsson also weighed in on Twitter, saying: "Please @F1 how on earth can you start the session with the safety truck on track still!?!?
"Have we not learned from the past? I can't believe it."
Explaining the incident, Masi conceded that it was "not a scenario we want to see".
"We released the cars from pitlane as the recovery vehicle was moving to the escape road following information given to race control by the clerk of the course that the vehicle would be clear of the track before the cars on their out-laps reached Turn 8, where the recovery was taking place," he said.
"As soon as it became apparent that the recovery vehicle had been delayed in moving completely into the barrier opening, we extended the area of double-waved yellow flags from Turn 8 to the entry point of Turn 7 to further slow down the cars on their out-laps.
"Clearly this is not a scenario we want to see, and with the benefit of hindsight we would have done it differently and held the cars until the recovery was completed.
"We will review our procedures to minimise the likelihood of similar incidents in future."
Autosport has produced a standalone special magazine to celebrate our 70th birthday. All current print subscribers will receive a copy for free. To pre-order your copy of the 196-page Autosport 70th Anniversary issue, please go to: autosport.com/autosport70th
[ad_2]

Source link