https://speed.clothing/wp-content/uploads/2020/12/GPBox-Rectangle-Pictures-2.jpg

Female participation in motorsport is set to "explode" in the next 10 years as more emerging drivers prove that being competitive isn't an "anomaly", says ex-Formula E racer Katherine Legge.
The new-for-2021 Extreme E series has enshrined a 50-50 gender split within its teams, providing opportunities for up-and-coming female drivers to share the platform with established stars of the World Rally Championship and World RX.
In the meantime, the all-female W Series single-seater championship returns for 2021 on the support bill of Formula 1 at eight grand prix weekends.
Sportscar regular Legge, whose CV includes spells in Champ Car, DTM and IndyCar before making two FE starts with the Amlin Aguri team in 2014-15, says female drivers were a "novelty" when she began her career in Formula Ford in 2000.
But she is encouraged by the ever-improving opportunities for female participants, with the winner of the FIA Women In Motorsport Commission's Rising Stars initiative set to join Ferrari's Driver Academy, and believes the positive momentum can one day end the long wait for a female Formula 1 driver.
Legge tested for Minardi in 2005, and Susie Wolff competed in four free practice sessions as a test driver for Williams in 2014 and 2015, but no female driver has attempted to qualify for a grand prix since Giovanna Amati in 1992 (below).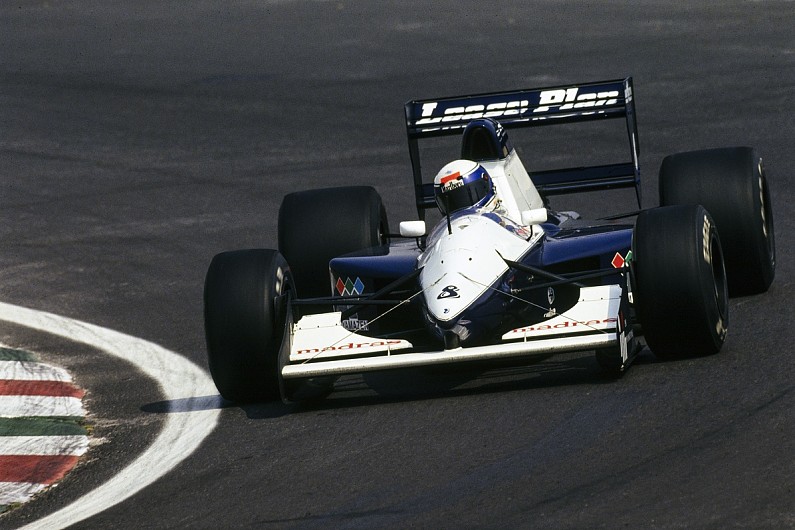 "Over the time I've been in racing, it's changed massively – back when I moved to the States in 2005, there was Danica [Patrick], and myself and Susie racing professionally and now there's a lot more," Legge told Autosport.
"When I first started it was more of a novelty and now it's not really a novelty anymore, it's kind of the norm. More and more girls are proving that we can be competitive, so it's not an anomaly.
"The W Series has come along, there's more women in that, so times are changing.
"I wish I was 20 years younger honestly because the opportunities now for women in racing are thousands of times more than when I first started.
"The doors are opening and there are more people opening those doors which are going to make the nine-year-old Katherines of the future have more opportunities. That's really cool to see unfold during my career.
"I think it's going to explode here in the next 10 years or so and I think we will see females in Formula 1 and all the top ranks of racing."