[ad_1]

The renowned Leinster Trophy took place last weekend at Mondello Park and wasn't short in drama or controversy. Elsewhere, Mike and Andrew Jordan were in action at Lydden Hill for the Historic Racing Drivers Club meeting
Confusion reigned in the Mondello Park pitlane last weekend when the all-important Leinster Trophy race was red-flagged in the closing stages and subsequently declared a result.
Paul O'Connell had led away from pole in the race for BOSS Ireland machinery and kept fellow Dallara driver Cian Carey – a double F3 Cup champion – at bay for most of the contest. But a good run out of the final corner late on gave Carey the impetus he needed and he forced the leader to defend into Turn 1. This allowed Carey to draw alongside on the exit and, after running through the next pair of corners wheel to wheel, he had the lead.
O'Connell had no intention of giving up though, and had a few further attempts to wrest the lead away. But when Joe Courtney went off at Turn 2, the red flag and chequered flag were shown and Carey crossed the line arm aloft, believing he had taken the famous trophy for the second time. But officials counted back two laps, giving the result to a delighted O'Connell (below).
Carey had taken the earlier BOSS race, controlling the gap to the charging Lucca Allen – last year's South East Asian Formula 4 runner-up – in the closing stages with Barry Rabbitt in third. Typically, Rabbitt had charged through to take the lead in the opening laps before the F3 cars powered past his Formula Renault.
Se Og Martin took a strong win in the Ginetta Junior opener, fighting off a late-race challenge from Karl O'Brien. He was again victorious second time out, with race-one poleman Jack Byrne and Sean McGovern completing the podium.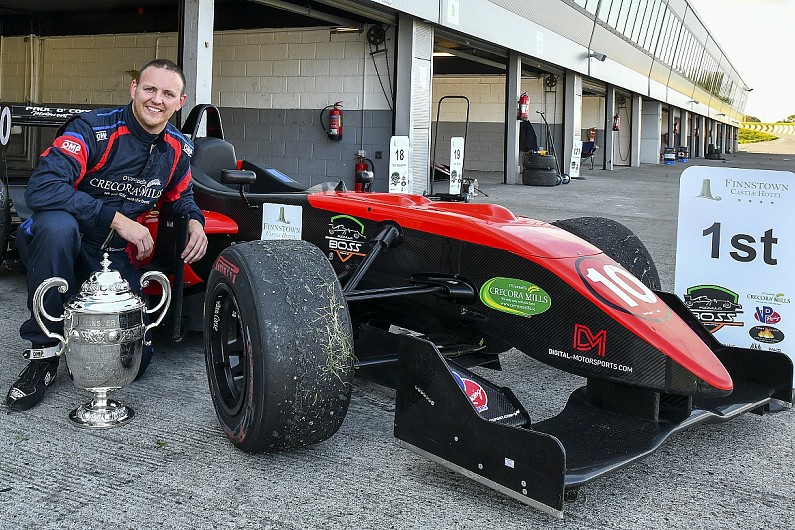 Geoff Richardson took the Legends opener from Peter Barrable, with Barrable's brother Rob right with them on his class debut. Race two was a cracker as Richardson just edged Rob Barrable and Jamie Moylan in a drag race to the line. Richardson was again superb in race three, winning from the back, ahead of Peter and Rob Barrable.
Enda O'Connor took the first Formula Sheane race, but interest centred on Richie Kearney's charge up through the field having been sent skywards at the first corner and then somehow recovering from a 360-degree spin later in the lap. He eventually climbed to second with fastest lap. In race two, the fast-starting Paul McLoughlin took the win after Kearney and O'Connor tangled at the first corner, while Derek Roddy was a fine second.
Michael Cullen ran and hid from the Stryker opposition, not even gearbox problems slowing him enough to be caught. Early leader Vincent O'Rourke just held off poleman Dave Reynolds for second. In race two, Cullen retired from the lead when his battery failed, handing the win to Reynolds.
Fiesta Zetec graduate Collie Murray stalled on the front row of the HRCA race but charged through to take the win, despite the best efforts of Bernard Foley in his MGB GTV8. Race two had a similar outcome, with Murray's lightweight MG storming through from the back to easily outpace the Historic regulars.
Brian Sexton pipped Pat Masterson to the flag in Future Classics race one, but a penalty for breaking the time barrier cost him the win. In race two, Masterson's Toyota MR2 just took the win, after another fantastic race-long scrap with Sexton's Mazda MX-5.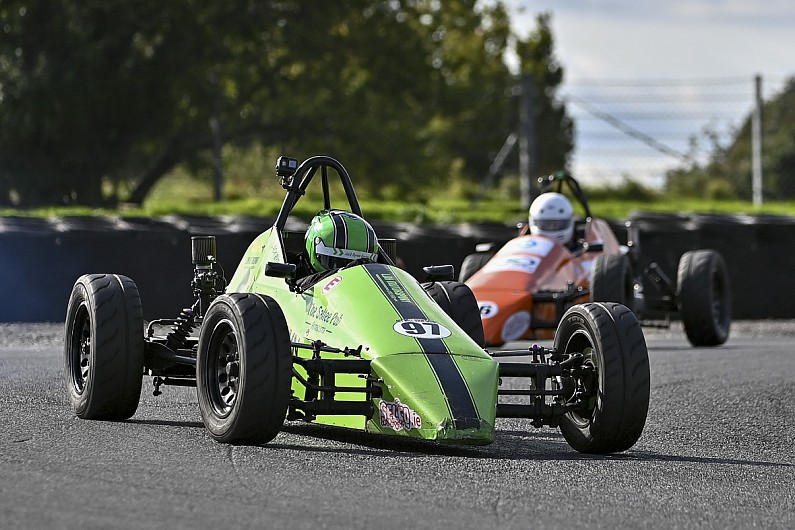 Series leader Alex Denning took Fiesta ST pole and led away, but Graham McDonnell kept him honest until a red flag ended the race early. In race two, Kevin Doran took the win from Michael Cullen, with Denning unable to climb higher than fourth, ending his unbeaten run in 2020.
Alastair Kellett took the Fiesta Zetec opener from pole, with Junior Rallycross graduate James Fleming an impressive second and reigning champion William Kellett in third. In race two, series leader Michael Barrable used all his guile to fend off William and Alastair Kellett, not even the combined efforts of son and father being enough to wrest the lead away in what was a highly entertaining race.
Shane Murphy did the double in SEAT Supercup, easily coming through in the reversed-grid second encounter. Similarly, Paul Parr took both wins in the concurrently run Irish Supercars class.
Novice Jordan Kelly seized a sensational Formula Vee pole, but reigning champion Anthony Cross took the win from the charging Mark Reade, with Kelly dropping to fifth. In race two, an inspired Jack Byrne (above) snatched the lead from Cross around the outside of Turn 1 and eased away for the win.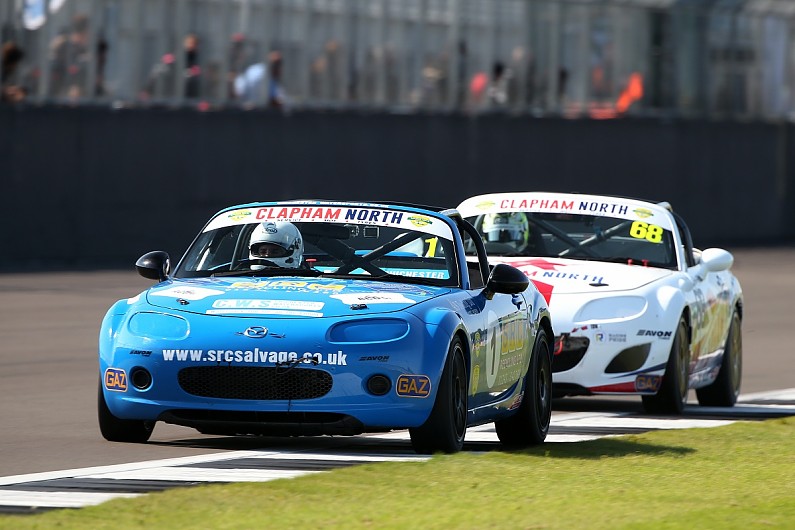 Silverstone BRSCC: Herbert shows why he's the MX-5 master
Luke Herbert demonstrated why he's been crowned Mazda MX-5 Supercup champion for the past three years as he once again proved unbeatable at Silverstone.
From lights-out in race one, James Cossins and 2014 champion Abbie Eaton joined Herbert in a three-car break, but only a lap later it was one long train of cars, before Herbert and Eaton tried to escape again.
But, after the duel for third between Cossins and Samuel Smith broke up, Smith began to close on the lead duo and towed Patrick Fletcher along too. Suddenly all four were together and entered Brooklands as one on lap 10 of 13. Herbert and Eaton retained their places after red flags flew, while Smith finally got the better of Fletcher for third, as Colin Bysouth and Cossins rounded off the top six.
Herbert and Smith were then inseparable throughout race two, but it was the reigning champion who was just 0.021 seconds ahead when it mattered, as Eaton took third.
There was the usual terrific finale in the Fun Cup, despite the Axiametrics trio of Chris Dovell/Kristian Rose/Riley Phillips dominating the second half of the contest. The Make Happen Racing Team had three cars in the top six going into the fourth and final hour, with the 2Rent Dominos Chris Hart/Henry Dawes car third behind PLR's Neil Plimmer and Ben Pitch, while Steve Walton/Greg Evans were fourth.
As Phillips took over the lead car and brought it home over a minute clear, Dawes and Evans entered into a final-stint duel for second that went right to the flag. Dawes just edged Evans by a tenth, but it was still a first podium for Evans/Walton, as PLR took fourth.
John Cooper and David Nye scored Fiesta championship wins on the road, but they were driving two of the four Invitation Class ST Turbos that weren't eligible for the overall victory. Effectively it was the duel for fifth that decided the winner, and in race one it was between 20Ten team-mates Samuel Watkins and Ethan Rogers.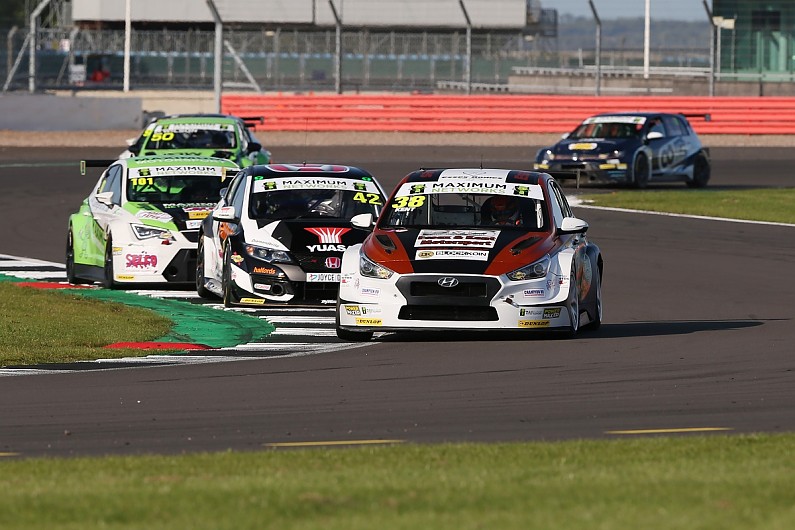 Rogers led initially before Watkins took charge and eased clear, both finishing well clear of third-placed Ben Winrow. Watkins was never headed in the second race, while Winrow managed to break from a huge scrap, before mechanical maladies put him out a lap from home, handing Dominic Bush second from Spencer Stevenson. William Heslop and Chris Grimes shared the concurrent ST-XR Challenge spoils.
There were only 13 cars entered for the combined Touring Car Trophy/TCR UK/VW Cup races (above). Dan Kirby's Cupra TCR led from the start but, after ousting the Hyundai TCR of Lewis Kent on the second lap, Darelle Wilson (Vauxhall Astra TCR) was looking for the lead at Brooklands, as Henry Neal (Honda Civic Type R), Kent and Max Hart's Cupra TCR disputed third.
Wilson grabbed the lead into Brooklands on lap six of 21, but both he and Kirby lost ground after contact. This allowed Neal to shoot ahead through Woodcote, his lead soon becoming decisive. Wilson and Kirby continued their duel until they clashed again at Luffield on lap 13. Kirby continued but Wilson was out after hitting the tyre wall. This left Kent with second from Hart, Tim Docker's Golf TCR and the recovering Kirby.
Kent, Neal and Hart held station at the front throughout race two, despite Neal occasionally showing signs of closing the lead gap, which failed to reach fruition.
There was a frantic start to the first Mazda MX-5 Championship race, with Mike Comber and Brian Trott sharing the early lead, before Joe Wiggin joined them and headed a three-car break. By lap six of 13, the top eight all ran line astern, before Wiggin broke the tow and eased home to victory, only to be excluded in post-race scrutineering. Trott therefore picked up the win from Comber, with Matt Pollard just holding onto third from a rapidly closing Steve Foden.
The second race was red-flagged after a three-car incident at Becketts. From the restart, Seb Fisher, Trott and Will Blackwell-Chambers had made a break on the exit of Copse, but on the next tour their advantage had been wiped out and Fisher was back in fifth behind Trott, Fraser Fenwick, Blackwell-Chambers and Oliver Allwood.
Allwood led into Becketts on lap four, but Fenwick and Trott both then had spells in the lead before Allwood took it back from Trott on the final tour. Fisher, Michael Knibbs and Blackwell-Chambers followed after a penultimate-lap shake-up, as Fenwick dropped to sixth. Comber won the third race after demoting Jack Brewer in a two-lap sprint after a safety car period, followed by Wiggin and Fisher.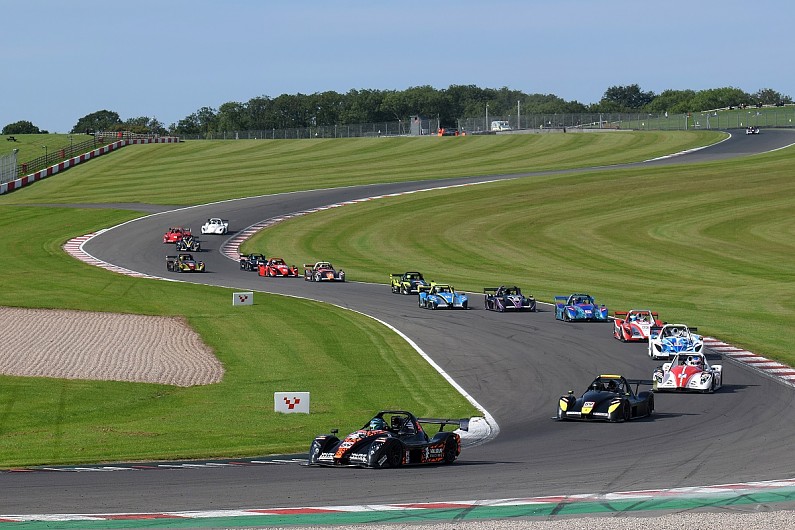 Donington Park MSVR: Clutton enjoys fruitful weekend
Marcus Clutton's domination of the Radical Challenge continued at Donington Park as he claimed a clean sweep of victories across the weekend's three races. Clutton lost the lead at the start of the first race to Shane Stoney, but swiftly reclaimed the position before an early safety-car period after second-row starter John Macleod lost out in a three-wide battle at Hollywood, ending up in the barriers.
Clutton built a six-second advantage following the restart and controlled the gap until the finish. Stoney dropped three places to fifth following his mandatory pitstop before recovering to third, one second behind Jason Rishover.
Stoney took second in race two, keeping Clutton honest for most of the encounter before a late red flag, and Stoney again provided the closest competition to Clutton early in race three. But, after dropping to third, Stoney suffered a puncture after a collision at the Fogarty Esses that necessitated a safety-car period, and eventually he retired in the closing stages.
Clutton dropped down the order after serving a 20s success penalty during his mandatory stop, but he came out on top in a three-way lead fight before cruising to victory by 5s. Chris Short came from the back of the grid to take second, as Rishover finished third after a spin. "The car was faultless," Clutton enthused. "We got a bit lucky with the safety car in the third race but we still had five or six cars to pass, and it's not the easiest in Radicals to overtake."
Further success for Clutton came in the GT Cup, where he took race-two victory alongside John Seale in a Lamborghini Huracan GT3. Richard Neary won Saturday's sprint race in his Mercedes-AMG GT3 after resisting early pressure from Matt Manderson, who finished 5.6s behind in an Aston Martin GT3, while Seale was third, despite a spin.
A poor start dropped Neary behind Manderson in the early stages of the day's endurance race, but he regained the lead at Melbourne Hairpin, despite contact that resulted in Manderson being spun around. Neary handed the car over to his son Sam during the mandatory pitstop, but the Mercedes was denied its second victory of the day following a late charge by Clutton, who had taken over from Seale in the Lamborghini.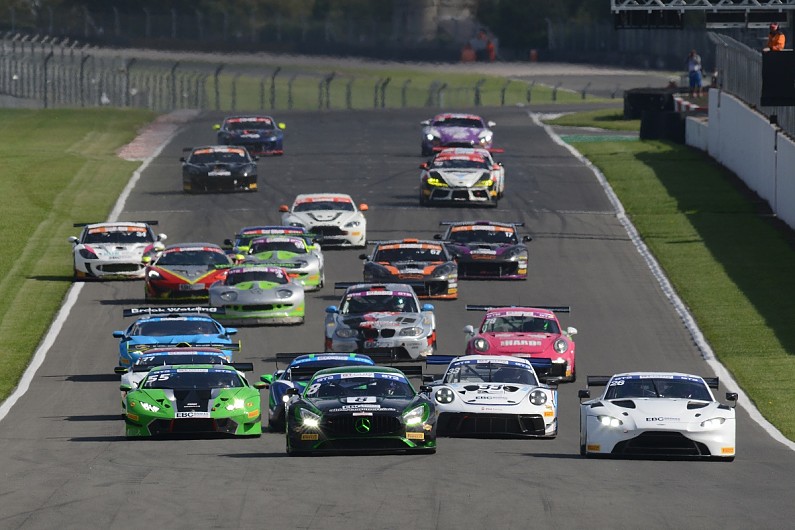 Clutton eradicated a 15s gap to catch the leader with 10 minutes remaining. Neary resisted pressure until the penultimate lap, when Clutton performed a switchback out of Redgate to snatch the lead and take victory by 0.5s.
Neary Jr repeated his father's success from the previous day by taking a crushing win in Sunday's sprint race, over a minute clear of the field. Seale ran eighth early on after making a bad start, but retired from the race after a collision with Sam Randon's Porsche 997 while trying to fight his way back up the order. Shamus Jennings finished second in a Porsche 911 GT3R, resisting pressure from a pair of Huracans driven by James Webb and Jim Geddie.
The younger Neary was again untouchable in the early stages of the endurance race, building a huge lead over Greg Caton, who was sharing driving duties with Jennings. Neary Sr took over the leading Mercedes at the mandatory stops, emerging with a 40s advantage before Jennings reduced the gap to 18s by the chequered flag. Subsequently he and Caton inherited victory after the Neary car was disqualified for overtaking under yellows.
Clutton was the fastest man on track in the second half of the race after taking over the Huracan from Seale, but the deficit proved too big to repeat Saturday's victory as he finished 12s behind Jennings. "We've had a bit of contact with another car, the tracking was out a bit," said Clutton. "We did the best we could with what we had – we weren't fast enough to catch up. Five races, four wins [across Radicals and GT Cup] – not a bad weekend!"
British Touring Car Championship racer Tom Ingram made a one-off return to the GT Cup, having competed in the series in 2015. Ingram shared driving duties in the endurance races with Ron Johnson in the all-new Toyota Supra GT4 car, being run by Speedworks Motorsport. The pair took a best result of second in class on Saturday.
Typically, the Caterhams provided the most closely contested racing of the weekend in the 7 Race Series. Alexander Koeberle was the driver to beat on Saturday, winning the first race after a close battle with Rob Watts, Mark Stansfield and Anthony Barnes. Koeberle won again in the second race, beating off competition from Stansfield and Russ Olivant to win by 0.2s.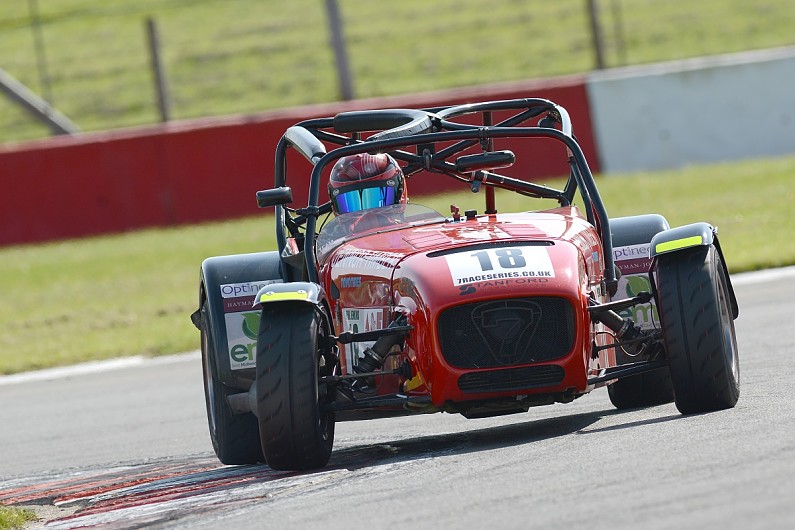 Phil Jenkins failed to score in the first two races after a collision in race one, but the championship leader bounced back to win race three on Sunday from seventh on the grid. He held on over a one-lap shootout to the finish following a late safety car. Barnes, who led the early stages, snatched second from Watts on the last lap following a race-long battle between the pair.
Stansfield dominated the fourth race, while several cars battled for second place. Jenkins stormed from 15th on the grid to pip Koeberle to the runner-up spot, with Watts, Barnes and Olivant behind.
Jenkins said a set-up change helped transform his fortunes across the weekend. "I didn't test on Friday, so couldn't get the car where I wanted it and overdrove it," he said. "We looked at the data overnight, made a few changes to the car and really enjoyed it [in the third and fourth races]."
Stefano Leaney beat Alex Fores to victory in the first two races of the F3 Cup, but the pair collided at Old Hairpin on the opening lap of the third race while contesting the lead, with George Line capitalising to claim victory. Leaney finished second, despite front-wing damage, while Fores – who suffered a puncture from the incident – fought back to fourth.
Lydden Hill HRDC: Alderslade proves to be king of the hill
When the Historic Racing Drivers Club returned to Lydden Hill on Sunday for the annual Historics On The Hill meeting, there was much to celebrate. Particularly among the Jordan Racing Team, with two wins for Roy Alderslade and multiple podium places for Mike and Andrew Jordan.
The squad's success story started with the Jack Sears Trophy event. Of course, both father and son know the circuit well; Mike raced Eurocars at Lydden a few years ago, and Andrew served his apprenticeship in Junior Minicross en route to rallycross supercars, a World Rallycross podium and eventually the British Touring Car title.
During qualifying they took turns to slipstream each other down the short straights. "Well, at least we tried to," said Jordan Jr with a grin. Nevertheless, they were pipped to pole position by Alderslade's twin-cam Lotus Cortina, which was more than a match for the Jordans' Austin A40s.
Alderslade led away from the start, chased by Jordan Jr, Jordan Sr and Ding Boston, who was driving the Oxford University Motorsport Foundation's venerable Riley 1.5.
Jordan Jr was clearly out to enjoy himself as he threw the A40 sideways through the corners, but couldn't pull away from his dad. Meanwhile, Alderslade raced on to victory from the Jordans as Boston finished a fine fourth ahead of the Colburn family – Richard, James and Ben nose to tail as they crossed the line.
It was a similar story in race two where the first four finished in the same order, but this time Andrew Sharp (Triumph 2000) and Joe Allenby-Byrne (Ford Cortina GT) chased them home.
Alderslade was in contention to win both Allstars races too, but his Lotus Cortina was pipped to pole by Ben Colburn's nimble Lenham GT Sprite (below), which seized the lead from the start. Alderslade put his head down and reduced the deficit, but he began to lock his wheels under braking and eventually he ran wide at Chesson's Drift, leaving Colburn home and dry. Boston finished third behind Alderslade and only just ahead of Neil McArthur's Wolseley Hornet.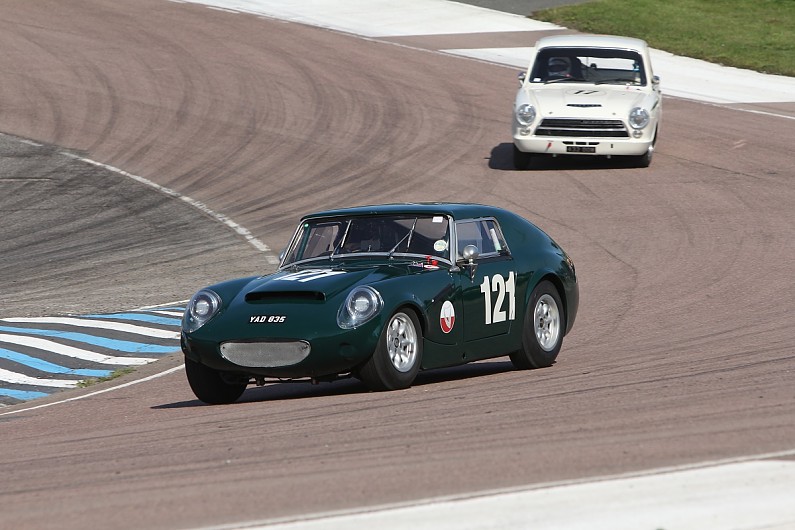 Tony Butt made a spectacular exit from the race when his Turner lost a rear wheel. The car slithered down the top straight amid a shower of sparks while the wheel and brake drum flew across the rallycross track into the tyre wall – fortunately away from any spectators.
Colburn repeated his success over Alderslade in the second race. Andrew and Mike Jordan finished third and fourth, although they started from the back having missed the first race.
During qualifying for the Classic Alfa Challenge, Richard Merrell (Giulia GT Junior) claimed pole position with a time more than a second clear of his closest rival, Chris Snowdon, so it was no surprise when he kept the lead and began to pull away at the start.
Snowdon clung on grimly in second place until half-distance when his Alfetta GTV headed for the infield and retirement. Alex Jupe (Alfetta GTV) thus inherited second place and held it to the finish, just ahead of James Wright (Alfa 75) and Jonny Horsfield (Alfetta GTV).
Merrell once again made the best start in race two and thereafter led all the way. Horsfield held second place initially until Snowdon sliced past with a neat manoeuvre down the inside at the Devil's Elbow. Wright completed the podium as Horsfield was fourth.
Reports by Leo Nulty, Peter Scherer, Steve Whitfield and Kerry Dunlop. Pics by Michael Chester, James Roberts, Ollie Read and Kerry Dunlop. Want the full picture on this week's national racing, including more event reports? Subscribe today and never miss your weekly fix of motorsport with Autosport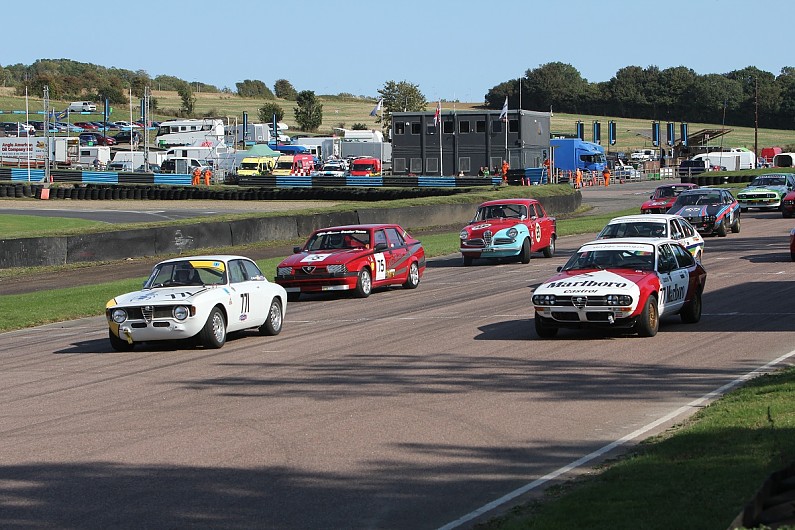 [ad_2]

Source link