https://speed.clothing/wp-content/uploads/2020/12/GPBox-Rectangle-Pictures-2.jpg

Overcoming a grid penalty for being underweight, Felipe Nasr and Pipo Derani landed pole for next weekend's IMSA SportsCar Daytona 24 Hours at Daytona in their Action Express Cadillac.
With the wet conditions adding around a dozen seconds to the laptimes of the Prototype, Mazda's Oliver Jarvis retained the lead at the drop of the green flag, but immediately came under pressure from IMSA debutant and ex-Formula 1 driver Kevin Magnussen.
The Chip Ganassi Racing Cadillac wrested the lead at the end of lap one, the pair pursued by Tristan Vautier in the JDC-Miller Motorsports Caddy – with Nasr not wasting time to move ahead of the Acuras to claim fourth place.
At the first restart, Vautier went around the outside of Jarvis at Turn 1 to make it a Cadillac 1-2, while Filipe Albuquerque moved the Wayne Taylor Racing Acura up ahead of Nasr to take fourth and start applying pressure to Jarvis who lost momentum and fell to seventh.
Then the yellow flew again for a GTD shunt, and all the DPi runners pitted for slicks except leader Magnussen.
They would rejoin in the order Vautier, Cameron, Ricky Taylor (who had taken over from Albuquerque in the WTR car, Nasr, Jimmie Johnson and Harry Tincknell who was now in the Mazda.
However, the RT24-P regained one spot when Cameron stopped his Meyer Shank Racing Acura for a second time.
Following the second restart, Nasr went around the outside of Taylor at the Horseshoe turn to make it a Cadillac 1-2-3, while later around the lap Tincknell would blast past Taylor for fourth.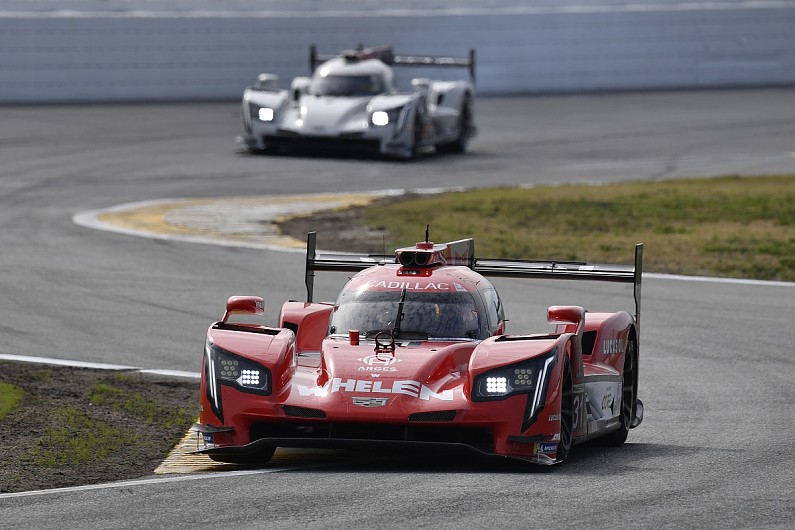 A lap later, Vautier took advantage of being on slicks and Magnussen being on wets on a drying track and the Frenchman moved to the front pursued by Nasr, who took the lead with 50 minutes to go.
Magnussen would then pit and hand off the Ganassi car to Renger van der Zande.
With 34min to go, the final pitstop sequence started, with Nasr handing off to Pipo Derani, and Mazda jumping Tincknell ahead of Loic Duval who had taken over the JDC-Miller Cadillac.
However, with 20 minutes to go, Duval was filling the Mazda's mirrors until Tincknell seemed to find another level.
Duval had to cede third to the Meyer Shank Acura drive by Olivier Pla, but Duval moved back ahead as they closed on the Mazda once more as it fell 4.5s behind leader Derani.
However, this three-car battle for second rather dissipated over the final 10 minutes.
Taylor had a fairly lonely run to fifth at the end, keeping well ahead of Kamui Kobayashi who had taken over the #48 Cadillac from the impressive Jimmie Johnson and set the fastest lap of the race.
In the GTLM class, Corvette scored a 1-2 ahead of the WeatherTech Racing Proton Porsche piloted by Kevin Estre in the final stint, while the PR1 Mathiasen Motorsports entry took top honours in LMP2.