https://speed.clothing/wp-content/uploads/2020/12/GPBox-Rectangle-Pictures-2.jpg

Wayne Taylor Racing's Filipe Albuquerque drove the "race of my life" to keep ahead of Renger van der Zande in the closing stages of the Daytona 24 Hours.
Van der Zande suffered a puncture towards the end of the race, ending his assault on Albuquerque and all but cementing the WTR team's win.
It was WTR's third successive Rolex 24 victory in its first race since switching from Cadillac to Acura in the off-season, a move which included van der Zande exiting the team to join Chip Ganassi Racing.
Albuquerque shared the winning ARX-05 with Ricky Taylor, Helio Castroneves and Alexander Rossi.
"I could see his eyes in my mirrors!" Albuquerque told NBCSN of the pressure he was under from van der Zande.
"He was so hungry for this, especially with the whole story of him leaving Wayne Taylor [Racing] to join another team.
"He was faster, definitely, but one thing to catch, it's another thing to pass.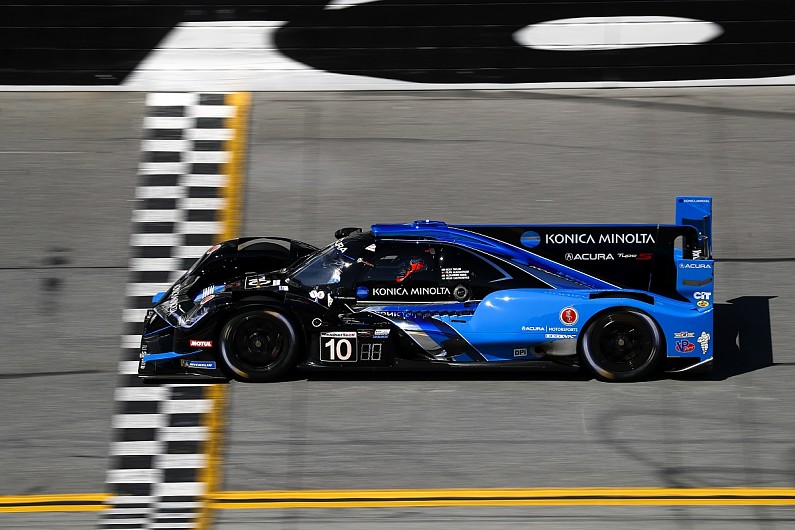 "He was really pushing hard, I was lucky he had a puncture, he was strong through the Bus Stop.
"I think it was a hell of a show, probably the hardest race of my life. It was beautiful."
Ricky Taylor decided to hand the car over to Albuquerque for the final stints, having been given the option to stay in the car.
"It was absolutely the right decision, he's a superstar – he won the world championship in the WEC last year – and we always knew he was the one we wanted in our car," said Taylor.
"I couldn't ask for a better teammate, along with Alex and Helio, he had all the pressure in the world on him at the end, he took it like a champion.
"You have to send love to the Chip Ganassi guys, they were on it all day and were unfortunate at the end. They didn't deserve that [puncture]."
Team boss Wayne Taylor added: "Six wins at this place, it's fucking awesome. I had about that much vodka just near the end, I couldn't stand it any longer, my stomach was that animated."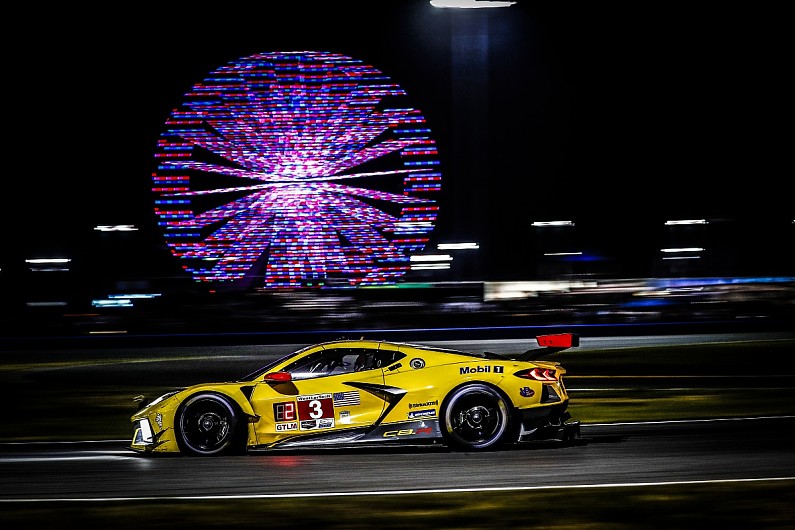 Corvette Racing's Garcia tests positive for COVID-19
Corvette Racing GT Le Mans winner Antonio Garcia has tested positive for COVID-19, which forced him to miss the most of the race.
The #3 Corvette C8.R, driven by reigning IMSA WeatherTech SportsCar Championship's GTLM champs Garcia and Jordan Taylor, along with endurance extra Nicky Catsburg, led home the sister car of Tommy Milner, Nick Tandy and Alexander Sims in a dominant 1-2 for the team in its second year with the car.
After the end of the race, the team put out a statement explaining Garcia's absence from the car for most of the race.
"As part of international COVID travel protocols, all drivers and team members traveling in and out of the US are required to take a COVID test before and after any race activities," it read.
"While Antonio Garcia tested negative in preparation for his arrival for the Rolex 24, we have received notice that he has now tested positive in preparation to depart the country.
"He was immediately pulled from competition upon notification of the positive test result and, although he wasn't experiencing any symptoms, will no longer participate in any additional race activities at the Rolex 24 at Daytona.
"Upon consulting with IMSA and its Event Operations Protocols, the series determined Corvette Racing met all conditions under the IMSA event protocols that allowed it to compete in a safe and responsible manner.
"We have notified crew members and others who had contact with Antonio and will conduct testing with racing team members after 72 hours, per CDC guidelines."