[ad_1]

Conor Daly will continue for a second year as the road and street course driver of the #20 Ed Carpenter Racing machine during the 2021 IndyCar season.
Daly will also again race the squad's third car in U.S. Air Force livery in the Indianapolis 500, while team owner Carpenter will take the wheel of the #20 car for the other three oval events.
Carpenter told Autosport earlier this month that his priority was to retain Daly for 2021, rather than signing a Formula 1 exile, like Kevin Magnussen or Romain Grosjean.
During 2020, Daly contested the non-Indy 500 oval events for Carlin and scored his best result of the year in the season-opening Texas race with a sixth place finish, while he qualified on pole for the first Iowa contest.
His best result for ECR was 12th and he finished 17th in the final standings.
"It feels incredible to have another year together with the U.S. Air Force and Ed Carpenter Racing," stated Daly.
"Continuity has always been helpful for me in my career; the fact that we are able to hit the ground running in 2021 already having experience together gives me a lot of confidence. Every day we learn more and develop a stronger relationship.
"This would not be possible without the support of the U.S. Air Force, who have been an incredibly supportive and loyal partner.
"I want nothing more than to win races and compete for the entrant championship for the Airmen, the guys at ECR and my boss Ed, who has become a true friend of mine. I can't wait to get back to work!"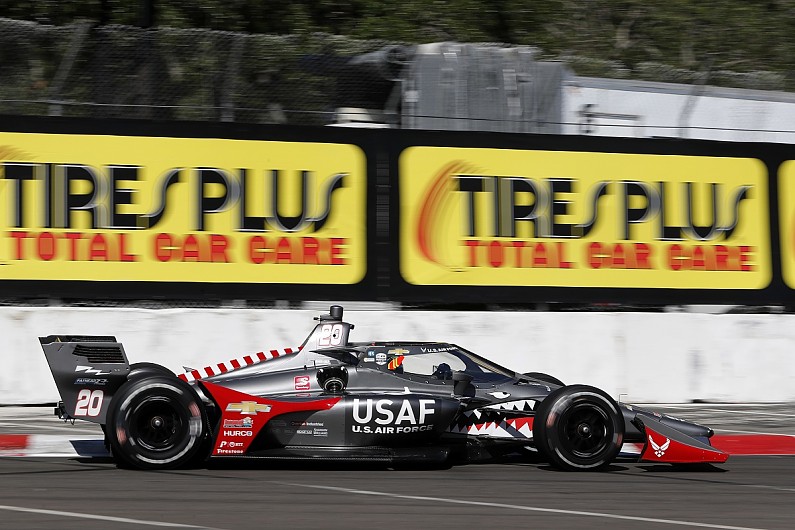 Carpenter is pleased to have the consistency of continuting this year's programme, as Rookie of the Year winner Rinus VeeKay will continue to drive the squad's other car.
"It is a very exciting day to be able to announce the return of both the U.S. Air Force and Conor to Ed Carpenter Racing!" said Carpenter.
"We are looking forward to the 2021 IndyCar Series, having the same driver line-up to continue our progression back to a race-winning and championship-contending organisation.
"We are very grateful for the support of U.S. Air Force and honoured to represent everything that they stand for.
"We're thankful for the opportunity to inspire and engage the next generation of men and women who join the U.S. Air Force!"
The Autosport 70 special, celebrating the best of motorsport, is no longer available to buy online, but is available to new magazine subscribers. To subscribe, please go to: autosportmedia.com
[ad_2]

Source link