https://speed.clothing/wp-content/uploads/2020/12/GPBox-Rectangle-Pictures-2.jpg

Dakar Rally stewards have explained why Sebastien Loeb was handed a five-minute penalty for speeding in a controlled speed zone on Wednesday's Stage 4 of the 2021 event.
Nine-time World Rally Champion Loeb took to social media on Wednesday evening to slam what he called an "incompetent" penalty after his Bahrain Raid Xtreme machine was found to have exceeded the 30km/h speed limit during a controlled zone on stage four.
The penalty demoted Loeb to seventh in both the overall order and the stage classification.
However Loeb's comments surprised President of the College of Stewards Javier Soler, who insists no one from the Loeb camp raised the penalty with him.
Autosport has learned the Prodrive-run Bahrain Raid outfit will not appeal Loeb's penalty.
"Sebastien Loeb has not come to see us, nobody has called us, nobody has made any complaint about this issue," Soler said.
"That's why we were surprised this morning to discover the messages on social networks."
Dakar Car Race Director Luis Gomez explained that Loeb went through the 30km/h speed limit zone at 107km/h, which triggered the penalty.
"It was a DZ [speed limit zone] where they had to enter at a certain speed," Gomez said.
"On one section, he passed at a higher speed than indicated. This is information given by the GPS, which is passed on to us in a report.
"There is a clear regulation that indicates the type of penalty according to the speed he passed. The established speed was 30km/h and he passed at 107km/h."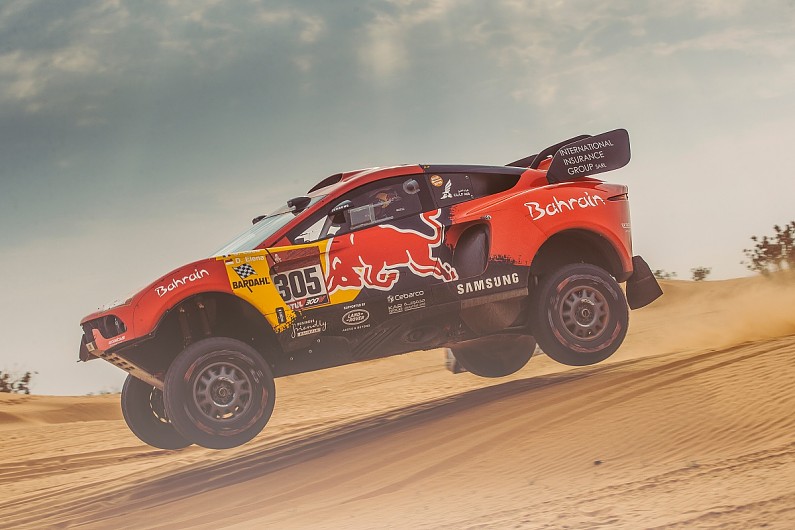 Loeb insists the warning noise the GPS makes when entering speed control zones didn't sound, but rally director David Castera says these areas are marked on the road book and believes the Frenchman should have paid more attention to the instructions of his long-serving co-driver Daniel Elena.
"The GPS beeps every time a way point is validated," Castera explained.
"When you reach a speed-limited zone, the GPS lights up at 800 metres and indicates with an arrow how to get to the speed-controlled zone. From then on, you have 180 metres to stop.
"From what I understand of what has happened, Sebastien did not pay attention to his co-driver's instructions, but relied on the beep to stop.
"It is not the function of the whistle. The function of the whistle is to indicate that a WP has been validated.
"You also have the information on the road book and on the tablet. He was coming very fast and was waiting for a beep.
"The problem is that it didn't sound or that he didn't hear it, and that's the problem.
"When he realised it, he slammed on the brakes, but it was too late. I think it's a huge risk to trust that whistle.
"In my personal experience [as a co-driver] with Stephane [Peterhansel] and Cyril [Despres], the driver should never trust the whistle, but the co-driver. There is a lot to lose and little to gain."
The event is currently being led by 13-time winner Stephane Peterhansel, who leads Nasser Al-Attiyah after five stages.
Loeb's former Citroen WRC team-mate was also critical of the organisers after losing almost half an hour before the first 43km split of stage five to navigational problems, saying the rally "looks more like a gymkhana than a rally-raid".