[ad_1]

Formula E champion Antonio Felix da Costa said he was impressed by his first test of an IndyCar at Barber Motorsports Park and was "curious" to contest a race.
The Portuguese appeared as the sole representative for Rahal Letterman Lanigan Racing and completed 75 laps, logging the 12th fastest time in the 21-car test ahead of all four Team Penske drivers.
His best effort, a 1m06.375s, was 0.7606s slower than the ultimate pace set by Ed Carpenter Racing's Rinus VeeKay.
In addition to da Costa, NASCAR legend Jimmie Johnson continued his adaption to single-seaters with Chip Ganassi Racing, while Felix Rosenqvist (Arrow McLaren SP) and Alex Palou (Ganassi) had their first tests with their new teams.
Speaking afterwards to Autosport, da Costa admitted he found the cars physically challenging to drive, but said he "would love to race IndyCar" in the future, adding that he would be happy to contest oval races.
"A lot of friends and rivals who I've raced against in the past have been racing here – people who I respect a lot – and I always have fun watching the races on TV," he said.
"So I have always wanted to come here and after this test, I go back home today even more curious to have a go in one of these things in an actual race.
"For sure, it's in the back of my mind that I can do that.
"Obviously I'm committed to Formula E right now and the new season is starting in January. But it's so easy to fly around the world that I'm sure if we want we could put something together."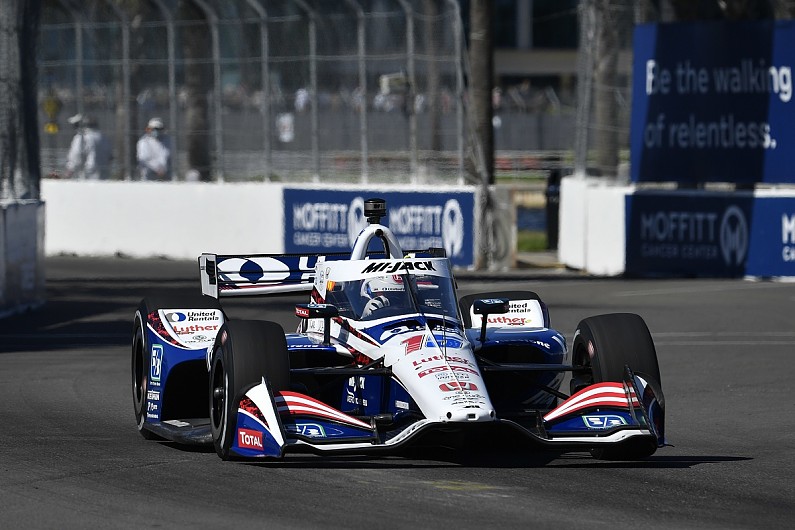 Da Costa explained that his experience of the test had been "really positive" despite feeling "out of my comfort zone".
"It's been a few years since I drove an F1 car and gone through a feeling like this, so it felt like I was a young kid again, which was really nice," he said.
"In the end it was not too bad.
"The car's very physical, and I was tense – new track, new car – and by the end of the day I was pretty much done. My neck is sore.
"But anyway, it is a really cool thing to feel so tired because of being in a racecar!"
Da Costa also gave positive feedback about the aeroscreen, describing it as a "further step beyond" the halo he is accustomed to using in Formula E.
"Generally no issues at all," he said.
"Near the end of the test with the sunset right in your face, it was an extra surface that can add to the reflection, but it's not a big issue at all.
"With the halo, I feel much safer in the car than I did before, and this aeroscreen is a further step forward beyond that."
[ad_2]

Source link