https://speed.clothing/wp-content/uploads/2020/12/GPBox-Rectangle-Pictures-2.jpg

Alfa Romeo Formula 1 boss Fred Vasseur says his team's close links to the Italian manufacturer are more than just a "nice reward", with the tie-up crucial to its future.
The team formerly known as Sauber first carried Alfa Romeo branding in 2018 before it took over the name of the Swiss outfit from 2019 onwards.
It marked the first official involvement of the 1950 and 1951 world championship-winning marque in F1 since its departure after the 1985 season.
The move came off the back of a closer alignment with Alfa Romeo's sister brand Ferrari, which includes taking engines, gearboxes and other parts from Maranello.
It was one of the first major decisions made by Vasseur when he joined the team in 2017, the Frenchman having cancelled a contract to take Honda engines from 2018 on his first day in charge.
Beyond the close collaboration with Ferrari, Vasseur has called the increasing ties with the Alfa Romeo brand essential to the team's development.
It has finished eighth in the constructors championship in each of the past two years, but slipped from scoring 57 points in 2019 to just eight in 2020.
"For us it's crucial," Vasseur said when asked by Autosport about the Alfa tie-up.
"I don't want to speak about the financial aspect but for sure it's a part of this.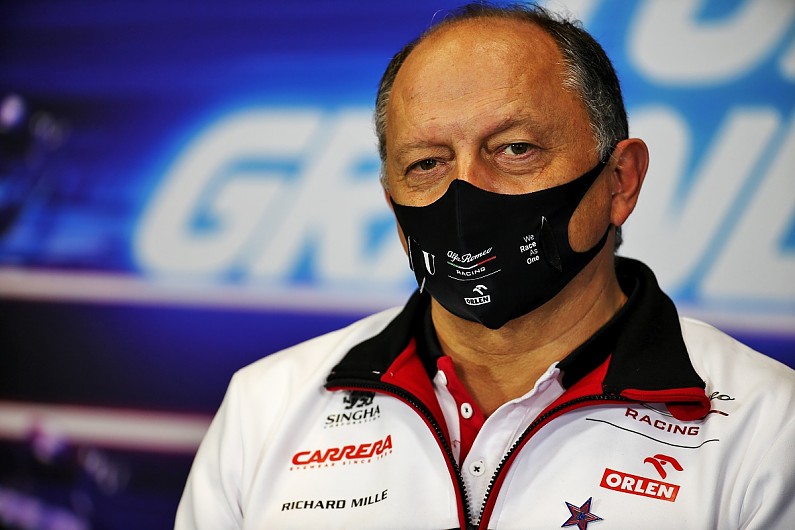 "It's rather the motivation that you can add into the team, that you can afford the recruiting for the development of the company.
"The fact that Alfa Romeo, the first world champion, is extending the deal with us and wants to develop the partnership is a nice reward, but it's not just a reward, it's a next step for us."
The deal goes beyond a simple rebrand as Sauber Motorsport has also been involved in the development of the Alfa Romeo Giulia GTA and GTAm road cars using its Hinwil windtunnel facility.
Explaining their collaboration on automotive projects, Vasseur added: "Even if it's outside of the Formula 1 world, I think it's important to build up a strong collaboration between the two companies and it's also the future of the collaboration that we have to continue to push into this direction.
"For sure I know perfectly [well] that we need also to improve the performance on track, that it's not just better to do aero development but that we need to have a global approach and global package.
"But the automotive side is one part of the partnership and it's crucial if you want to develop the partnership between the brand and the Formula 1 team."