https://speed.clothing/wp-content/uploads/2020/12/GPBox-Rectangle-Pictures-2.jpg

British GT championship organiser SRO is "hopeful" of being able to stage its final round at Silverstone next weekend, despite the UK government announcing a four-week national lockdown from Thursday.
Amid rising coronavirus cases, it was confirmed on Saturday that a second lockdown will commence on 5 November, two days before British GT's season finale, with the outright GT3 and GT4 championships both finely poised.
The three-hour Silverstone 500 is set to feature the biggest field of the season, with upwards of 30 cars expected including a one-off entry for 2009 Formula 1 world champion Jenson Button.
Button is set to share a McLaren 720S GT3 entered by his Jenson Team Rocket RJN team with co-owner Chris Buncombe, while additional confirmed entries include Aston Martin Vantage GT3s entered by TF Sport for 2019 GT4 champion Tom Canning and Giacomo Petrobelli, and by Garage 59 for four-time series champion Jonny Adam and GT World Challenge Europe regular Alexander West.
It was announced in September that the event would take place behind closed doors, after the previous rounds held in 2020 at MSV-owned circuits were allowed to permit spectators.
In a statement issued on Sunday, British GT said it will "await the outcome of discussions between Motorsport UK and the UK Government's Department for Digital, Culture, Media and Sport with regards the staging of sporting events behind closed doors during England's four-week national lockdown".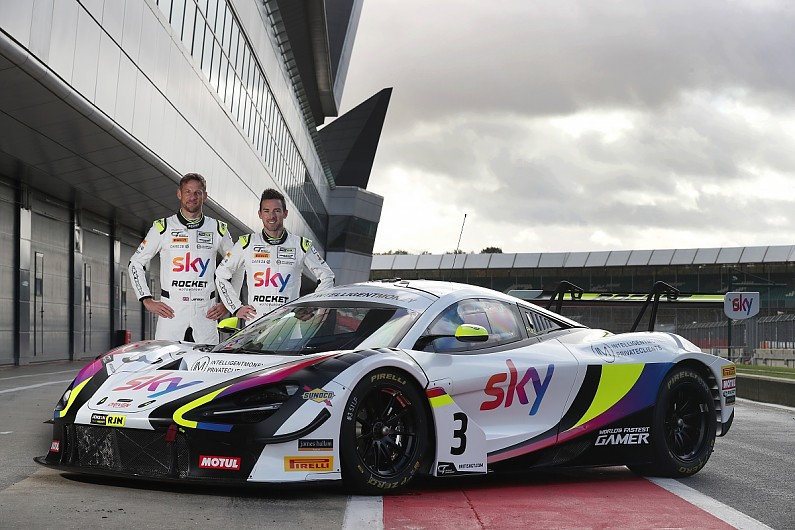 "Championship organisers have been in contact with the national governing body, Silverstone and the BRSCC since the government's announcement on Saturday", it said.
"Scheduled team announcements will continue on Monday and Tuesday while awaiting Motorsport UK's latest guidance. Championship organisers are hopeful that British GT's season finale will be staged as planned on 7-8 November."
A statement from Motorsport UK said it would "take the necessary steps to ensure that motorsport in England fully complies with DCMS protocols" and "provide further information and guidance to the sport on Monday 2 November following its consultation with DCMS".
Following the most recent round at Snetterton, RAM Racing Mercedes pairing Sam De Haan and Patrick Kujala lead Barwell Lamborghini's Sandy Mitchell and Rob Collard by six points in GT3, while TF Sport Aston Martin duo Jamie Caroline and Daniel Vaughan have a 3.5-point advantage over HHC McLaren's Jordan Collard and Patrick Matthiesen in GT4.