https://speed.clothing/wp-content/uploads/2020/12/GPBox-Rectangle-Pictures-2.jpg

This weekend's British GT finale at Silverstone will boast a season-high grid of 38 cars, including 20 GT3s, boosted by a plethora of new and returning entries.
The three-hour race was placed in doubt by the UK government announcing a four-week national lockdown, which is set to commence on Friday, but it was given the green light following a meeting between Motorsport UK and the Department for Digital, Culture, Media and Sport on Monday which resulted in British GT being granted 'elite' status.
The Silverstone entry list comfortably exceeds the 24 cars that started the three-hour race at Donington in September and is higher than the planned 35-car full-season grid that was announced at the pre-COVID media day.
In addition to the previously-announced McLaren 720S GT3 entered by Jenson Team Rocket RJN for 2009 Formula 1 world champion Jenson Button and Chris Buncombe, there will be four extra McLarens and three Aston Martins in the GT3 field.
These are headlined by four-time British GT champion Jonny Adam, who will make only his second appearance of the season in a Garage 59 Aston Martin Vantage GT3 alongside Alexander West.
The car will carry the #1 in deference to the title Adam and Graham Davidson won in 2019.
Davidson was due to defend his title with 2019 GT4 champion Tom Canning for TF Sport, but the entry was withdrawn ahead of the season when the pandemic struck.
However, Canning will make his belated category GT3 debut – following a maiden race outing in GT Open at Spa last month – for TF alongside sometime Formula Palmer Audi driver Giacomo Petrobelli.
Meanwhile, Aston factory driver Charlie Eastwood will join Andrew Howard in the Beechdean AMR Aston double series champion Howard last campaigned with Adam at Brands Hatch.
In the expanded McLaren camp, Shaun Balfe and Rob Bell will make their first appearance of 2020 with Balfe's family-run 720S, having also withdrawn their entry on the eve of the season due to factors resulting from the pandemic.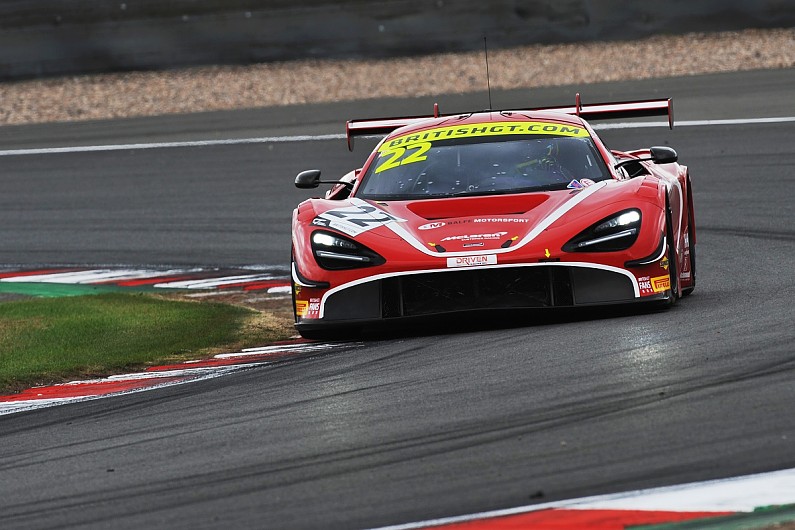 Fellow McLaren entrant 2Seas Motorsport expand to a third car for 2018 Blancpain GT Asia champion Martin Kodric and former BRDC British F3 racer Al Faisal al Zubair, while Optimum Motorsport will enter two cars, one for team GT Open regulars Ollie Millory/Brendan Iribe and the other for LMP3 converts Alex Mortimer/Mark Crader.
The Richard Williams/Sennan Fielding-driven Steller Performance Audi R8 also returns after skipping the last round at Snetterton.
In addition to two previously-announced Ferrari 488 GTCs, the GTC class is bolstered by an additional Ferrari entered by local team FF Corse for Jamie Stanley and Belgian Laurent de Meeus and two Porsche Carrera Cup cars from Team Parker Racing.
Seasoned British GT racer Ryan Ratcliffe and Justin Armstrong will campaign one car, with the second driven by 2009 Carrera Cup GB champion Tim Bridgman and Karl Leonard.
The GT4 class is bolstered by four extra cars, including last year's Silverstone winners Nick Jones and Scott Malvern, who have parked their TPR-run Bentley Continental GT3 and will return to the Mercedes-AMG GT4 which carried them to the 2018 pro-am class title.
GT4 also gains two Balfe Motorsport McLaren 570S machines for Warren Hughes/Jan Klingelnberg and Charlie Hollings/Lars Dahmann, as well as an extra Aston Martin Vantage entered by Newbridge Motorsport for series returnees James Dorlin and Alex Toth-Jones.