https://speed.clothing/wp-content/uploads/2020/12/GPBox-Rectangle-Pictures-2.jpg

British Formula 4 will introduce a fully reversed-grid contest as part of its race weekends for this season – the first major format change for the series since its inaugural season.
The second race of F4 weekends has featured a partially reversed-grid ever since the FIA F4 rules were introduced in 2015, with the number of cars reversed being 50% of the finishers from race one.
But, for 2021, the series has decided to go a step further and the qualifying times of the entire grid will be reversed instead to produce the race-two starting line-up.
The number of points on offer for these races will be reduced as a result – instead of being worth 25 points, a reversed-grid winner will receive 15, and drivers down to eighth instead of 10th will score.
The series has also decided to add in a point for fastest lap in each of the three races per meeting.
"Our regulations have remained stable for over half a decade now, which is a real testament to how well the format has been received and – more importantly – worked in practice," said championship promoter Sam Roach.
"However, we feel the time is right to shake things up a little bit for 2021, incorporating feedback from our teams, and I'm confident the changes will only add to the fantastic on-track action we've become globally renowned for at this level.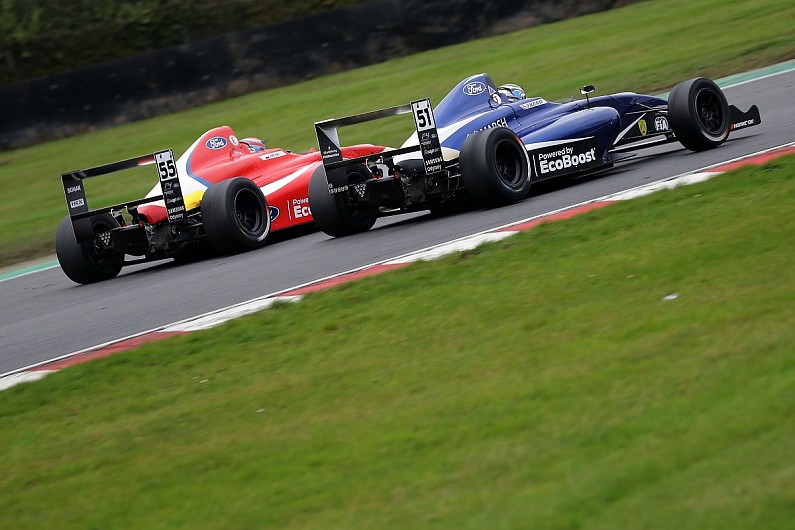 "The changes to the reversed-grid race give drivers at both ends of the grid a real opportunity to hone their racecraft, practice attacking and defending and really put in a shift to bring home the results they need, wherever in the standings they may be.
"As the first step on the FIA single-seater ladder, driver development is one of our key objectives and these initiatives tick all the boxes to help that process."
Teams say the new format will have an impact on the way tyres are used across a weekend.
As all three grids will now be decided after qualifying, teams will be able to allocate their six slick tyres allowed per event knowing a driver's starting position for each race.
Six drivers have so far been confirmed as racing in the series this year, and just one of these has past British F4 experience – one team boss therefore describing the title battle as being "really open".