[ad_1]

Valtteri Bottas felt no "massive responsibility" to guide George Russell through his first Formula 1 race weekend with Mercedes, believing Lewis Hamilton left his replacement with a good starting point.
Williams regular Russell was drafted in by his parent team to race in the Sakhir Grand Prix after Hamilton tested positive for COVID-19.
Russell qualified second and led the majority of the race before a pitstop blunder and a late puncture denied him a debut victory with Mercedes, dropping him to ninth.
PLUS: The F1 sanity which left Russell with some Sakhir solace
Although Bottas had managed to edge out Russell for pole by 0.026 seconds in qualifying, he struggled to keep up in the race, falling as far as eight seconds behind at one stage.
It marked Bottas's first race with Mercedes where he did not have Hamilton on the other side of the garage, the pair having been team-mates since the start of the 2017 season.
Asked by Autosport how different things were in Hamilton's absence, Bottas said he did feel an adjustment in no longer being the younger, less experienced driver.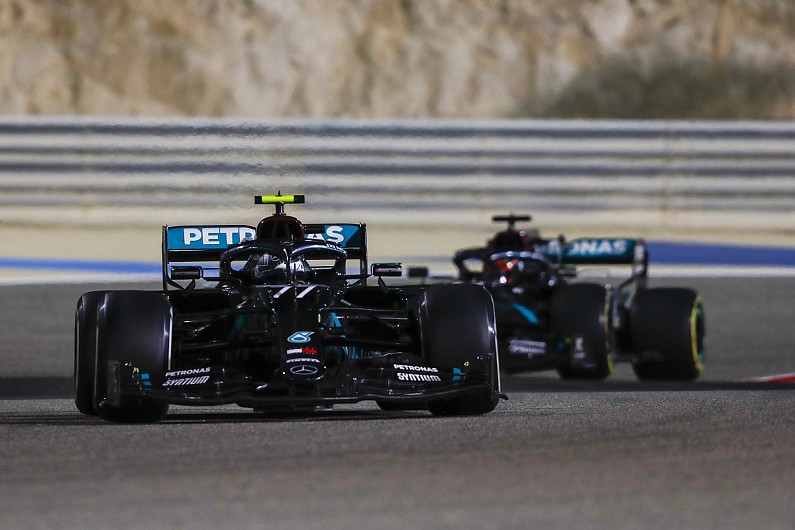 Besides Hamilton, Bottas's only other team-mates in F1 have been Pastor Maldonado and Felipe Massa, both of whom he raced with at Williams.
"It was a different feeling, I've never been in a team being the older guy," Bottas said.
"But in the end as a driver, you just want to do the best job in any case for the race weekend, and it doesn't matter who is you team-mate, you always want to beat him.
"Friday I think was not great for me, due to different reasons, broken floor in practice one, bit of a crack in the floor in practice two, so not really ideal."
But Bottas explained how he did not have to guide Russell a lot on setting up the Mercedes W11 car, given Mercedes had raced in Bahrain the previous week and had a good baseline to work with from Hamilton's car.
"Set-up wise, we raced here last week," Bottas said. "There was a lot we learned, so there were minimal things we had to change.
"I think George also pretty much started with Lewis's set-up for the weekend, so there were not massive things to do. He's got his engineers, so for sure they know what to do with the car.
"I didn't feel like there was a massive responsibility, because if there was anything I could change and give directions, I was trying to do that.
"It was pretty straightforward."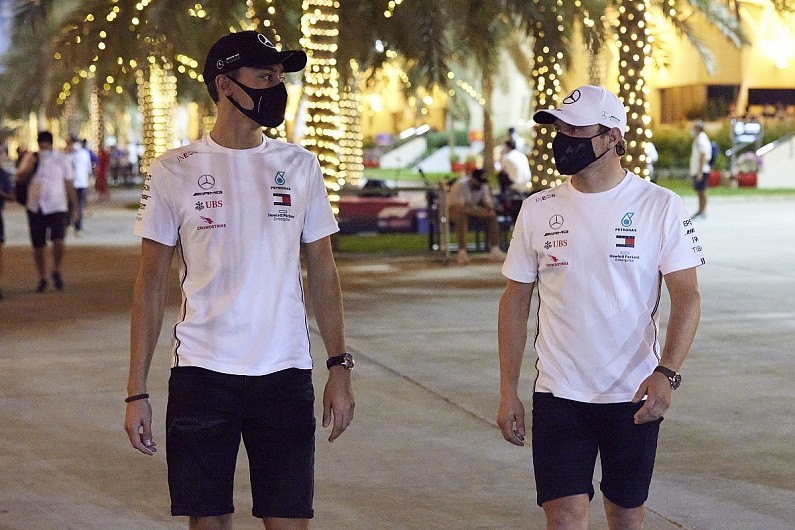 Mercedes is yet to announce if Russell will be returning for this weekend's season finale in Abu Dhabi.
Hamilton issued an update on his recovery from COVID-19 on Tuesday, saying he was "feeling great" and aiming to make a comeback this weekend.
But the seven-time world champion must return a series of negative tests and meet the entry requirements for the UAE if he is to make it to Abu Dhabi in time for the race.
The Autosport 70 special, celebrating the best of motorsport, is no longer available to buy online, but is available to new magazine subscribers. To subscribe, please go to: autosportmedia.com
[ad_2]

Source link