[ad_1]

25 years ago today, Colin McRae became Britain's first World Rally champion. In an interview published by Autosport magazine on 30 November 1995, he reflects on that famous triumph on the RAC and explains why F1 won't tempt him away from the WRC
The look says it all. Two hours into his reign as Britain's first World Rally champion and Colin McRae's seeing the flipside of his new status as a public property. For the last four days, the 27-year-old Scot has put in the drive of his life on his home event, the RAC Rally. He's soaked up the pressure of suffocating expectations. He's clawed back the two minutes lost after a puncture on day two's daunting Pundershaw 36-miler and turned it into a stunning 36s victory margin – his second RAC win on the trot.
McRae barely put a wheel wrong in the relentless grinding down of team-mate and fellow title challenger Carlos Sainz that left the Spaniard shell-shocked and demoralised. And he's finally, finally, buried the monkey on the back British rallying, and now everybody wants to talk about Formula 1…
"I can't believe how people keep asking me about this," he grimaces, more in exasperation than annoyance at the emphasis put on some throwaway remark. "I said something about wanting to try an F1 car because I love driving fast. Nothing more than that. But now it seems to be the biggest thing to them – bigger than this title even."
And therein lies the problem. Britain has its only 1995 four-wheeled world champion in Colin McRae (just keep saying it and it eventually sinks in) and still the frame of reference is the great god Formula 1. Over in the two-wheeled camp, Carl Fogarty took a second World Superbike title and even he gets asked about F1. Harsh realities.
For now, rallying is a once-a-year event to the majority of the public. It happens in mid-November, it goes away, we celebrate Christmas, and then we get back to F1. But McRae is hopeful that his success will push rallying beyond that in Britain.
"I hope my title raises rallying's status," he says. "This sport is on a par with F1, but the coverage isn't. Whoever's won the world title before me, from whatever country – Carlos in Spain, Didier Auriol in France – it always raises the profile of the sport in that country. I'll try and do the same in Britain now."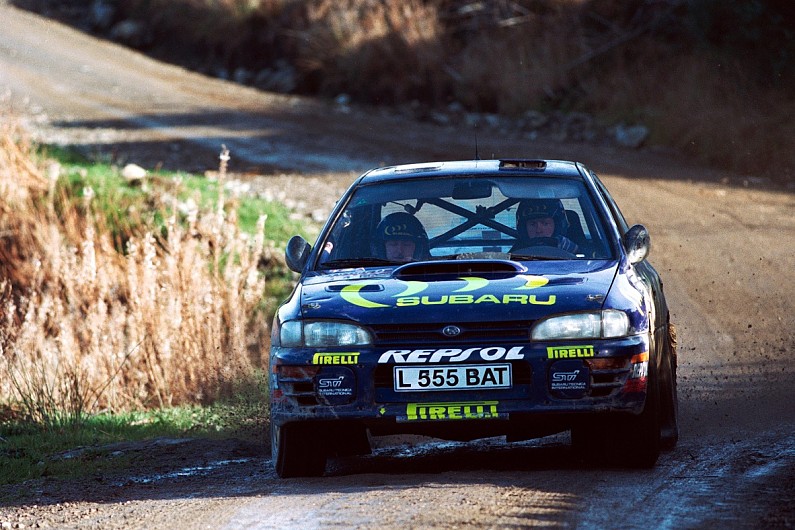 If that sounds like McRae is about to set himself up as rallying's answer to the Princess of Wales – a self-styled ambassador of goodwill, forget it. Sure he'll do whatever press and PR is needed, but he'd much rather be in the car, or on his motorbike, or skiing the black runs, getting his fix of speed and the buzz of danger. For Colin, it will be his actions, rather than his words, that raise rallying's profile.
In a way, he's the first world title-winner from the Loaded generation – a bloke's bloke of a champion. He's a rebel with a cause amid the ultra-slickness of the 555 Subaru team, someone whose often quite lurid exploits will be a refreshing counterpart to the blandness of our F1 stars in the coming years.
"I was motivated enough and I knew I could do it. The car was good, the stages were good – very quick. Not a problem…" Colin McRae
But Colin's approach to life – I'd rather be doing it than talking about it – means you're never going to get more than he wants to say, and you're unlikely to hear the full story. Take the problems with the team orders on Catalunya, and the much publicised rift between McRae and Sainz in the weeks that followed. If anybody wanted fighting talk in the afterglow of his taking the title, they wouldn't be getting it from Colin.
"It doesn't matter now," he says, in tones that suggest this is the most boring the predictable question you could ask – apart from that F1 one. "It's all behind us and we've sorted it out. We're friends again and there's no problem."
On the fightback after the Pundershaw puncture, McRae is matter-of-fact and low-key, despite putting in one of the most awesome recovery drives in the history of the WRC.
"I had the problems in Kielder with the punctures and it looked a bit doubtful for a while," he shrugs, "but it's a long rally, I had time to fight back and it wasn't really a problem. I was motivated enough and I knew I could do it. The car was good, the stages were good – very quick. Not a problem…"
There you go. A modest statement which barely alludes to the McRae factor – the ability to drop into maximum attack mode and stay there, stage after stage, never even making a mistake.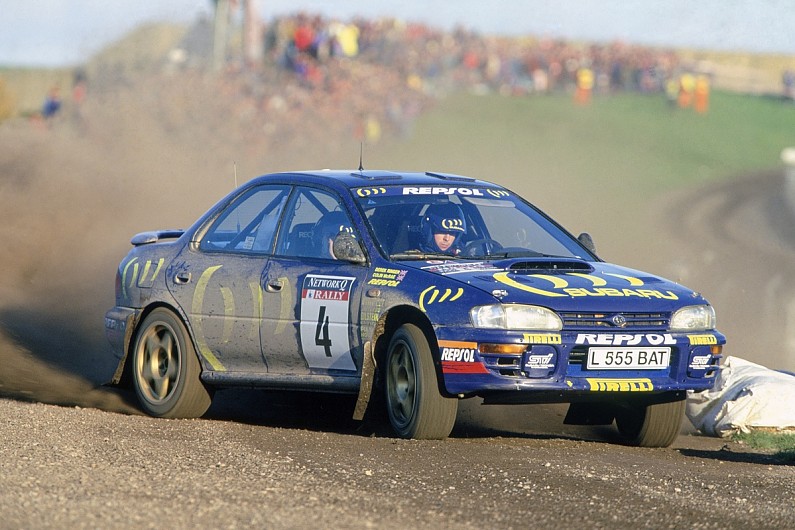 Through the second half of day two, then down into South Wales for day three, McRae's performance was simply mesmerising. On virtually every stage, the Scot pared layer after layer from Sainz's lead until, on the final stage of the third day, he once again topped the leaderboard by some 17s. Into North Wales for the final seven stages, he could afford to relax and just parry any counterattack by Sainz. Instead, he extended his lead to 36s by the end of the final stage. So how hard was he actually driving?
"I was 100% – always maximum – but I don't think I was taking risks. I was always driving within myself. Okay, at those speeds, there's a chance that something could happen. But no way was I going to throw it all away.
"On some rallies, everything just clicks," he adds. "You feel good, you feel confident and it all just falls into place. Here, it all clicked when we got to the first gravel stage at Hamsterley on Monday morning."
His best drive ever? "It was probably as quick as I've ever been before, but a whole lot more controlled," he smiles. "The Catalunya Rally this year was also a really good drive, but for different reasons. Catalunya was a tarmac event, the RAC, like New Zealand, was more of the methodical approach."
Colin's view of limited risk-taking on the RAC wasn't a view shared by rival Sainz or Subaru team boss David Richards.
"I knew Colin was going to try everything and I knew that at the speed he was going, he could make mistakes," says Sainz. "He did, but not too bad."
At the post-event press conference, Richards said he thought: "Colin was quite clearly taking risks and was absolutely on the limit."
It was a statement of intent he later qualified, but at the time, it seemed to rankle McRae. "He said I was taking risks, but he wasn't in the car so how can he know that?" said a terse Colin. "There was no way I was going to throw it away. I was only going 100% – no more, no less."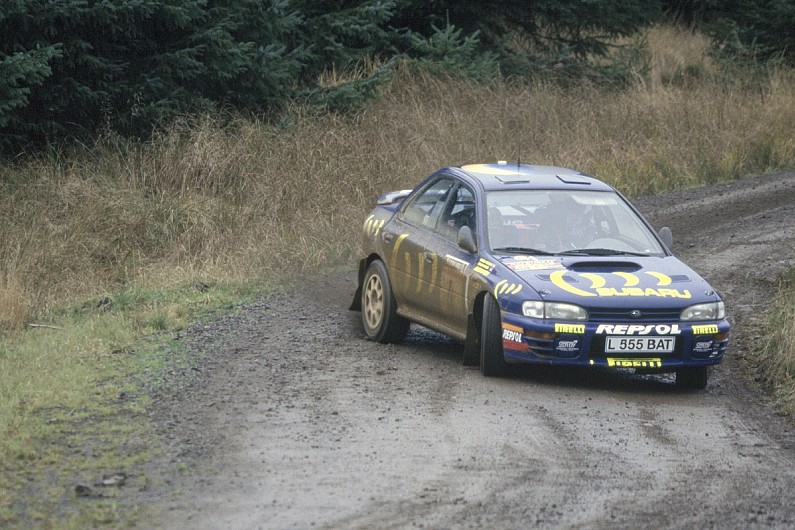 Immediately after crossing the flying finish on the final stage, there is a brilliant moment captured by Colin's in-car camera. The Scot has just clinched the world title, the holy grail of rallying, but eschews any euphoria for a matter of fact "that'll do for me". It's a classic moment, and one that in many ways sums up Colin's philosophy: "Right, I've done that. What's next?"
So what exactly are his feelings at winning the title? "I'm not sure yet – it hasn't really sunk in," he says, once again giving the impression that he's not expanding on his feelings. "But sure I'm delighted. For me and for Derek (Ringer), my co-driver, this is what the goal was from the day we started together."
But how does the initial rush compare to winning the RAC for the first time in 1994, for instance?
"Once you've done it, you want to do it again. The hunger's still there. I have to win the title again, because there's nothing better you can do in rallying" Colin McRae
"Oh, this one's better, for sure. I struggled on a few RAC Rallies and had a problem actually making it to the finish, so when I did, it was a great day. But this is better. It's been the whole point of doing it."
With his laid-back demeanour, the 'no problem' catchphrase, and his simple philosophy of just going for it, you'd have said that Colin doesn't really feel the pressure on him. But it turns out he does.
"It's a huge relief to win and it makes things a lot easier in the future," he says. "It's a bit like finally winning the RAC Rally last year, which meant I didn't really have to win it this year and I could just concentrate on the title instead.
"It gives you more options to play with, having the pressure off, and it means everybody's watching you instead of you watching them."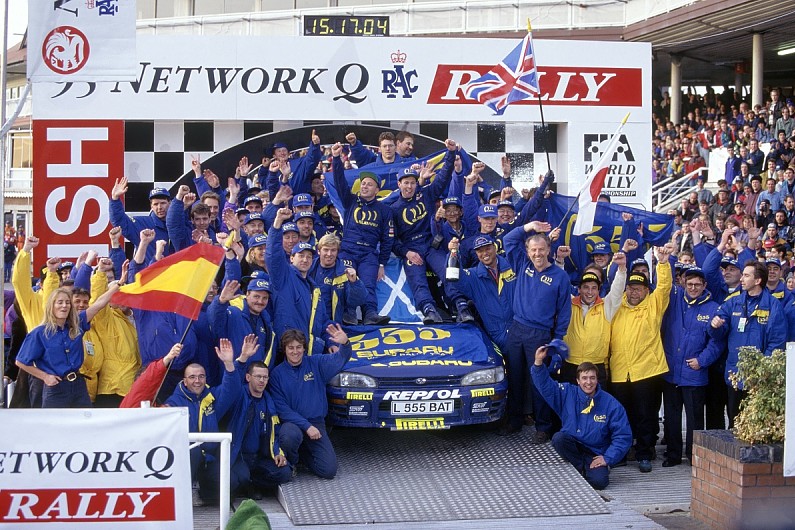 But even if things are a little easier and the pressure's off, that doesn't mean McRae is about to lose interest in the World Rally Championship – sorry boys in Fleet Street, no F1 yet.
"Once you've done it, you want to do it again," he smiles. "The hunger's still there. I have to win the title again, because there's nothing better you can do in rallying."
On present form, with his natural speed on the loose now joined by a mastery of tarmac and a tactical acumen that's flourished in the last two years, McRae looks a good bet for a follow-up title in 1996. Having Toyota out of the picture doesn't harm his chances, but will that devalue his title defence?
"I wouldn't say so," he says. "Okay it's a couple of cars you don't have to worry about, and it's going to be a bit odd if we don't have Juha (Kankkunen), Didier (Auriol) and Carlos around but it's still going to be as hard with Ford and Mitsubishi against us. It won't be easy."
And so to business again. By the time you read this, Colin McRae, the 1995 FIA World Rally champion, will be well into the next thing – preparations for his title defence. It doesn't give a lot of time to sit back, but that's fine by him.
"We're testing all the way through until the first rally," he says, "and I don't have a lot of time to myself. But it's no problem – winning the title's great, but what I want to do now is get back in a car."
Derek Ringer – One man who has shared in Colin's highs and lows
Co-driver Derek Ringer is the unsung hero of Colin McRae's world title victory. While the media spotlight has been pointed squarely at Lanark's rallying clan, the softly-spoken Glaswegian seems happy to sit quietly in the wings.
Ringer, 39, is characteristically modest about his world co-driver's crown: "I will feel a lot better when I can relax a little bit and enjoy it with the team. I'm going to sober up, get drunk, sober up, then get drunk again.
"He's a very calm driver. You have to be calm and relaxed about the thing and let it all happen, which he does very well" Derek Ringer
"Then I'm off to Africa next week to start testing for next year's Safari. Then it's off to Sweden for more testing. And, of course, I've got to go to Monaco for World Rally Championship prize giving. It never really stops."
Ringer began co-driving for Colin in the 1987 British National Rally Championship. And he has been a guiding light for the Scottish ace.
"Colin has smoothed out quite a lot over the past two or three years," he reveals. "He's a very calm driver. You have to be calm and relaxed about the thing and let it all happen, which he does very well.
"Colin drove more or less the same pace throughout the RAC. He relaxed a little bit on the last two or three stages. And he eased back in the fog in Wales. Other than that we've been pushing 100% the whole time."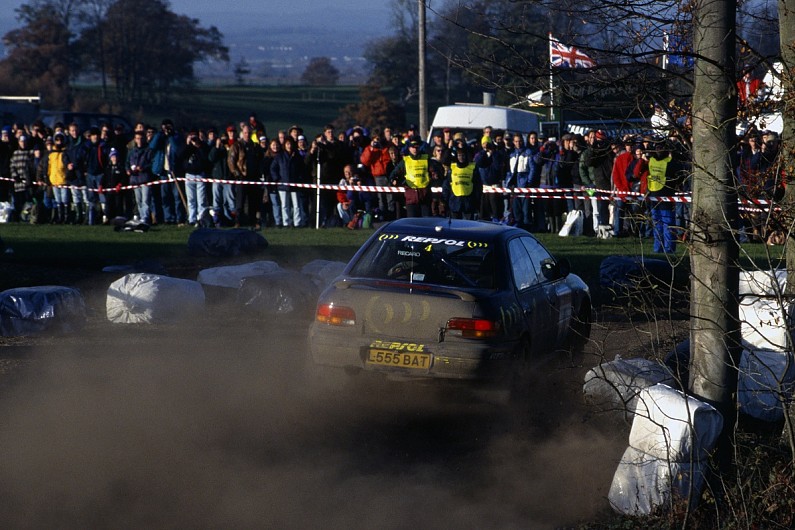 Ringer admits his heart fluttered when it all started to go pear-shaped on the first day of the event.
"The worst moment on the event for me was at the end of Kershope when the suspension was damaged and we weren't sure whether the car would get down the road or not.
"After the first flat tyre, when we lost a couple of minutes, it wasn't so bad because we always knew we could come back.
"It was still early enough in the event to allow us to do that. It was just going to be a bit harder. The suspension damage was more of a concern, but luckily it didn't delay us."
Ringer admits this season will live in his memory for a long time to come: "We've had some fantastic rallies this year, and Colin has made very few mistakes. But the success still hasn't really sunk in."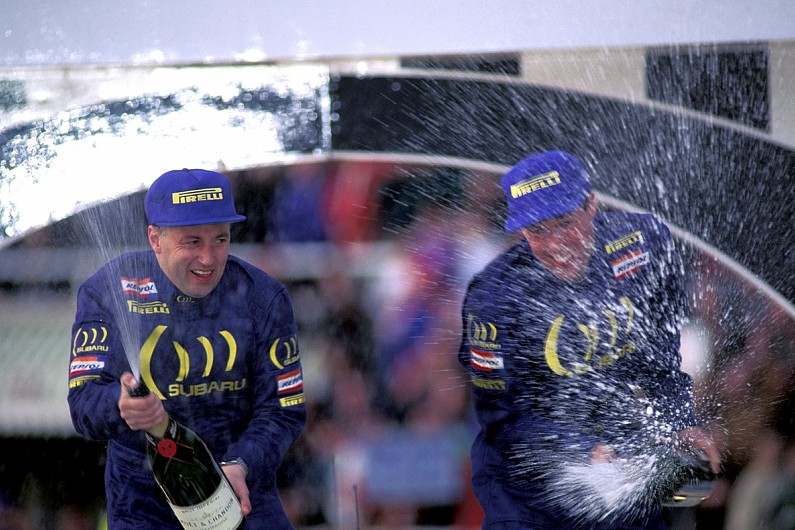 Autosport has produced a standalone special magazine to celebrate our 70th birthday. All current print subscribers will receive a copy for free. To order your copy of the 196-page Autosport 70th Anniversary issue, please go to: autosport.com/autosport70th
[ad_2]

Source link