[ad_1]

Fernando Alonso admits that it will take him "a couple of races" to get up to speed when he returns to Formula 1 with Alpine next season.
The Spaniard has already conducted a short filming day with the current Renault car, and he will run a two-year-old machine in Bahrain next week.
However he acknowledges that a lack of official testing with the 2021 car prior to next season will make it challenging for him, and he will thus use the Enstone simulator to prepare as much as he can.
"Difficult to know now," he said when asked how long it will take him to feel comfortable.
"But I guess it's going to take a couple of races, to be honest. Because the limited testing for next year is going to be a challenge for everyone, but a little bit more for me, because I'm out of the car for two years.
"And I think it's going to be only one day and a half with winter testing.
"So you cannot prepare for a world championship in one day and a half. So this is how it is, I will try to create on the simulator some things that we need to save time on the real car, for fine tuning the set-up.
"But this is a new team, new steering wheel controls, new procedures, new engineers, a lot of new things that will require a little bit of time, but I will try to make it as short as possible."
Alonso also downplayed suggestions that an end-of-season driver shuffle might lead to him make his race return early.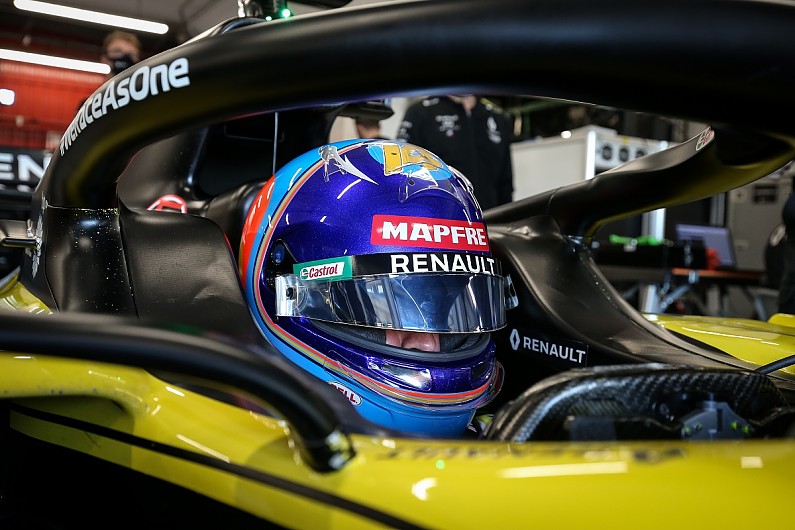 Asked about the prospect of competing this year he said: "No, I don't think so.
"Well, I hope no, if I race in 2020 it's because something happened to the two race drivers, and I wish that will not happen.
"And also I think I will not be hundred percent, so I prefer to race when I feel that I'm ready to do so."
Alonso says he has been able to "reset" during his spell away from F1, and racing in other series has given him a fresh perspective.
"I'm looking forward, definitely. I think it has been a good period out of F1 for me, with some fresh approach on different races, and obviously doing Indy, WEC, Dakar, and different experiences.
"And now coming back here very motivated again, with a reset in my mind and my body as well, because after 18 years of F1 it was quite demanding in terms of always being hundred percent."
Regarding his recent comeback test in Barcelona he said: "Well, it was a nice day, for two reasons.
"One, testing an F1 car is always a nice experience. And then when you feel the grip again, the braking performance, everything comes so fast, so it was a good day.
"And then on the emotional part of it, it was nice to be back with Renault, and a lot of the guys that were in that team that day were back in my days with the team, so it was nice.
"The only way probably to come back to F1 was with Renault, an environment that I knew, that was like a family for me.
"So those two things were very special that day. And now I'm looking forward for the next test."
[ad_2]

Source link